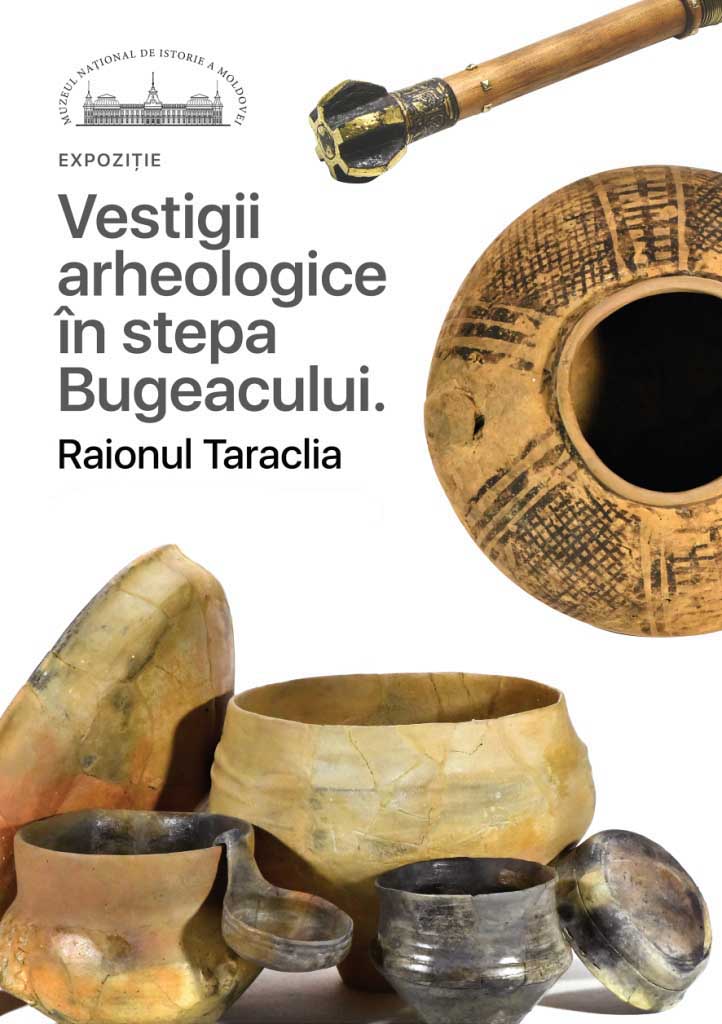 On Saturday, October 30, 2021, at 10:00 in the House of Culture of the Taraclia District, in the town of Taraclia, a temporary exhibition "Archaeological vestiges in the Budzhak steppe. Taraclia District" was opened (30.10.2021-31.01.2022).
The concept of the exhibition was presented by Dr. habil. Eugen Sava (General Director of NMHM), Mr. Eugen Mistreanu (Researcher, NMHM), and Ms. Livia Sîrbu (museographer, researcher, NMHM). Mr. Ion Paslari (Chairman of the Taraclia District), Mr. Evgueni Stefanov Stoytchev (Ambassador of the Republic of Bulgaria in Chisinau) and archaeologist Sergei Agulnikov made speeches at the exhibition opening. The event was moderated by Ms. Lyudmila Shebolenko (Deputy Head of the Department of Education, Culture and Tourism of the Taraclia District). Within the event, the monograph "Exploration of burial mounds in the Budzhak steppe (1980-1985)" by E. Sava, S. Agulnikov, and I. Manzura was presented. Also, Dr. habil. Eugen Sava awarded the Certificate of Honor to Mr. Daniil Gergi (student of the I. Vazov Theoretical High School, Taraclia).
The exhibition is organized by the National Museum of History of Moldova on the basis of a partnership agreement with the Taraclia District Council and aims to promote the movable and immovable archaeological heritage discovered in Taraclia District, to familiarize the local visiting public with materials that reflect the history of archaeological sites, chronological diversity and the uniqueness of the artifacts discovered over time near the localities of Taraclia District.
The event is part of a series of cultural and scientific events organized by the Taraclia District Council on the occasion of the Day of Bessarabian Bulgarians and the 20th anniversary of the publication of "Instructions for village management boards" by General Ivan Inzov.
As a sign of gratitude and high appreciation, the Taraclia District Council presented the National Museum of History of Moldova with the Honorary Plaque "Ivan Inzov".