Humboldt-Kolleg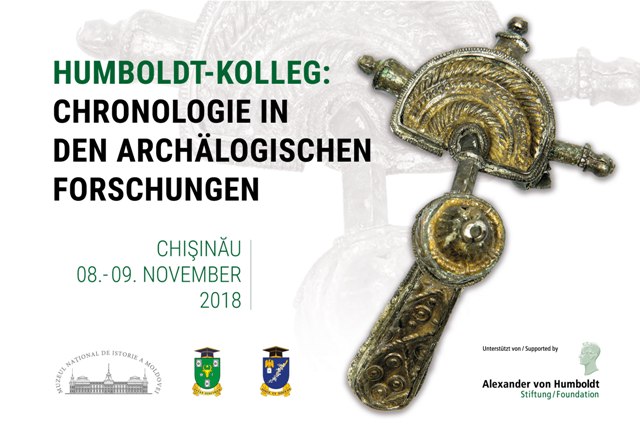 Über die Tagung / About the conference
HUMBOLDT-KOLLEG: CHRONOLOGIE IN DEN ARCHÄLOGISCHEN FORSCHUNGEN
Die Chronologie der vorrömischen Eisen- und frühen Kaiserzeit im Mittel und Südosteuropa: Probleme und Perspektiven
Chişinău, 08.-09.11.2018
Organisationkommitee:
Prof. Dr. Eugen Sava, NATIONALMUSEUMS DER GESCHICHTE MOLDAUS
Dr. Vasile Iarmulschi, FREIE UNIVERSITÄT BERLIN / NATIONALMUSEUM DER GESCHICHTE MOLDAUS
PD. Dr. Aurel Zanoci, STAATLICHE UNIVERSITÄT VON MOLDAU
PD. Dr. Octavian Munteanu, PÄDAGOGISCHEN STAATSUNIVERSITÄT VON MOLDAU
Unterstützt von:
Alexander von Humboldt Foundation
Schwerpunkt der Tagung sollen diverse Aspekte in der Geschichte des europäischen Barbaricum während der Blütezeit der griechisch-römischen Zivilisation sein. Außerhalb der Parameter die das klassische Altertum definieren, hatte ein Teil des europäischen Kontinents parallel dazu eigene Entwicklungen durchlaufen – inwiefern geprägt durch Impulse aus der griechisch-römischen Welt, wird festzustellen sein. Die komplizierten Prozesse der Latène- Zeit, verursacht durch mehrfache menschliche Mobilitäten sowohl innerhalb dieser Welt, als auch wichtige Interkalationen des Barbaricums mit der griechisch-römischen Welt, haben kulturelle Interferenz erfahren, deren Wahrnehmung streng von der genauen Einstellung der Landmarken chronologisch abhängt. Es war kein Zufall, dass dieser Frage während des gesamten Studienzeitraums zentrale Aufmerksamkeit gewidmet wurde. Abgesehen von den enormen Anstrengungen, die im Laufe der Jahre unternommen wurden und die zu wichtigen Ergebnissen geführt haben, gibt es viele weitere Fragestellungen, die um gelöst zu werden warten und die die Archäologen mit viel Optimismus betrachten.
Die Diversifizierung und Weiterentwicklung gerade der archäometrischen Methoden und Untersuchungen, kurz, der technologische Fortschritt der letzten Jahre hat auch den interdisziplinären Charakter vieler archäologischer Forschungen verstärkt und konnte zur Klärung noch vorhandener Fragestellungen beitragen.
Die geplante Konferenz im Humboldt-Kolleg bietet eine hervorragende Gelegenheit zum Austausch zwischen Archäologen, die sich mit der Erforschung der Archäologie des Barbaricums in der Latène-Zeit und der frühen römischen Kaiserzeit befassen.
HUMBOLDT-KOLLEG: CHRONOLOGY IN ARCHAEOLOGICAL STUDIES
The Chronology of the Pre-Roman Iron Age and early Roman Age in Central and South-East Europe: Problems and Perspectives
Chişinău, 08.-09.11.2018
Organising Committee:
Prof. Dr. Eugen Sava, THE NATIONAL MUSEUM OF HISTORY OF MOLDOVA
Dr. Vasile Iarmulschi, FREIE UNIVERSITÄT BERLIN / THE NATIONAL MUSEUM OF HISTORY OF MOLDOVA
Associated Professor Dr. Aurel Zanoci, MOLDOVA STATE UNIVERSITY
Associated Professor Dr. Octavian Munteanu, STATE PEDAGOGICAL UNIVERSITY OF MOLDOVA
Supported by:
Alexander von Humboldt Foundation
The topic selected for discussion will approach one of the many, but very important facets of the history of European Barbaricum in the maturation and flourishing period of Greek-Roman civilization. Remained outside the parameters that define classical antiquity, a large part of the European continent, although it has been, in one way or another, in the orbit of the impulses that came from the world of Greek-Roman civilization, nevertheless had its own development paths. Against the background of complicated processes from the La Tène period and the early Roman Age, determined by multiple human mobility within this world and by important intercalations of Barbaricum with the Greco-Roman world, it has experienced the cultural interference which perception is in strict dependence on the exact determination of chronological references. It is not accidental that this question was given central attention throughout the entire study period of the subject. Beyond the enormous efforts that have been made over the centuries, resulted in important findings, there are many other problems that are just waiting for solutions that archaeologists are looking at with much optimism. In this sense, the optimism of researchers comes to be justified by both the diversification of the methods applied in cutting-edge science (based upon the effervescent evolution of technologies) and by the interdisciplinary character of modern studies.
An update and a systematization of the results achieved over recent years, connected to the previous ones, are likely to provide a radiograph of the quality of the situation in the field, defining the momentary problems, but also designing forward-looking solutions.
In this way, the planned conference at Humboldt-Kolleg represents an excellent opportunity for a new round of discussions dedicated to studying Barbaricum archaeology in the La Tène and Early Imperial Roman Ages.