News
The National Scientific Conference "Bessarabian Prominent Figures as Part of the National Cultural and Historical Heritage (the 19th century and the first half of the 20th century)"
Deadline: May 31, 2023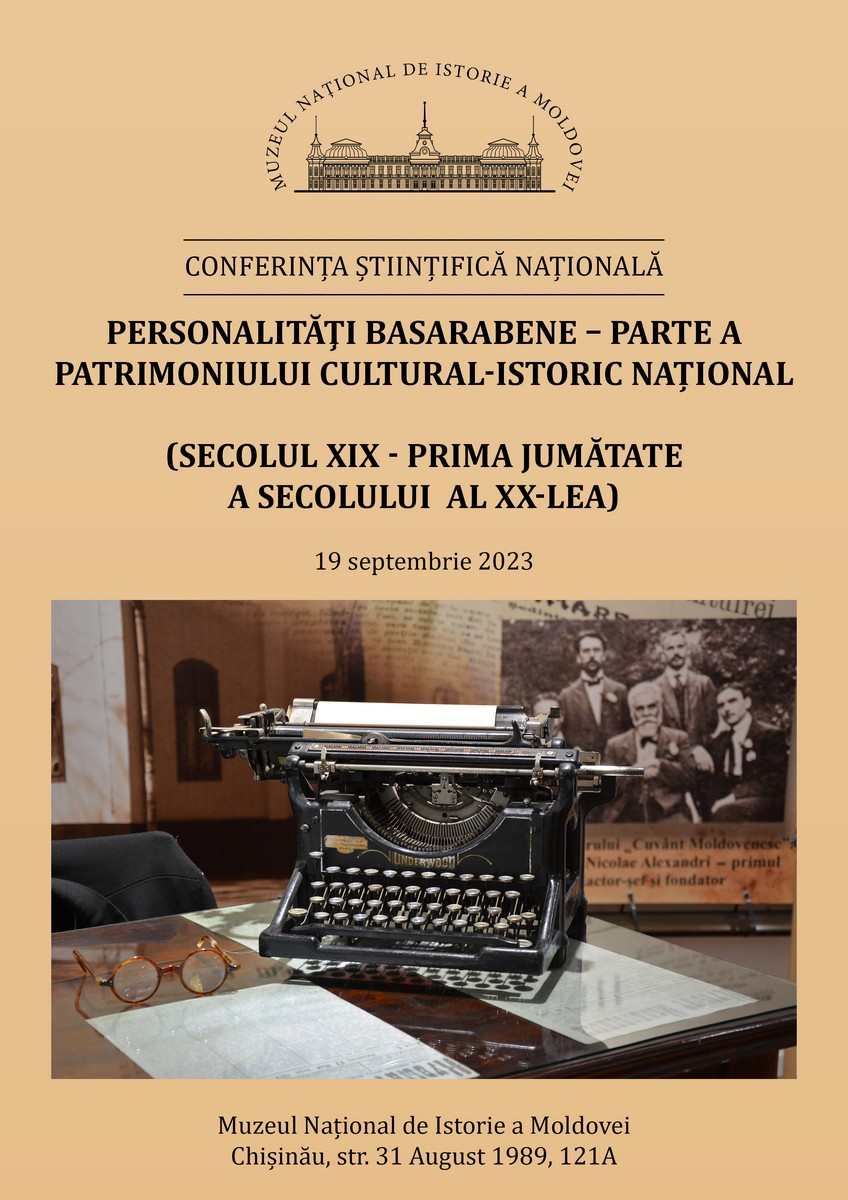 The National Museum of History of Moldova invites you to take part in the National Scientific Conference "Bessarabian Prominent Figures as Part of the National Cultural and Historical Heritage (the 19th century and the first half of the 20th century)", which will be held on Tuesday, September 19, 2023.
The Conference is organized by the Department of History and Museology of the National Museum of History of Moldova within the Project "Museum Heritage and Historical Memory: Research, Interpretation, Presentation" (20.80009.0807.43), financed by the State Program (2020-2023).
Those interested in the event are asked to submit the title and summary of communication (up to 500 words) in Romanian or English/French/German until May 31, 2023.
Conference materials are to be published in electronic format until the end of 2023. For these reasons, we ask to send us the articles until August 15, 2023.
The volume of papers should not exceed 20 pages, including bibliography, abstract and illustrations. The text should be presented in electronic format: Microsoft Word; Times New Roman; Font size 12; Space 1,0.
The articles can be presented in Romanian, English, French or German and should be accompanied by 5-7 keywords and abstracts (up to 300 words) in Romanian and English (regardless of the language of the main text).
The requirements for the preparation of the paper comply with the rules of publication in the Tyrgetia journal. For more details see link.

All the materials presented for publication are to be reviewed by the members of the editorial board, as well as by other specialists in the field. In case of a negative conclusion, the editorial board is not obliged to comment on its decision.
Thank you for your cooperation!
Organizing Committee:
Vera Serjant, serjantvera@gmail.com, +373 60731664
Ana Grițco, anagritco87@gmail.com, +373 69125552
Lilia Zabolotnaia, lilizab61@gmail.com, +373 69 44 0118