| | | | |
| --- | --- | --- | --- |
| | National Museum of History of Moldova | | |


Click here for a Virtual Tour of the Museum


Events Archive
The presentation of the book: "История жизни Марии Кантемир в письмах и документах"
On Monday, February 26, 2018, at 15.00, the National Museum of History of Moldova will host the presentation of the book: "История жизни Марии Кантемир в письмах и документах" ("The history of Maria Cantemir's life in letters and documents"). The series History of women, Publishing House: Lexon-Prim, Chişinău, 2018, 271 p., author: Lilia Zabolotnaia.


The volume is dedicated to the life and activity of a famous woman - Maria Cantemir (1700-1757), the older daughter of Dimitrie Cantemir and Cassandra Cantacuzino. The study is based on research conducted in the archives of St. Petersburg and Moscow, which led to the discovery of unpublished documents related to Maria Cantemir's private life and relations between Cantemir family members.

The book is structured in several compartments. The first chapter contains 26 legal documents related to finances and family properties. The second chapter contains 38 letters written by Maria Cantemir to her younger brother, Antioh Cantemir, which have been published only partially until now.

The author discovered that Maria Cantemir's image was largely mystified by writers and historians. She was a woman of strong, energetic and courageous character, decisive and determined, deeply religious and of high moral qualities. The unpublished documents and Maria Cantemir's letters, published in this volume, denote her particular erudition and intelligence and give us details of her character, way of life, behavior and worldviews.

The volume is addressed to historians, writers, journalists, students, diplomats, politicians, young students and to all who are interested and passionate about the history of personalities.

More than 70 persons are invited to attend the book presentation event representing different institutions: the Ministry of Education, Culture and Research, Moldova State University, Pedagogical State University "Ion Creanga", the Cultural Heritage Institute, the History Institute, the National Museum of History of Moldova, representatives of Russian, Polish and Ukrainian embassies, lawyers, writers, students, and others.

The event is organized with the support of the National Commission of the Republic of Moldova for UNESCO and the Community of Ukrainian Women in Moldova.

The museum is pleased to welcome all interested visitors to the event!






#Exhibit of the Month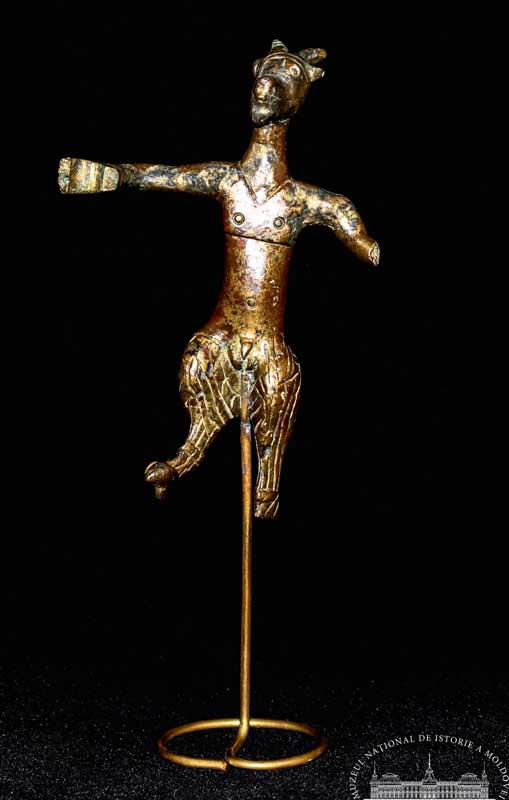 Among the Greek mythological figures, there is a satyr (Ancient Greek: Σάτυρος), also called Silenus, a male spirit of nature and forest, known to be the companion of the gods Pan and Dionysus. Satyrs were imagined as dancing in the fields, drinking wine with Dionysus and chasing maenads and nymphs. According to the descriptions in myths, they had human-like upper part of the body and the horse-like or goat-like legs, and also a long and bushy tail. Gradually, animalistic features in the image of a satyr recede, their lower limbs become human (legs, not hooves). The satyr Marsyas (Μάρσιας) plays a special role in Greek legends. Sometimes the god Pan is depicted in the guise of a satyr...
Read More >>