| | | | |
| --- | --- | --- | --- |
| | National Museum of History of Moldova | | |

An exceptional exhibition of treasures
The National Museum of History of Moldova invites you to visit the most valuable and impressive exhibition of treasures of the past exhibited in its Treasure Room.

The exhibition gathers most relevant objects of gold and silver from the collection of the National Museum of History of Moldova which are dated with the time interval between the 5th millennium BC and the 18th century, all discovered on the territory between Rivers Prut and Dniester and which are part of the National Cultural Heritage of the Republic of Moldova.

Do not miss the opportunity to admire more than 2500 pieces made of precious metals with great historic, artistic and symbolic value displayed in the exhibition "Treasure of the past".






#Exhibit of the Month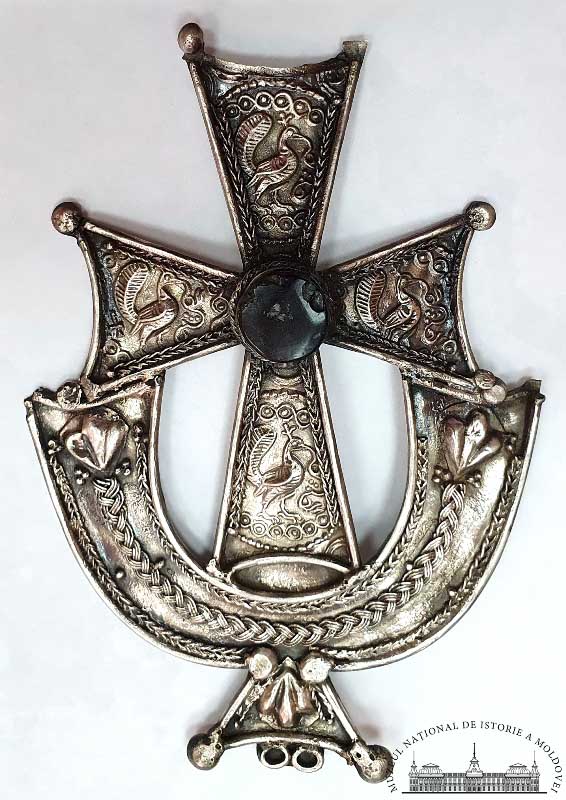 From the early days of Christianity, the cross meant not only an instrument of torture, but also a symbol of victory over death, a symbol of salvation. The object is made of silver, having the shape of a Byzantine cross with trapezoidal edges of the arms. The side arms and the one at the bottom seem to be turned inside a vessel (chalice (?)) with the trapezoidal "foot". The arms of the cross and of the "chalice" were ended with a decorative element in the shape of a sphere (drop). The cross has a decoration in relief, executed in the technique of filigree and granulation, consisting of drops, double and triple cords, circles with a drop in the center, and trefoils (?). In the center of the cross, at the intersection of the arms, there is a round mount with a cord-like edge, in which the pomegranate fruit is located...
Read More >>