| | | | |
| --- | --- | --- | --- |
| | National Museum of History of Moldova | | |


Click here for a Virtual Tour of the Museum


Chronological Axis
Period of Relative Autonomy of Bessarabia within the Russian Empire
(1812 - 1828)
In this period Bessarabia was a province having a special statute – the Ukase "On the Formation of the Bessarabian Oblast" of April 29, 1818, which specified the observance of certain peculiarities in governing.

According to the Senate ukase of March 15, 1828, Bessarabia was incorporated in the general system of the Empire. In the annexed territory there was created the Chisinau and Hotin Eparchy (the Ukase of the Holy Synod of 30 September, 1813) subordinated to the Russian Orthodox Church.

The first Metropolitan of the new eparchy was Gavriil Banulescu-Bodoni (1813-1821).

There were opened the Eparchial Printing-house (May 31, 1814), which served for printing religious books in the "Moldavian language", the Chisinau Theological Seminary (1813), and district schools of gymnasia type (in Chisinau, Hotin, Tighina, Balti, Akkerman, Ismail). During this time a large colonization process begins in the south of Bessarabia.

- Memoirs of Major von Raan from Russian campaign in the years 1787-1790, in which Bessarabia is described as it was on the eve of annexation -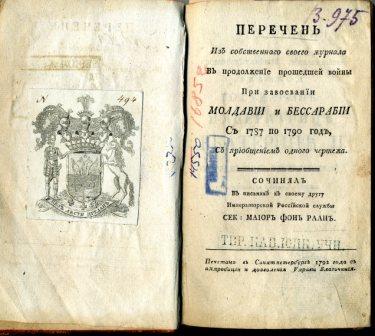 - Metropolitan Gavriil, Pastoral for the Oath to royal seat by all residents ... (July 28, 1816) -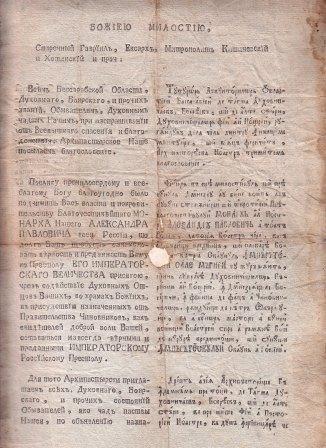 #Exhibit of the Month
It is a sports trophy obtained at an inter-school oina (a bat-and-ball game) competition in interwar Bessarabia. We don't know which schools participated in this competition, nor the venue, we only know that one of the winners received the second prize and that the event was held on May 13, 1934. In this way we learn about the existence of different sports competitions organized by schools, including the oina game. Oina is a beautiful and complex sports game that promotes the development of body and spirit, courage and the desire for self-improvement. Oina is a treasure of the Romanian people, which must be sacredly kept and passed on to future generations...
Read More >>