| | | | |
| --- | --- | --- | --- |
| | National Museum of History of Moldova | | |


Virtual Tour


Chronological Axis
Period of Relative Autonomy of Bessarabia within the Russian Empire
(1812 - 1828)
In this period Bessarabia was a province having a special statute – the Ukase "On the Formation of the Bessarabian Oblast" of April 29, 1818, which specified the observance of certain peculiarities in governing.

According to the Senate ukase of March 15, 1828, Bessarabia was incorporated in the general system of the Empire. In the annexed territory there was created the Chisinau and Hotin Eparchy (the Ukase of the Holy Synod of 30 September, 1813) subordinated to the Russian Orthodox Church.

The first Metropolitan of the new eparchy was Gavriil Banulescu-Bodoni (1813-1821).

There were opened the Eparchial Printing-house (May 31, 1814), which served for printing religious books in the "Moldavian language", the Chisinau Theological Seminary (1813), and district schools of gymnasia type (in Chisinau, Hotin, Tighina, Balti, Akkerman, Ismail). During this time a large colonization process begins in the south of Bessarabia.

- Memoirs of Major von Raan from Russian campaign in the years 1787-1790, in which Bessarabia is described as it was on the eve of annexation -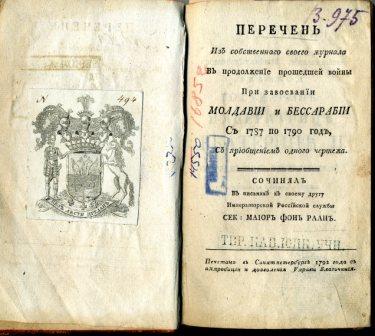 - Metropolitan Gavriil, Pastoral for the Oath to royal seat by all residents ... (July 28, 1816) -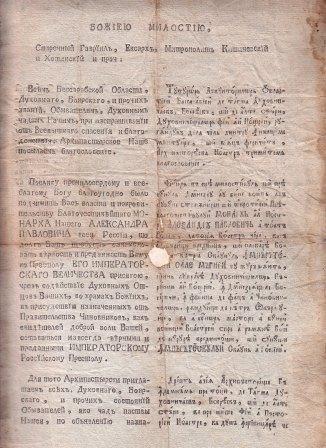 #Exhibit of the Month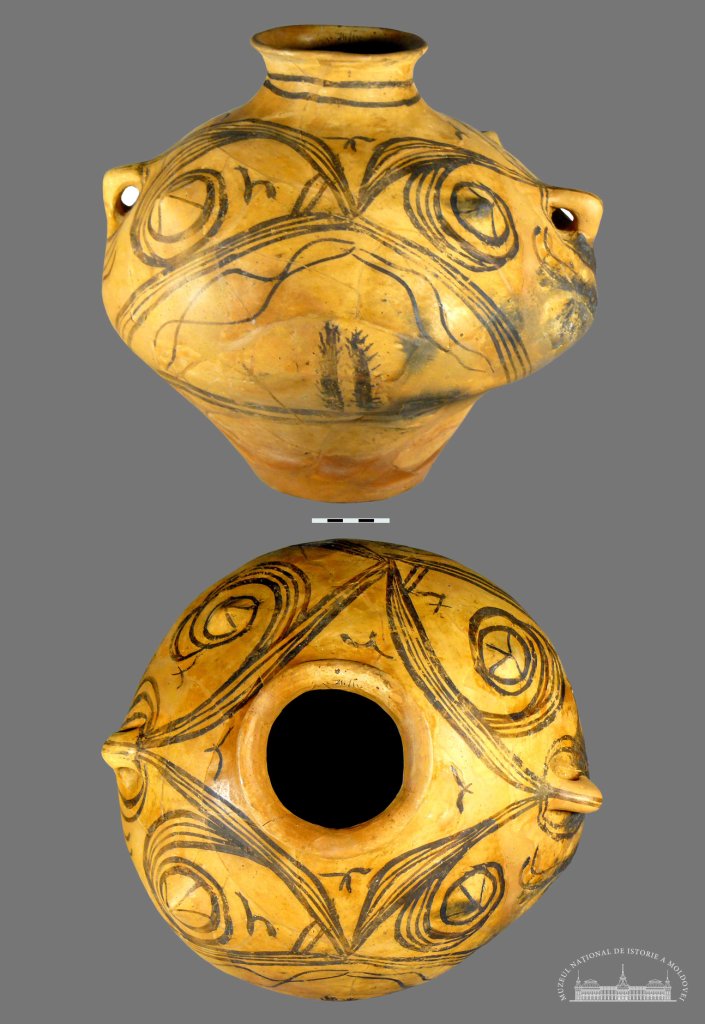 This unique amphora was found in 1984 during the excavations of the Şuri I settlement of the Cucuteni-Trypillia culture (5th-4th thousand BC), which existed in the Eneolithic era, in the mid-1st half of the 4th millennium BC, near the village of Şuri, Drochia District of the Republic of Moldova. In the classifications of Cucuteni-Trypillian painted pottery, it belongs to a separate type distinguished by archaeologists, known in the special literature under various names: facial urns, amphorae with an ornament of the "owl face" type, amphorae with facial ornament, facial amphorae. These names were given to the amphorae due to their peculiar ornament and their truncated-conical or rounded body that resembles the head of an owl (large circles on the sides of the handles are the eyes of a bird, and the handles are beaks), as well as due to attempts to hypothetically interpret the vessels as images of some two-faced or four-faced anthropomorphic, zoomorphic or ornithomorphic mythological creatures of the Cucuteni-Trypillian pantheon...
Read More >>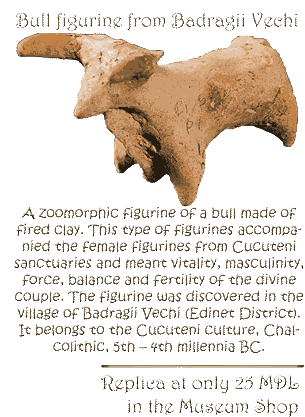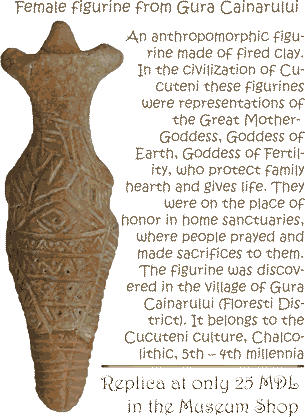 __________________________________________
©2006-2021
National Museum of History of Moldova
31 August 1989 St., 121 A, MD 2012, Chisinau, Republic of Moldova
Phones:

Secretariat:
+373 (22) 24-43-25
Department of Public Relations and Museum Education:
+373 (22) 24-04-26
Fax:
+373 (22) 24-43-69
E-mail:
office@nationalmuseum.md
Technical Support:
info@nationalmuseum.md

Web site administration and maintenance:
Andrei EMILCIUC