| | | | |
| --- | --- | --- | --- |
| | National Museum of History of Moldova | | |

Restoration
One of the main museum activities is restoration of museum exhibits. Annually there are conserved or restored about 150 objects, which were in a poor state because of their age.
The Department of Conservation and Restoration was established in 1994. It is divided into laboratories for the restoration of old books, icons, metal objects, ceramics, textiles, and pieces of furniture.

Among the cultural values, which were brought back to life by skillful hands of restorers, there are:
metal objects: coin hoards from Hiriseni (3rd – 4th cent.), Vadul lui Isac (2nd – 4th cent.), and Capriana (17th – 19th cent.), buckles, bracelets, two chain mails (16th – 18th cent.), two medieval guns from Orheiul Vechi;
old books: "Antologhion" (Iasi, 1726), "Apostol" (Bucuresti, 1743), "Tridion" (Iasi, 1747), "Apostol" (Iasi, 1756), "Liturghie" (Ramnic, 1787), "Psaltire" (Iasi, 1790), "Biblia" (Blaj, 1795), and many other ecclesiastical books;
icons: "Virgin on the Throne". "St Nicolas", "Saints", "St Archangel Michael" (1796), "Epiphany", and many others;
textiles: "Carpet with a rose" (1896), a wall carpet (19th cent.), a ritual rug "pocrovat" (19th cent.), two theatre costumes from the opera "The Tsar's Bride" (1930s), details of national costumes, and many other museum objects;
ceramics: archaeological vessels found at the sites of Saharna "La Revechin" (the Getae culture, 5th - 4th cent. B.C.), Giurgiulesti, Orheiul Vechi. Among them there are funeral vessels, bowls, pots, cups, etc.

In 2009 - 2010 the laboratories for restoration of books, metal objects, and furniture were equipped with advanced machinery through two projects funded by the Foundation THE HEADLEY TRUST from the United Kingdom and the Government of Japan.





#Exhibit of the Month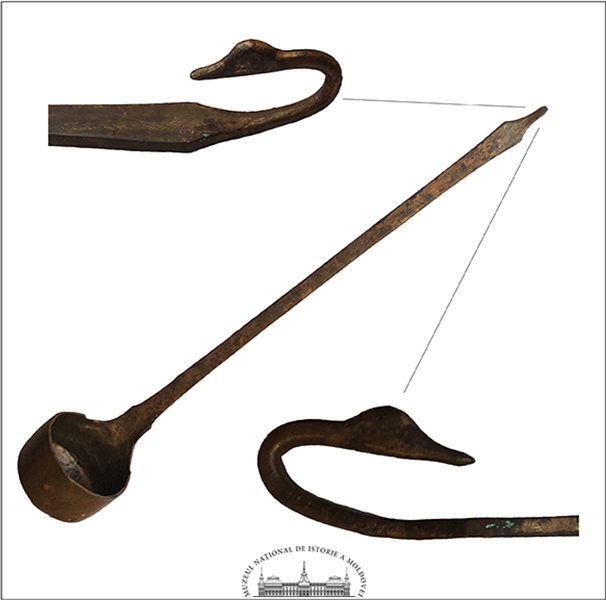 Kyathos (Ancient Greek: κύαθος - ladle, cup) is an ancient Greek vessel (ladle), used to pour wine from various larger vessels (kraters, hydriai, pelicai, and so on) into drinking cups. During the existence of these vessels, they were made of different materials: from silver and bronze to burnt clay, the latter ones being often painted with red and black figures, and sometimes covered only with black slip. In the myths about Hercules, a young cupbearer named Kyathos is mentioned, who during a feast, scooping up wine from a vessel with a ceramic ladle to pour it into Hercules' bowl, accidentally broke the high handle of the vessel (which often happens) and spilled wine on the legendary hero. Hercules, not calculating his strength, gave the inattentive young man a flick on the forehead...
Read More >>