| | | | |
| --- | --- | --- | --- |
| | National Museum of History of Moldova | | |

Restoration
One of the main museum activities is restoration of museum exhibits. Annually there are conserved or restored about 150 objects, which were in a poor state because of their age.
The Department of Conservation and Restoration was established in 1994. It is divided into laboratories for the restoration of old books, icons, metal objects, ceramics, textiles, and pieces of furniture.

Among the cultural values, which were brought back to life by skillful hands of restorers, there are:
metal objects: coin hoards from Hiriseni (3rd – 4th cent.), Vadul lui Isac (2nd – 4th cent.), and Capriana (17th – 19th cent.), buckles, bracelets, two chain mails (16th – 18th cent.), two medieval guns from Orheiul Vechi;
old books: "Antologhion" (Iasi, 1726), "Apostol" (Bucuresti, 1743), "Tridion" (Iasi, 1747), "Apostol" (Iasi, 1756), "Liturghie" (Ramnic, 1787), "Psaltire" (Iasi, 1790), "Biblia" (Blaj, 1795), and many other ecclesiastical books;
icons: "Virgin on the Throne". "St Nicolas", "Saints", "St Archangel Michael" (1796), "Epiphany", and many others;
textiles: "Carpet with a rose" (1896), a wall carpet (19th cent.), a ritual rug "pocrovat" (19th cent.), two theatre costumes from the opera "The Tsar's Bride" (1930s), details of national costumes, and many other museum objects;
ceramics: archaeological vessels found at the sites of Saharna "La Revechin" (the Getae culture, 5th - 4th cent. B.C.), Giurgiulesti, Orheiul Vechi. Among them there are funeral vessels, bowls, pots, cups, etc.

In 2009 - 2010 the laboratories for restoration of books, metal objects, and furniture were equipped with advanced machinery through two projects funded by the Foundation THE HEADLEY TRUST from the United Kingdom and the Government of Japan.





#Exhibit of the Month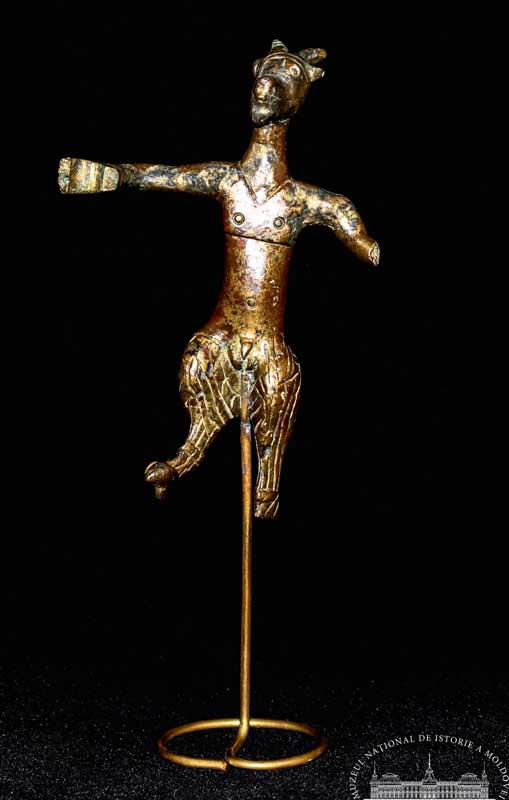 Among the Greek mythological figures, there is a satyr (Ancient Greek: Σάτυρος), also called Silenus, a male spirit of nature and forest, known to be the companion of the gods Pan and Dionysus. Satyrs were imagined as dancing in the fields, drinking wine with Dionysus and chasing maenads and nymphs. According to the descriptions in myths, they had human-like upper part of the body and the horse-like or goat-like legs, and also a long and bushy tail. Gradually, animalistic features in the image of a satyr recede, their lower limbs become human (legs, not hooves). The satyr Marsyas (Μάρσιας) plays a special role in Greek legends. Sometimes the god Pan is depicted in the guise of a satyr...
Read More >>