| | | | |
| --- | --- | --- | --- |
| | National Museum of History of Moldova | | |

Restoration
One of the main museum activities is restoration of museum exhibits. Annually there are conserved or restored about 150 objects, which were in a poor state because of their age.
The Department of Conservation and Restoration was established in 1994. It is divided into laboratories for the restoration of old books, icons, metal objects, ceramics, textiles, and pieces of furniture.

Among the cultural values, which were brought back to life by skillful hands of restorers, there are:
metal objects: coin hoards from Hiriseni (3rd – 4th cent.), Vadul lui Isac (2nd – 4th cent.), and Capriana (17th – 19th cent.), buckles, bracelets, two chain mails (16th – 18th cent.), two medieval guns from Orheiul Vechi;
old books: "Antologhion" (Iasi, 1726), "Apostol" (Bucuresti, 1743), "Tridion" (Iasi, 1747), "Apostol" (Iasi, 1756), "Liturghie" (Ramnic, 1787), "Psaltire" (Iasi, 1790), "Biblia" (Blaj, 1795), and many other ecclesiastical books;
icons: "Virgin on the Throne". "St Nicolas", "Saints", "St Archangel Michael" (1796), "Epiphany", and many others;
textiles: "Carpet with a rose" (1896), a wall carpet (19th cent.), a ritual rug "pocrovat" (19th cent.), two theatre costumes from the opera "The Tsar's Bride" (1930s), details of national costumes, and many other museum objects;
ceramics: archaeological vessels found at the sites of Saharna "La Revechin" (the Getae culture, 5th - 4th cent. B.C.), Giurgiulesti, Orheiul Vechi. Among them there are funeral vessels, bowls, pots, cups, etc.

In 2009 - 2010 the laboratories for restoration of books, metal objects, and furniture were equipped with advanced machinery through two projects funded by the Foundation THE HEADLEY TRUST from the United Kingdom and the Government of Japan.





#Exhibit of the Month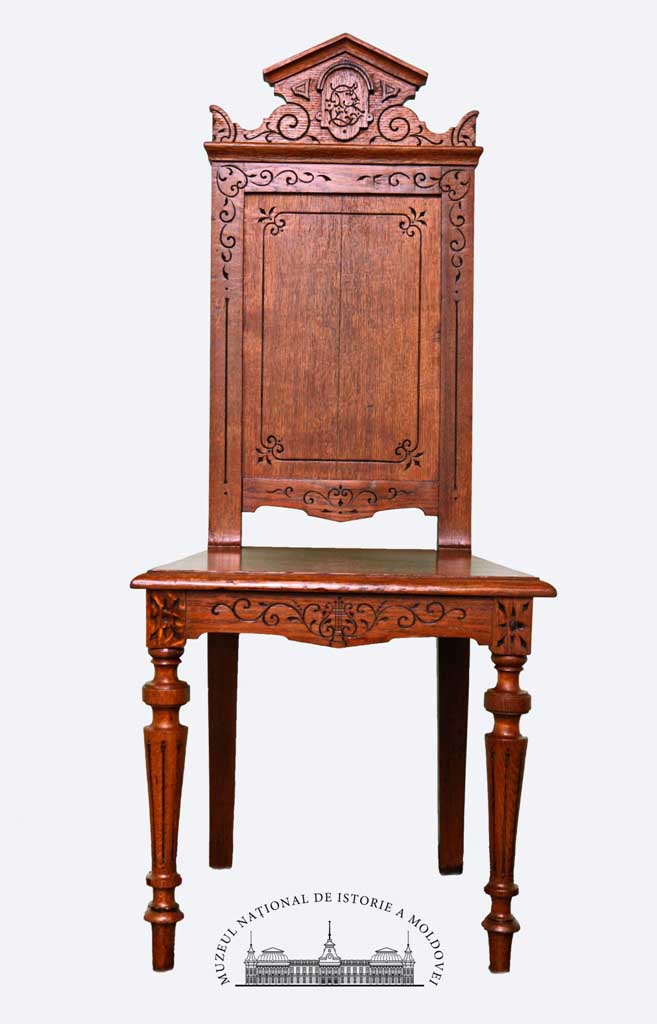 The National Museum of History of Moldova collects, preserves, researches and exhibits, for the purpose of knowledge and education, material evidence related to the history of Bessarabia. The museum collections are constantly enriched through acquisitions, donations and archaeological excavations. In the first half of 2018, the museum collections were replenished with new material values, related to the history of the nobility in Bessarabia. As a result of the field investigations, carried out in the village of Brânzeni, Edineț District, five pieces of furniture were purchased, which belonged to Vasile Stroescu: a cabinet, a sofa, a chest of drawers, a chair and a wall mirror. The pieces were purchased from Elizaveta Gureu, the granddaughter of Gheorghe Tincu, who was the manager of the Brânzeni estate, owned by the Stroescu family...
Read More >>