| | | | |
| --- | --- | --- | --- |
| | National Museum of History of Moldova | | |


Virtual Tour


Publications

Albums





Eugen Sava, Aurelia Cornețchi, Elena Postică, Elena Ploșnița

National Museum of History of Moldova 1983-2013


Series "Albums" I, Chisinau, 2013. 191 p.






Adelaida Chiroșca

Marial icon collection of the National Museum of History of Moldova (17th-20th centuries)


Series "Albums" II, Chisinau, 2014. 200 p.






Ana Niculiţă

Ancient Jewelry from the Collections of the National Museum of History of Moldova (Catalog)


Series "Albums" III, Chişinău, 2018. 296 p.







#Exhibit of the Month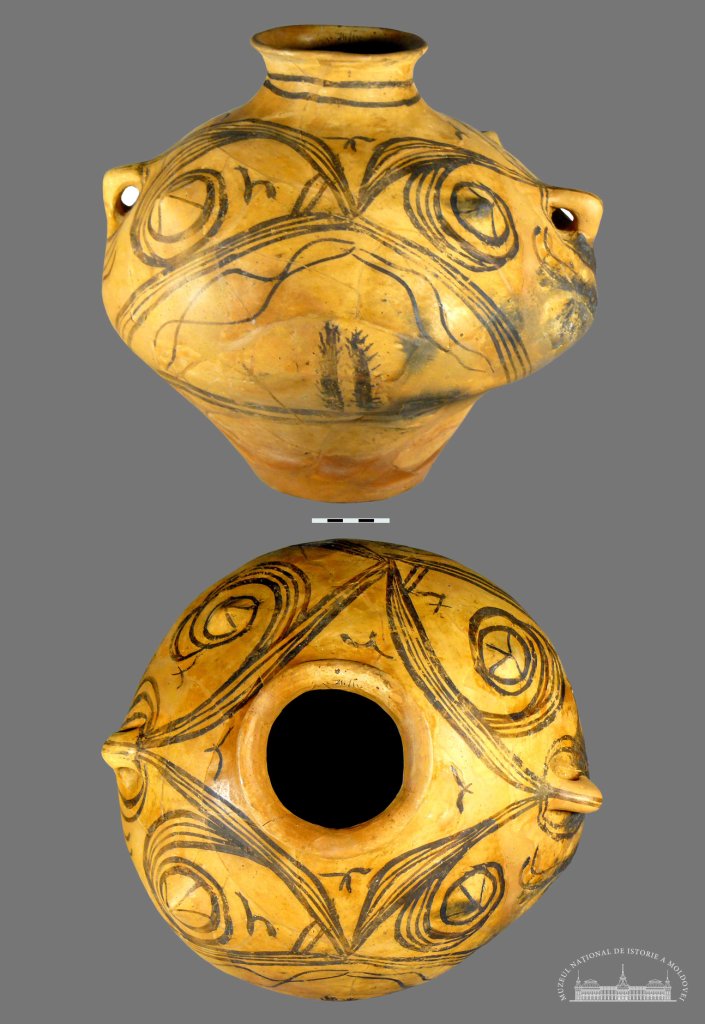 This unique amphora was found in 1984 during the excavations of the Şuri I settlement of the Cucuteni-Trypillia culture (5th-4th thousand BC), which existed in the Eneolithic era, in the mid-1st half of the 4th millennium BC, near the village of Şuri, Drochia District of the Republic of Moldova. In the classifications of Cucuteni-Trypillian painted pottery, it belongs to a separate type distinguished by archaeologists, known in the special literature under various names: facial urns, amphorae with an ornament of the "owl face" type, amphorae with facial ornament, facial amphorae. These names were given to the amphorae due to their peculiar ornament and their truncated-conical or rounded body that resembles the head of an owl (large circles on the sides of the handles are the eyes of a bird, and the handles are beaks), as well as due to attempts to hypothetically interpret the vessels as images of some two-faced or four-faced anthropomorphic, zoomorphic or ornithomorphic mythological creatures of the Cucuteni-Trypillian pantheon...
Read More >>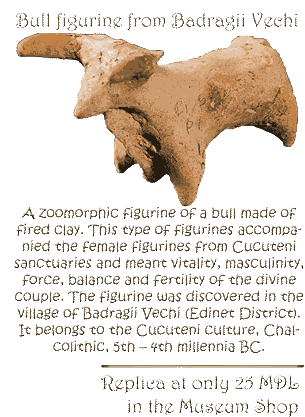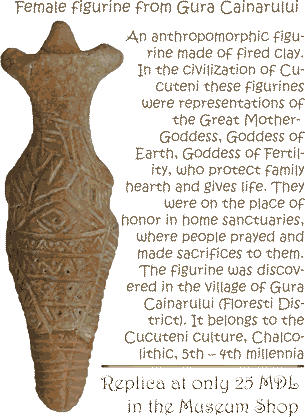 __________________________________________
©2006-2021
National Museum of History of Moldova
31 August 1989 St., 121 A, MD 2012, Chisinau, Republic of Moldova
Phones:

Secretariat:
+373 (22) 24-43-25
Department of Public Relations and Museum Education:
+373 (22) 24-04-26
Fax:
+373 (22) 24-43-69
E-mail:
office@nationalmuseum.md
Technical Support:
info@nationalmuseum.md

Web site administration and maintenance:
Andrei EMILCIUC