| | | | |
| --- | --- | --- | --- |
| | National Museum of History of Moldova | | |



Chronological Axis
Palaeolithic Age
(500,000 years ago – 7,000 years ago)
The Palaeolithic Age is divided into three large periods: Lower Palaeolithic (500,000 – 100,000 years ago); Middle Palaeolithic (100,000 – 35,000 years ago); Upper Palaeolithic (35,000 – 10,000 years ago). At present relics of the Lower Palaeolithic are presented in the Museum by the collection of items found at about 20 sites, of which the grottoes of Duruitoarea Veche, Ofatinti, and Butesti are the most representative.


The Middle Palaeolithic, or the Mousterian period, is presented by about 60 sites situated in the grottoes and caves from Butesti, Buzdugeni, Trinca, etc., the material from which takes an important place in the collection and exhibition of the Museum
[3]
.


Today there are known about 350 sites dated from the Upper Palaeolithic where tools made of flint, bone, and horn were discovered
[5, 6]
. It is necessary to mention ones from Brinzeni, Bobulesti, Ciuntu, Scoc, Gordinesti, Ciutulesti, and Rascov. At the site of Climauti dwellings constructed with the use of mammoth ivory were discovered. In the Upper Palaeolithic there were first created objects of art:

pendants
[2]
, anthropomorphic and zoomorphic statuettes
[1, 4]
.
The Stone Age ends with the Mesolithic period (10,000 – 7,000 years ago).
1.Spearheads made of mammoth ivory

2.Pendant made of mammoth ivory

3.Hand axes and flint spearhead
4.Adornments: ivory bracelet, necklace; and ritual objects: protoma of a bison, ornamented disk, and female figurine – made of ivory and stone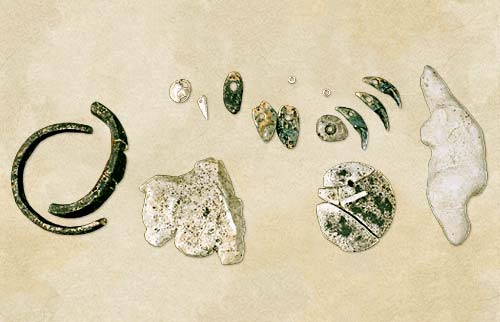 5.Needles made of bone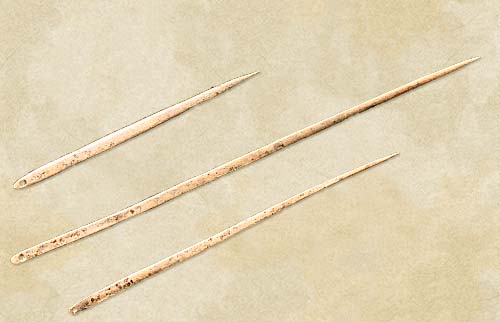 6.Flint objects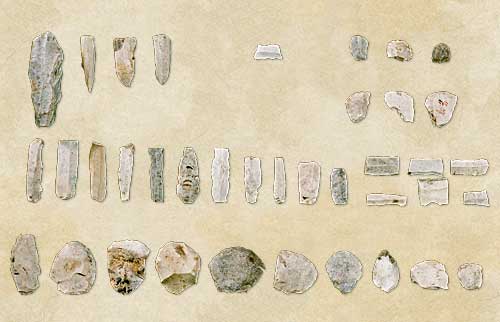 #Exhibit of the Month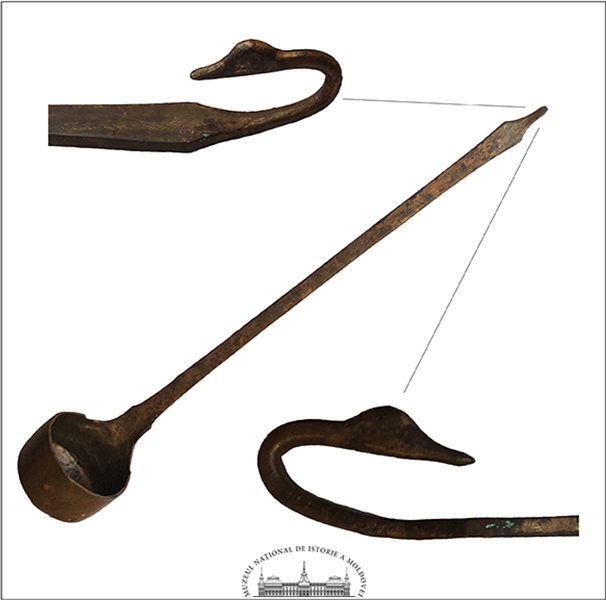 Kyathos (Ancient Greek: κύαθος - ladle, cup) is an ancient Greek vessel (ladle), used to pour wine from various larger vessels (kraters, hydriai, pelicai, and so on) into drinking cups. During the existence of these vessels, they were made of different materials: from silver and bronze to burnt clay, the latter ones being often painted with red and black figures, and sometimes covered only with black slip. In the myths about Hercules, a young cupbearer named Kyathos is mentioned, who during a feast, scooping up wine from a vessel with a ceramic ladle to pour it into Hercules' bowl, accidentally broke the high handle of the vessel (which often happens) and spilled wine on the legendary hero. Hercules, not calculating his strength, gave the inattentive young man a flick on the forehead...
Read More >>