Collections
Numismatic Collection
The collection consists of:
Coins of diverse times and countries of issue. There are ancient coins of Greek, Getae-Dacian, and Roman origin, medieval coins of local and foreign issues (the Ottoman Empire, the Holy Roman Empire, the United Provinces, Hungary, Poland, etc.); series of modern coins; contemporary Moldavian and foreign currency
Modern and contemporary banknotes, both Moldavian and foreign. Beside the banknotes, there are other means of payment
Decorations: orders, medals, and crosses (the 19th - 20th centuries) of different countries (Bulgaria, Czechoslovakia, the Russian Empire, Yugoslavia, Mongolia, Poland, the Republic of Moldova, Romania, Hungary, USSR, etc.), received by civil and military persons
Medals dated from the 17th - 21st centuries, predominantly modern and contemporary
Badges, seals and signet-rings, stamps, etc.
-4-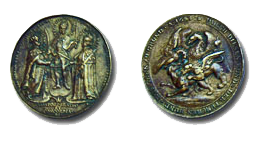 -5-