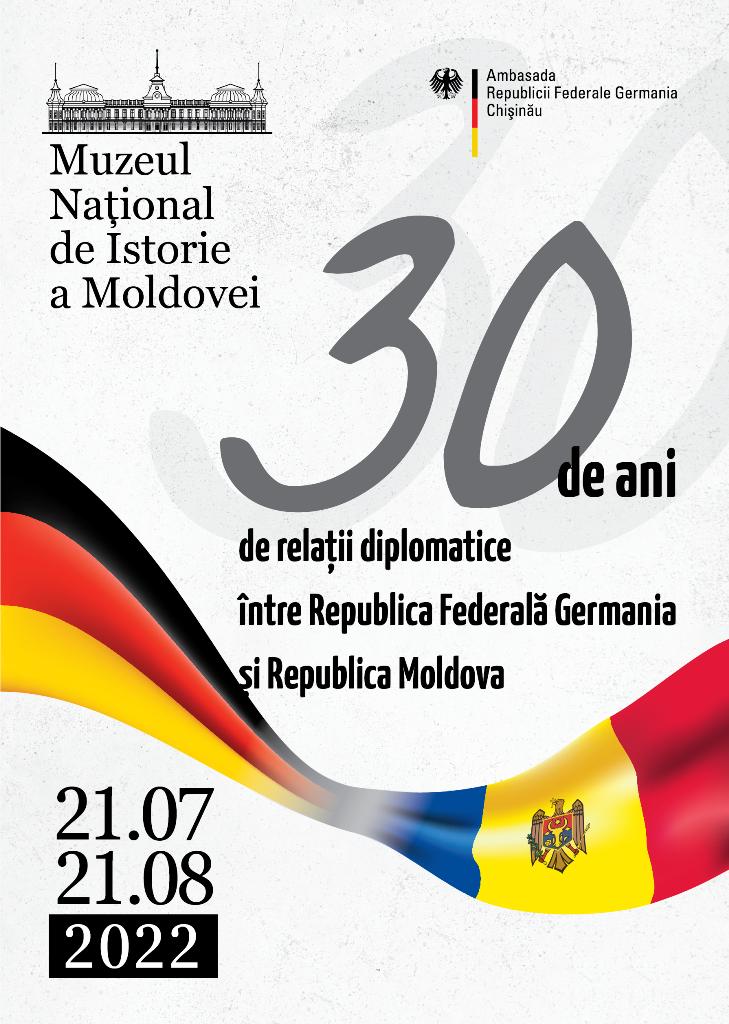 The diplomatic relations between Germany and Moldova began 30 years ago with the signing of the protocol about the inception of the diplomatic relations on 30 April 1992. This was followed by the opening of the German Embassy in Chisinau on 31 October 1992 and of the Moldovan Embassy in Germany on 28 March 1995.
The exhibition, devoted to this cause, shows the development of the German-Moldovan relations and highlights important steps and key areas of the cooperation.
Germany supports Moldova's European path sharing the same values, its its long-term development and its stabilization in the face of multiple crises. Moldova considers Germany as one of the closest partners within the European Union. The cooperation in the areas of culture, development cooperation and economy are very much appreciated.
The cultural exchange and transfer are as wide and varied as the cultural areas included in this exchange. It comprises among others the promotion of German language, academic and scientific exchange as well as the organization and support of numerous cultural projects and events.
The bilateral development cooperation that started in 1993 is particularly close and focused on sustainable economic and social development and good governance. Over 1 billion euros have been committed by various partners in this period.
In the sphere of economy Germany is one of the most important foreign trade partners of the Republic Moldova and accounts for a great deal of imports and exports. Numerous direct investments of German companies contribute to the promotion of the Moldovan economy and the creation of jobs.
The political cooperation and exchange between both countries is also very close. Heads of states and governments from the Republic of Moldova came regularly for political visits to Germany. In 2012 Federal Chancellor Angela Merkel visited Chisinau and delivered a speech in parliament, a rare honor. The visit of the Federal Foreign Minister Frank-Walter Steinmeier in 2014 paved the way for the so-called Berlin-Process two years later, that led to the improvement of living conditions of people on both banks of the Dniester. In 2021 both Presidents, Ms. Maia Sandu and Frank-Walter Steinmeier, took turns in paying each other state visits.
Find out more about this and other aspects of German-Moldovan relations over the years in this exhibition!
The exhibition 30 years of diplomatic relations between Germany and Moldova can be seen in the MNIM ground floor hall (31 August 1989 street, nr. 121 A) between July 21 and August 21, 2022.