| | | | |
| --- | --- | --- | --- |
| | National Museum of History of Moldova | | |



Exhibitions
Diorama of the "Iasi-Chisinau Operation"
Permanent
Diorama of the Iasi-Chisinau Operation was opened to the public in 1990. This is a real masterpiece of art that was being created in the course of more than eight years by Nikolay Prisekin and Alexey Semyonov, the well-known painters of the Military Artists' Studio named after M.V. Grekov. In size it exceeds the dioramas "Assault of the Sapun Mountain" in Sevastopol, "Battle for Kiev" (the Lyutezh Bridgehead, 1943), and others.



On the canvas with the dimensions of 45 x 11 m. there are reflected the battles, which took place near the village of Leuseni, on the Prut river, in the summer of 1944. The foreground, which constitutes the whole with the canvas, consists of authentic objects; an anti-tank gun, boxes with cartridges and shells, equipment and ammunition. The total space of the foreground and canvas of the diorama constitutes about 800 sq. m.





#Exhibit of the Month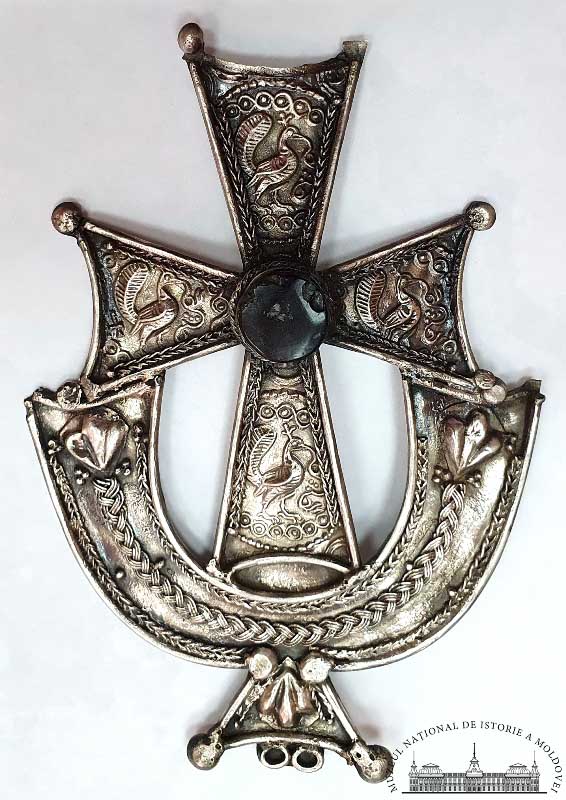 From the early days of Christianity, the cross meant not only an instrument of torture, but also a symbol of victory over death, a symbol of salvation. The object is made of silver, having the shape of a Byzantine cross with trapezoidal edges of the arms. The side arms and the one at the bottom seem to be turned inside a vessel (chalice (?)) with the trapezoidal "foot". The arms of the cross and of the "chalice" were ended with a decorative element in the shape of a sphere (drop). The cross has a decoration in relief, executed in the technique of filigree and granulation, consisting of drops, double and triple cords, circles with a drop in the center, and trefoils (?). In the center of the cross, at the intersection of the arms, there is a round mount with a cord-like edge, in which the pomegranate fruit is located...
Read More >>