From March 1 to May 19, 2019, at the National History Museum of Moldova you can interact with everything that means technology, you can discover the amazing qualities of the robots and enjoy the unique experiences in VR areas (An artificial environment created by computer).

With VR headphones/glases and a controller, you are transported to a new world where you can explore, play or experience new sensations) and in AR areas (at first glance resembles virtual reality, which can also be used through mobile devices, but essentially these are two completely different technologies and experiences). Virtual reality requires "immersing" in a virtual environment without keeping touch with the real world around you. Instead, augmented reality overlaps 3D objects over the real world to create the feeling that it is right in front of you, keeping in touch with the physical world.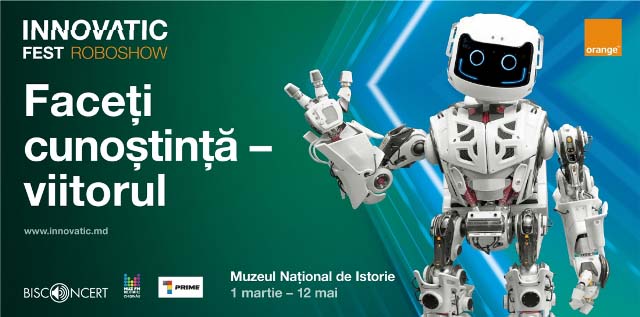 Here you can enjoy poetry recitals by the Tespian Robot and dance with dancing robots on rhythms of the song "Constantine-Constantine". You will be amazed at the ease with which robot spiders overcome obstacles and you will remain fascinated for life by the star of the Las Vegas Innovation Exhibition 2019 - the Aibo pup!
More than 30 robots and interactive VRs are waiting for you as you have never seen before and ... INCREDIBLE! - all flavoured with a tasty coffee served by CoffeeBot!
INNOVATIC FEST runs on an area of 1,200 square meters and has several interactive areas.
Come with the whole family, experiment the technology, get to know the future!