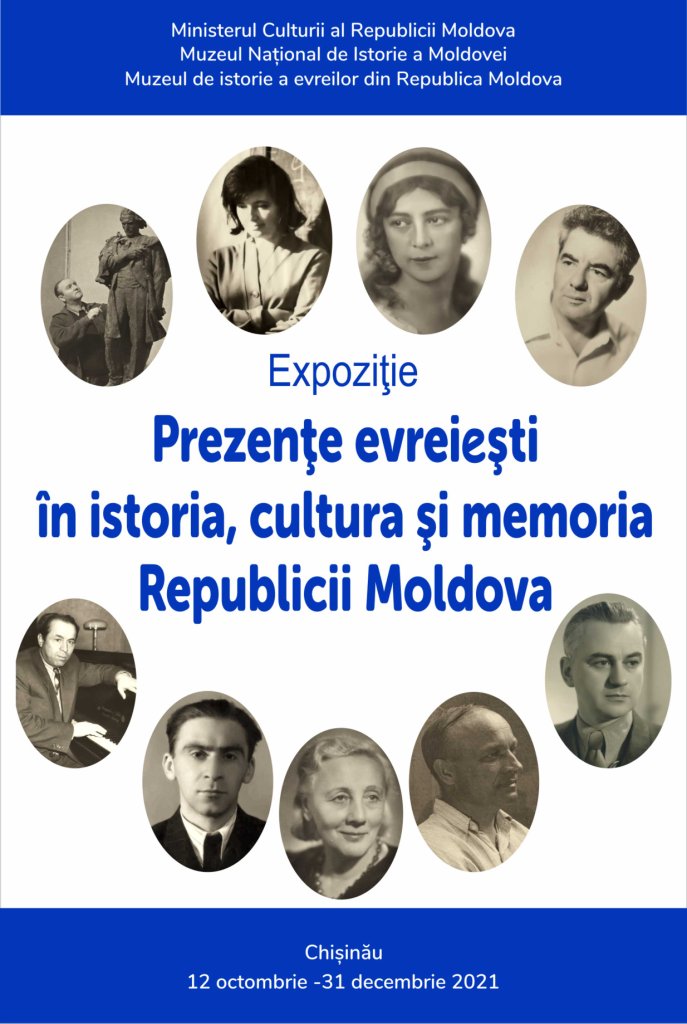 The exhibition "Jewish Presence in the History, Culture and Memory of the Republic of Moldova" exhibits the items of the Jewish cultural and historical heritage from the collections of the National Museum of History of Moldova.

The exhibition brings together various heritage items: documents, photographs, awards, works of art, books, clothes, memorabilia and other relics that recreate some aspects of the history of the Jewish community of Moldova and remind of famous figures who made a special contribution to the development of Moldavian culture, science and society on the whole.
The exhibits recreate aspects of the life and work of figures from various fields of culture and science: scientists, composers, architects, musicians, writers, sculptors, actors, doctors, etc.
Among the Jews who fully integrated into the Moldovan society, created and left their immortal creations to their descendants, there are sculptors Lazar Dubinovsky, Claudia Kobizeva and Lev Averbukh, architects Valentin Voitsekhovsky, David Palatnik and Valentin Mednek, composers David Gerschfeld, Solomon Loebel, David Fedov and Zlata Tkach, artists Moisei Gamburd and Ada Zevina, actress Ninel Kameneva, filmmakers Mikhail Izrailev, Eugeniu Vengre and Olga Ulitskaya, musical figures Maria Dailis (Braido), Lydia Babich and Gita Stratilevich, writers and playwrights Yechiel Shraibman, Liviu Deleanu and Leonid Corneanu, scientists Pavel Sovetov, Lazar Polevoy and Isaak Rafalovich, doctors Moisei Gekhtman and Dmitry Tumarkin, and many, many others.
The exhibition also presents documentary materials from the Museum of History of the Jews in the Republic of Moldova concerning the Jewish pogroms in Chişinău in 1903 and 1906; some of these testimonies were taken from the National Archives of the Republic of Moldova.
A separate compartment of the exhibition brings shocking pictures of the Holocaust and calls on the public to realize the need to know the truth about the crimes of fascism. Researchers estimate that about 6 million Jews, including 1.5 million children, became victims of the Holocaust. About 270,000 Jews died in ghettos and camps in Bessarabia and Transnistria.
This compartment reminds contemporaries that recovering the memory of Holocaust victims is a social desideratum that must be taken into account by any institution responsible for preserving historical memory.
The exhibition "Jewish Presence in the History, Culture and Memory of the Republic of Moldova" is part of the series of events planned in the Action Plan for the implementation of the Declaration of the Parliament of the Republic of Moldova on the adoption of the Report of the International Commission on the Holocaust, chaired by Elie Wiesel.
The opening of the exhibition will take place on October 12, 2021, at 15:00, in room 1 on the ground floor of the National Museum of History of Moldova, 31 August 1989 Street, 121A.