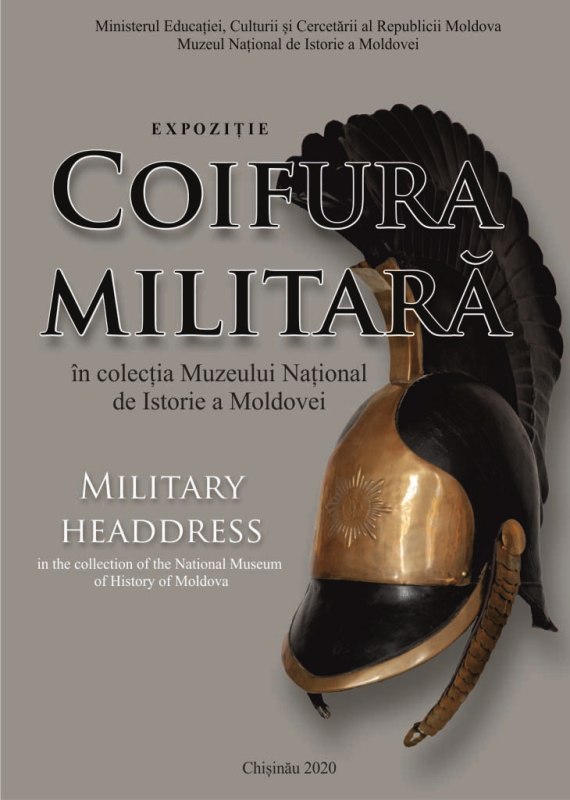 The exhibition brings to the public's attention a mandatory accessory of military clothing - the headdress.
The headdress, a piece of resistance of the military uniform, but also an object of representative art with historical and emotional significance, is preserved as a testimony of the past, able to present the history of the organization of the European armies, the successive foreign influences, but also the attempts to form national traditions.
The exhibition "A History of Headdress" includes a selection of over 200 military head coverings, which are the most representative of the collection of the National Museum of History of Moldova. The presentation is made in evolutionary order, from the 4th century BC to our days, and shows types of head covering. The pieces included in the exhibition represent helmets, shakos, capello, bonnets, fez, hats, berets, caps, hats etc., from different types of outfits - campaign, street and ceremonial. The headdress pieces on display come from the Russian Empire, the Ottoman Empire, Prussia, Austro-Hungary, France, Italy, Romania, Germany, USSR, Bulgaria, Czechoslovakia, Poland, Hungary and the Republic of Moldova.
The exhibition includes headdress accessories (plume, pompom, egret, coat of arms, etc.), as well as elements of the uniform (epaulets, laces, bandannas, cartridges, ceinturon, map bag, whip, etc.).
The exhibition has also on display over 30 photographs which reflect the evolution of the military uniform in European countries for three centuries (source: "Encyclopedia of military suit" by I. Golyzhenkov and B. Stepanov, Moscow, 2001).
All the pieces included in the exhibition "Military headdress in the collection of the National Museum of History of Moldova" contribute to the reconstruction of the European military phenomenon over time.