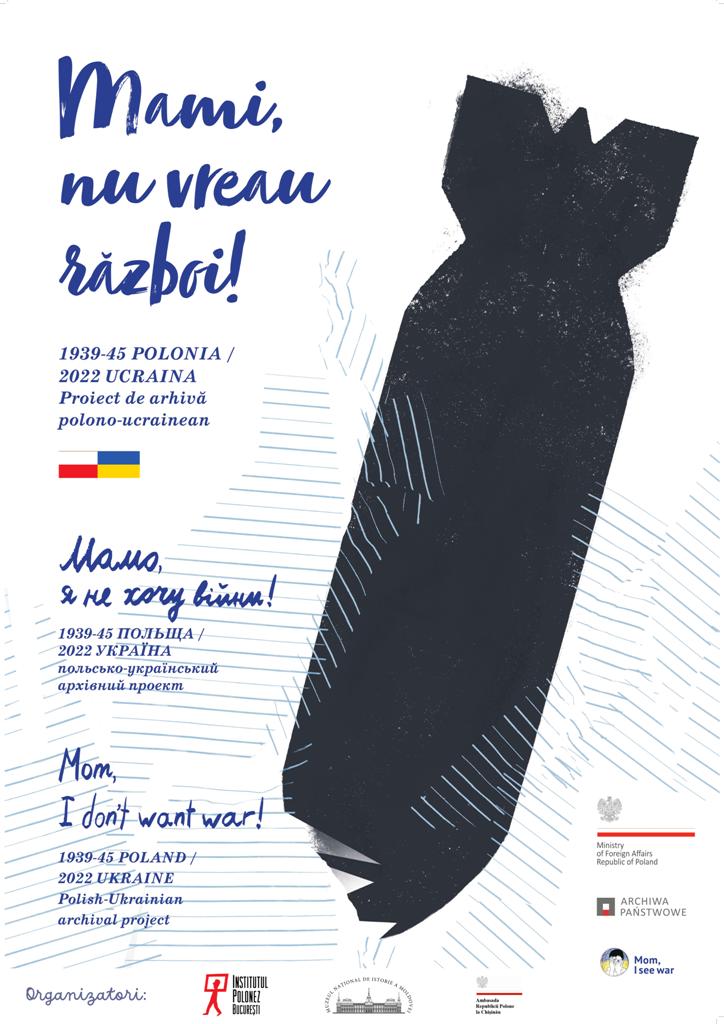 In September 1939, World War II broke out. 83 years later, we say NO to war again! On the 30th of September, at 12:00, in front of the National Museum of History of Moldova in Chisinau, the emotional Polish-Ukrainian exhibition "Mom, I don't want war!!!" will be opened.
Together with the Embassy of the Republic of Poland in Chisinau and the Embassy of Ukraine in the Republic of Moldova, we will open an exhibition that shows us the war seen through the eyes of children. We want to continue to support Ukraine and its citizens. This is how our countries express their support for Ukraine in these difficult days of the war.
The exhibition features historical drawings by Polish children from 1946, which record their experience during World War II and the German occupation of 1939-1945, as well as contemporary drawings by Ukrainian children about the ongoing war in Ukraine. The drawings can be found also on the Mom I see war portal.
The similarity between the historical drawings and those of today is striking. Children draw tanks, airplanes from which bombs are dropped, fires and explosions. They draw wounded and dead, ruined houses, graves. They draw themselves and their families, evacuation and escape. They also draw their hopes and dreams for the future.
The multitude of emotions transposed in the drawings: from fear and despair to hope and faith in victory, confirms one thing - children should not suffer because of the war, they deserve to be happy and loved.
The project "Mom I see war" was launched to show the war through the eyes of children in Ukraine and to draw the attention of the world community to the brutal invasion of Russia.
"This project brought together over 10,000 children's drawings about war and peace in Ukraine, created to capture what children experience during wartime and show the world how strong Little Ukrainians are."
Opening: September 30, 12.00, in front of the National Museum of History of Moldova.
Project supervision: Dr. Dorota Sadowska (University of Warsaw), Prof. Olga Kulinich (National "Taras Shevchenko" University in Kyiv), Mariusz Olczak (director of the Archives of Modern Documents)