| | | | |
| --- | --- | --- | --- |
| | National Museum of History of Moldova | | |



Exhibitions
"The Miracle of Restoration. Textile Cultural Heritage Values"
November 26, 2020 - February 28, 2021
The exhibition "The Miracle of Restoration. Textile Cultural Heritage Values" brings together only some of the over 240 museum pieces restored by E. Bondarenco during 25 years of her activity as a restorer. Visitors are invited to admire various categories of objects: rugs and wall hangings, towels, embroideries, traditional blouses, skirts "catrinţe", head scarves and other garments, curtains, archaeological textiles, and so on. At the same time, thanks to the presented photographs reflecting the stages of the restoration process, visitors will be able to follow the path taken by the exhibits from the museum depositories through the restoration workshop to the exhibition.




#Exhibit of the Month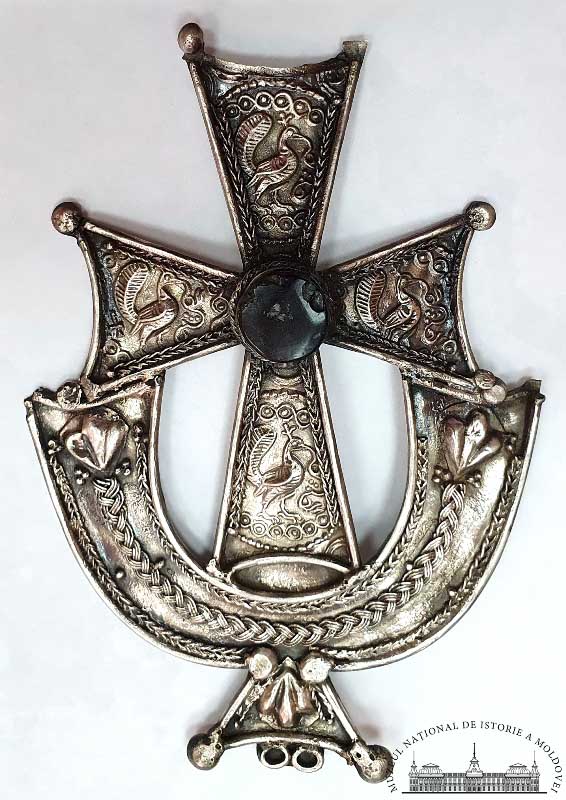 From the early days of Christianity, the cross meant not only an instrument of torture, but also a symbol of victory over death, a symbol of salvation. The object is made of silver, having the shape of a Byzantine cross with trapezoidal edges of the arms. The side arms and the one at the bottom seem to be turned inside a vessel (chalice (?)) with the trapezoidal "foot". The arms of the cross and of the "chalice" were ended with a decorative element in the shape of a sphere (drop). The cross has a decoration in relief, executed in the technique of filigree and granulation, consisting of drops, double and triple cords, circles with a drop in the center, and trefoils (?). In the center of the cross, at the intersection of the arms, there is a round mount with a cord-like edge, in which the pomegranate fruit is located...
Read More >>