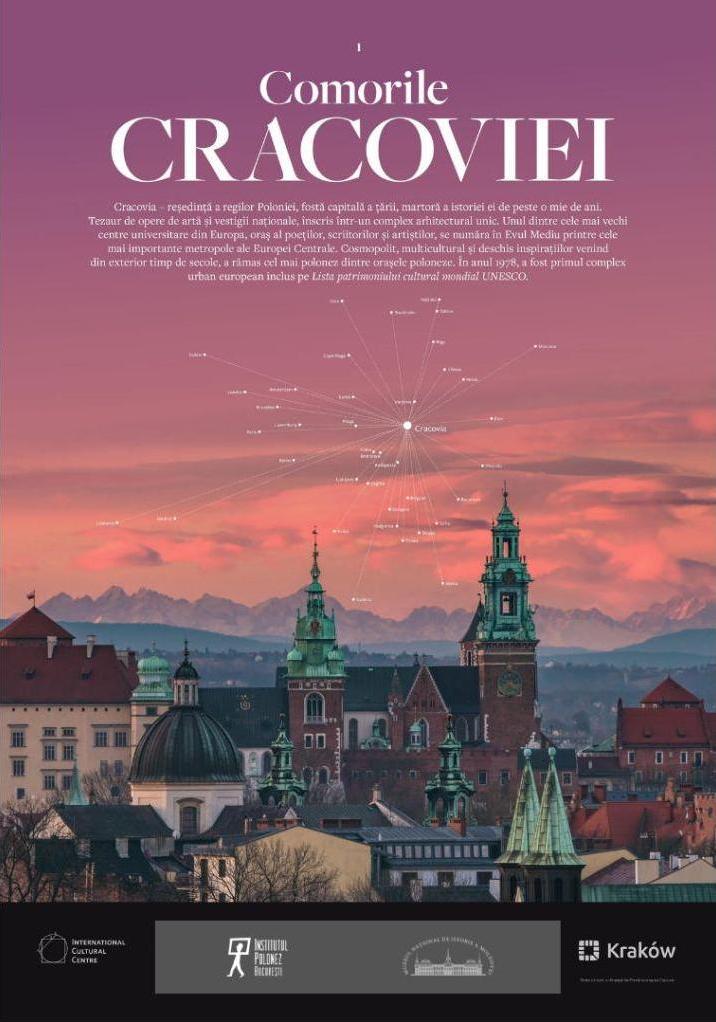 Monuments of world significance, fascinating stories, the unforgettable atmosphere of the Main Square, as well as special modern architecture are the hallmarks of Krakow, one of the most beautiful cities in Poland. You can discover them by visiting the exhibition "Treasures of Krakow", presented on the fence of the National Museum of History of Moldova in Chisinau, until September 30, 2021.
The exhibition "Treasures of Krakow", prepared by the International Cultural Center of the City and developed in the Romanian version by the Polish Institute in Bucharest, is a tale of the city - the seat of Polish kings, the former capital of the country, a treasure trove of works of art and souvenirs inscribed in a unique architectural ensemble.
Krakow is one of the oldest European university centers, a city of poets, writers and artists, which in the Middle Ages was one of the most important metropolises in Central Europe. Cosmopolitan, multicultural, open to influences from abroad, it nevertheless remained the most Polish city in Poland.
The exhibition can become a key to understanding the phenomenon of Krakow's popularity among tourists from all over the world.
The exhibition panels present 90 treasures of the city - works of art and architecture, monuments and examples of intangible heritage associated with Krakow, often ranked as masterpieces. They allow us to trace the history of the metropolis from the early Middle Ages, through the development of the city in the times of Casimir the Great, the Jagiellonian dynasty and the Renaissance. They show the extent of the decline during the Swedish Deluge, the divisions of Poland and the German occupation during World War II.
The panels lead viewers from the days of the first socialist city in Poland to the present day, when, after the political transformation, Krakow is experiencing a period of spectacular development, creatively combining the present with the rich heritage of more than a thousand years of history.
This time, the exhibition "Treasures of Krakow" can be seen on the fence of the National Museum of History of Moldova (31 August 1989 Street, 121 A, Chisinau) from 3 to 30 September 2021.