#Exhibit of the Month
February 2021
Bronze kyathos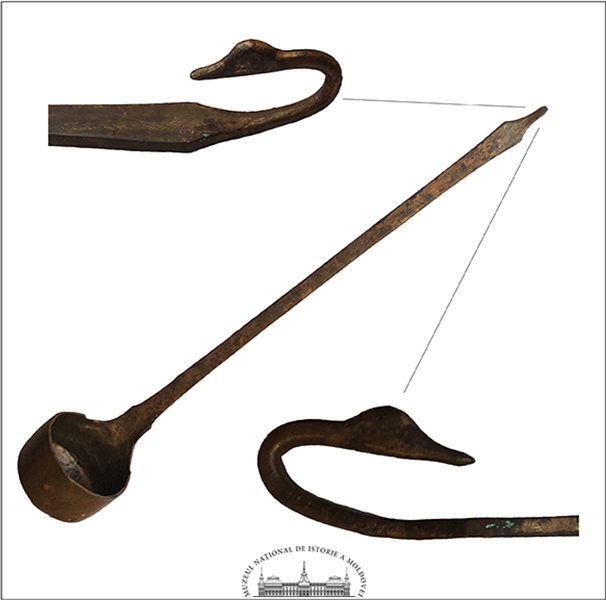 Kyathos (Ancient Greek: κύαθος - ladle, cup) is an ancient Greek vessel (ladle), used to pour wine from various larger vessels (kraters, hydriai, pelicai, and so on) into drinking cups. During the existence of these vessels, they were made of different materials: from silver and bronze to burnt clay, the latter ones being often painted with red and black figures, and sometimes covered only with black slip.
In the myths about Hercules, a young cupbearer named Kyathos is mentioned, who during a feast, scooping up wine from a vessel with a ceramic ladle to pour it into Hercules' bowl, accidentally broke the high handle of the vessel (which often happens) and spilled wine on the legendary hero. Hercules, not calculating his strength, gave the inattentive young man a flick on the forehead. Although it was a simple flick, it was fatal to the young cupbearer. In memory of this sad event in the homeland of Kyathos, in Aetolia, a grove was planted, called the Grove of the Cupbearer, where a sculpture was placed depicting Kyathos serving the cup to Hercules. Also, in memory of the cupbearer, the ladle vessels were named after him.
Kyathoi made of silver or bronze, most often with a very small bowl diameter (4 to 6 cm), were used to extract wine from amphorae (their necks ranged from 8 to 10-12 cm in diameter). The metal ladles were usually equipped with a long thin looping handles ending in a stylized swan's head.

These vessels were common in various cultures of the Greek period of the 6th-4th centuries BC.
The bronze Kyathos kept at the National Museum of History of Moldova, like most metal objects of this type, has a loop-shaped handle ending in a swan's head and the following characteristics: weight - 116.40 g; maximum length - 31.5 cm; handle width 0.9 -2 cm; diameter of the bowl at the opening - 4.4x5 cm; bowl bottom diameter - 4 cm; bowl height - 2.7 cm.