| | | | |
| --- | --- | --- | --- |
| | National Museum of History of Moldova | | |



Events Archive
International scientific conference "Memory as cultural patrimony in Lithuania and Moldova. Exchange of experience in studying and preservation of memory of the victims of totalitarian regimes and soviet occupation"
Chișinău, 2-3 December 2016

The scientific event was organized by the National Museum of History of Moldova (on the initiative of Museum of Victims of Deportations and Political Repressions), in cooperation with the Museum of Genocide Victims and Research Center on Genocide and Resistance of Lithuania. Cooperation between researchers and experts from Lithuania and Moldova will help create a bilateral scientific platform for the exchange of experience, research and historical valorisation of the period of Sovietization in Lithuania and Moldova, in particular, investigate the repressive mechanisms that ensured the establishment of the totalitarian communist regime.

The international scientific conference "Memory as a cultural patrimony in Lithuania and Moldova. Exchange of experience in studying and preservation of memory of the victims of totalitarian regimes and soviet occupation" was held on December 2nd and 3rd, 2016 at the State University of Moldova (Faculty of History and Philosophy) and the National Museum of History of Moldova. [The program of the conference]


At the conference was signed the bilateral cooperation agreement between the National Museum of History of Moldova and the Center for Research on Genocide and Resistance of Lithuania. Also, there were presented the volumes of "Memory Archives" Series, published within the State Project "Recovery and historical valorisation of memory of the victims of totalitarian communist regime in Soviet Moldova during the years 1940-1941 and 1944-1953."







#Exhibit of the Month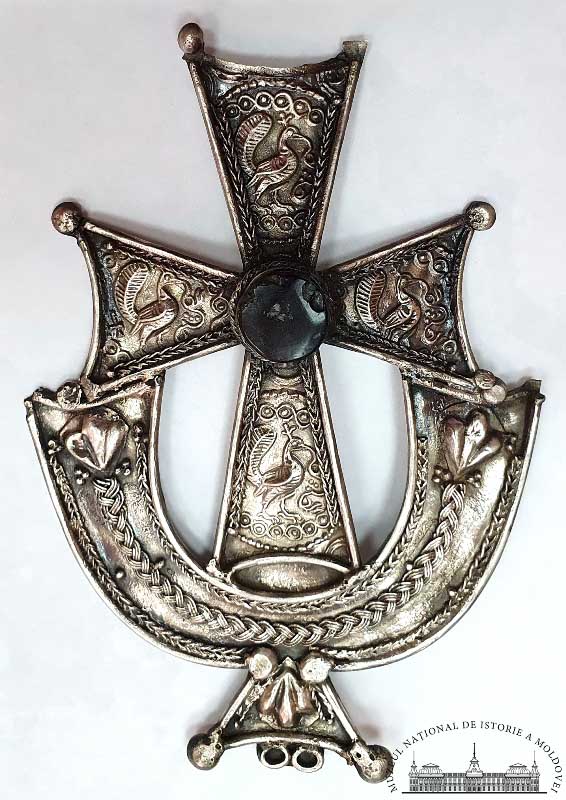 From the early days of Christianity, the cross meant not only an instrument of torture, but also a symbol of victory over death, a symbol of salvation. The object is made of silver, having the shape of a Byzantine cross with trapezoidal edges of the arms. The side arms and the one at the bottom seem to be turned inside a vessel (chalice (?)) with the trapezoidal "foot". The arms of the cross and of the "chalice" were ended with a decorative element in the shape of a sphere (drop). The cross has a decoration in relief, executed in the technique of filigree and granulation, consisting of drops, double and triple cords, circles with a drop in the center, and trefoils (?). In the center of the cross, at the intersection of the arms, there is a round mount with a cord-like edge, in which the pomegranate fruit is located...
Read More >>