#Exhibit of the Month
January 2022
Marble table leg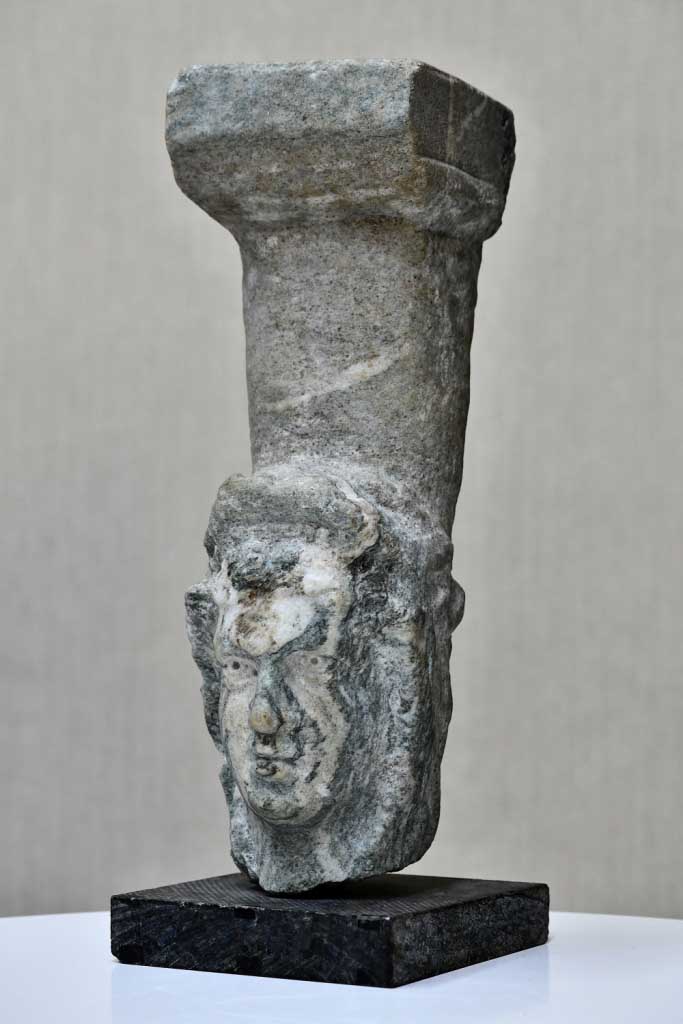 The item is the lower part of a leg of a festive table made of white and gray marble. In the upper part, it has a protrusion, similar to a Doric capital, on the horizontal platform of which a square recess is engraved, designed to fix the second part of the leg (upper). The lower part of the leg is made in an anthropomorphic style, and, in our opinion, there are two variants of identifying the depicted character. The first involves the image of the head of the young Heracles (Heracles - Ἡρακλῆς) (beardless), the most favorite hero of antiquity, wearing on his head the skin of the Nemean lion - Λέων της Νεμέας, a vicious monster from Greek mythology who lived in Nemea and was eventually killed by Heracles. The first labor of Heracles, of the twelve set by King Eurystheus (his cousin), was to kill the Nemean lion and bring his skin to the king. It is also known from Greek mythology that the lion of Nemea took the form of a beautiful woman in order to seduce the inhabitants of neighboring villages, who wanted to save the girl from danger. Upon entering the cave, a man saw the woman, who usually pretended to be wounded, and rushed to help her. When he approached her, the woman turned into a lion and killed him. Then the lion devoured the man, giving his bones to Hades - ᾍδης, the god of Hell, who lived in the kingdom of shadows. The second version of the anthropomorphic image interpretation suggests Alexander the Great, king of Macedonia in the second half of the 4th century BC, one of the most famous heroes of the Greek world, who sometimes is depicted as Hercules - wearing a lion's skin. Some researchers consider the custom of wearing the skin of a slain lion a sign of royal power. The word βασιλεύς itself, translated from ancient Greek, means "walking the path of the lion", that is, the king. This title was held by the Greek kings from the Homeric period, and later, starting from the 7th century AD - by the Byzantine emperors.
The item can be dated to the 5th-6th centuries AD, and, possibly, it originates from Asia Minor.
It is kept in the collection of the museum for about 10 years. The gray granite stand does not belong to the original item.
Metric characteristics: height 330 mm; width: 112 mm.