#Exhibit of the Month
January 2023
Mirror from Nikolskoe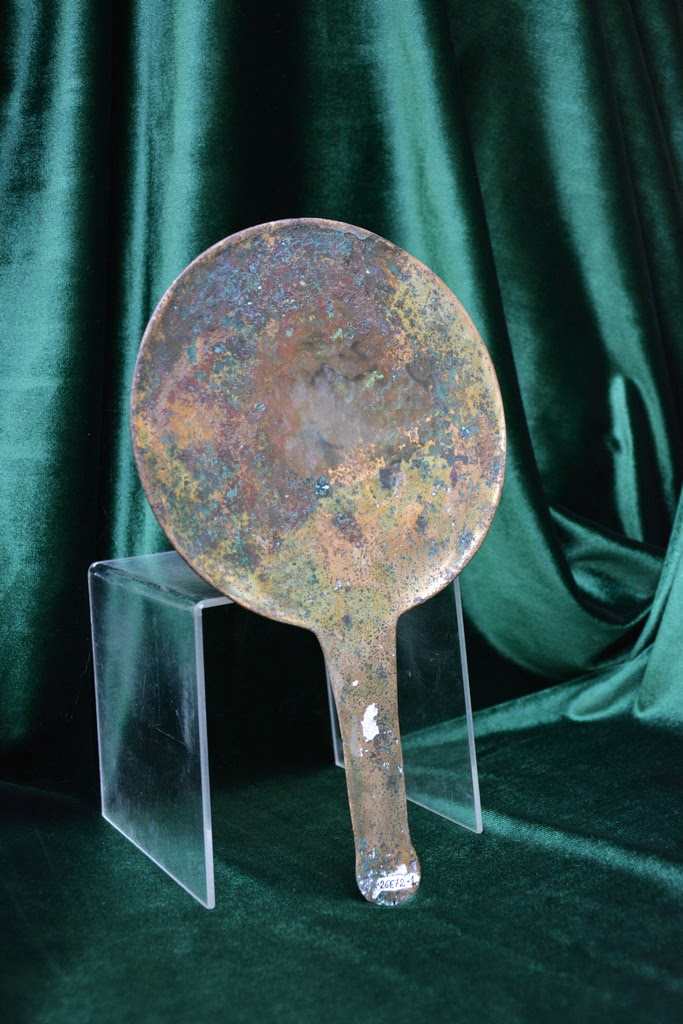 In the culture of many peoples from ancient times (and to the present day), mirrors have been given a special role in ritual practice, especially funerary ones. For many communities, mirrors, like metal objects in general, served to protect against evil spirits. Mirrors had a dual purpose - a utilitarian one, as a toilet item, and ritual, as an attribute of a magical rite. The latter is explained by the fact that in the ideas of many peoples the soul of a person is connected to his reflection in a mirror or water. Being external to man, the "soul-reflection" is subject to various dangers.
Obviously, belief in the magical possibilities of mirrors is one of the reasons why the owners kept them closed in wooden, cloth, felt or leather cases and pouches. An expensive mirror was placed in the grave along with the deceased for fear that the soul of a living person reflected in it could be carried away by the spirit of the person passed away. On the other hand, to this day, many nations have a tradition of hanging all the mirrors if there is a dead person in the house, so as not to multiply death.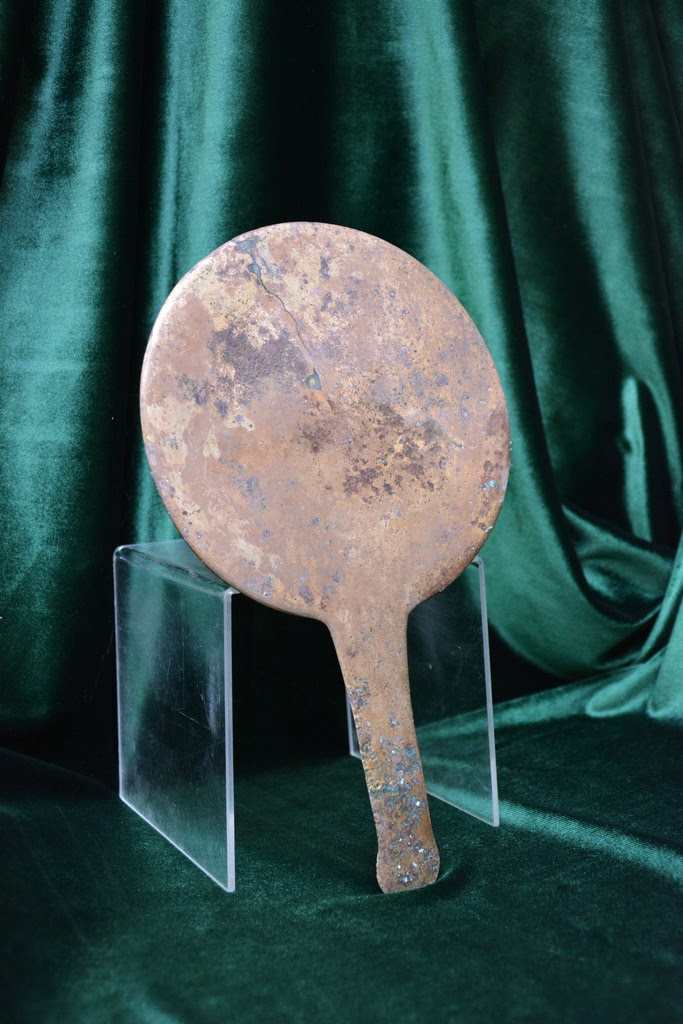 Metal mirrors are quite rare at the dawn of Scythian history, but over time, they were widely distributed in the Classical time or "Herodotus' Scythia" of the 5th-4th centuries BC. Then the mirror became one of the most important toilet items in Scythian burials. In the west of the Pontic steppes, at least 40 mirrors are known, made in Scythian or Greek workshops, 12 of them are stored in the collection of the National Museum of the History of Moldova.
One of the metal mirrors of Greek work was found on the left bank of the Dniester, near the Nikolskoe village, in the burial mound 14. It was found in a burial near a skull, and in addition to a mirror, 114 arrowheads and six golden fish-shaped plaques. The mirror was cast in bronze along with the handle. The mirror diameter is 16.5 cm, handle length with a round extension is 11.5 cm.
Although burial 1 of kurgan 14 was identified as male, 18-20 years old, mirrors are a marker of exclusively female burials. Such bronze mirrors with side handles appear in the middle of the 5th century BC but were most massively distributed during the last quarter of the 5th - the first half of the 4th century BC.