#Exhibit of the Month
May 2022
Pickaxe hammer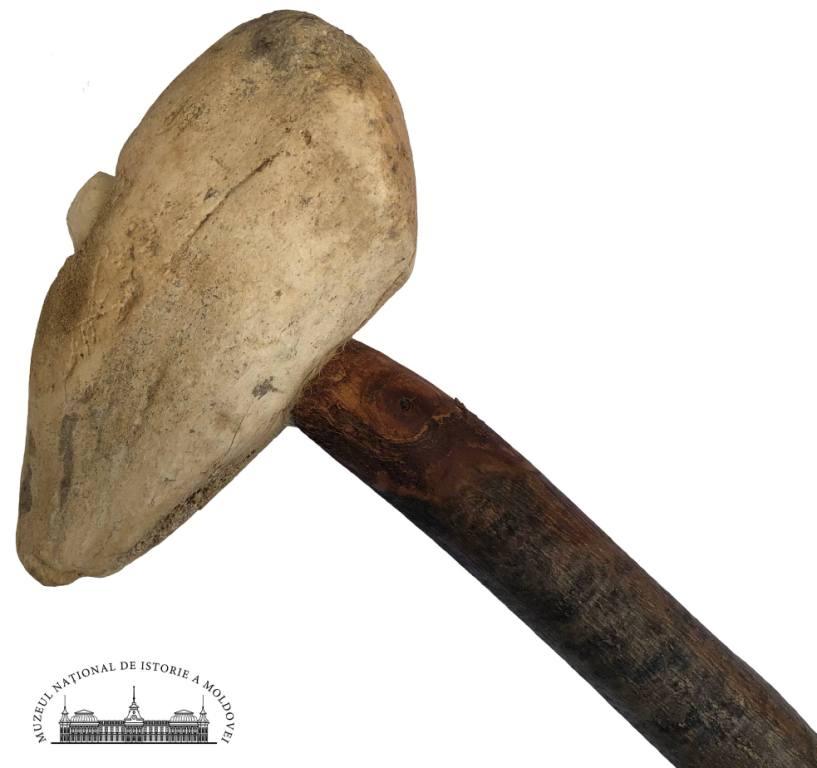 Deer antlers, as well as bones, teeth and shells of mollusks, belong to the category of hard materials of animal origin, which for a long time served as raw materials for prehistoric and protohistoric communities to make tools, weapons, containers, handles, as well as objects of prestige (sceptres) or adornments (necklaces, pendants, clothing accessories), certainly bearing a symbolic load.
The National Museum of History of Moldova has a valuable collection of products made of deer antler, the chronological framework of which covers a very wide period of time, from the Paleolithic era to the late Middle Ages. Based on this, and also taking into account the significance of the beginning of May (May 1 – International Labor Day), we present to our visitors a revolutionary type of tool, very useful, which is directly related to the development of agriculture and prehistoric societies. Antler pickaxes are the tools that contributed to what we call the Neolithic revolution, when there was a transition from hunter-gatherer hominids to sedentary people, agriculturists and cattle breeders, depending on the specifics of the region. Cucuteni agricultural human communities have a long tradition of exploiting Cervus elaphus (deer) resources, especially antlers.
The object comes from the Brânzeni III – Țiganca settlement (Edineț district), a site discovered in 1968 by the archaeologist Nicolae Chetraru, attributed to stage CII of the Tripolye culture. An unaffected part of the site was completely explored in 1970-1972 by Vsevolod Markevich; during the research 37 surface dwellings with platforms were found, revealing a new cultural aspect within the Cucuteni culture – Brânzeni, a cultural and chronological phenomenon that marks the beginning of the final stage of the Eneolithic era, the end of the 4th millennium BC.
The pickaxe hammer, dual-functional product made of the basal part of the main axis of the antler, cleaned and polished, without traces of the basal part, without rosettes and other secondary horn beams. The surface with traces of cuts is polished, in some places with strong luster. The object has a round transverse hole, slightly oblique, with a cylindrical section, located in the middle, and has a pronounced bluntness, chips and a longitudinal crack from antiquity. The active parts – the head and slightly oblique tip, completely kept – are relatively well preserved, with traces of wear and cracks in places due to intensive use.
These traces give us a history of this object, which was originally, most likely, an axe hammer, intended to split, cut, and strike, but with the wear of its blade turned into a pickaxe hammer, used both for percussion activities and for loosening the earth. The object was used as a working tool, but most likely also as a weapon.
Dimensions: L.: 113 mm; W.: 56 mm; thickness: 44 mm: Hole diameter: 20x22 mm.