| | | | |
| --- | --- | --- | --- |
| | National Museum of History of Moldova | | |

Tyragetia (New Series) is an Open Access research journal, freely accessible online. Following the Budapest Open Access Initiative (BOAI) definition of the "Open Access", the users have the right to "read, download, copy, distribute, print, search, or link" to the full texts of articles.
The Creative Commons Attribution License (CC BY) allows users to copy, distribute and transmit an article, adapt the article and make commercial and non-commercial use of the article, as long as the author is properly attributed. Authors grant the journal a license to publish the article and identify itself as the original publisher. Authors also grant any third party the right to use the article freely as long as its original authors, citation details and publisher are identified.




#Exhibit of the Month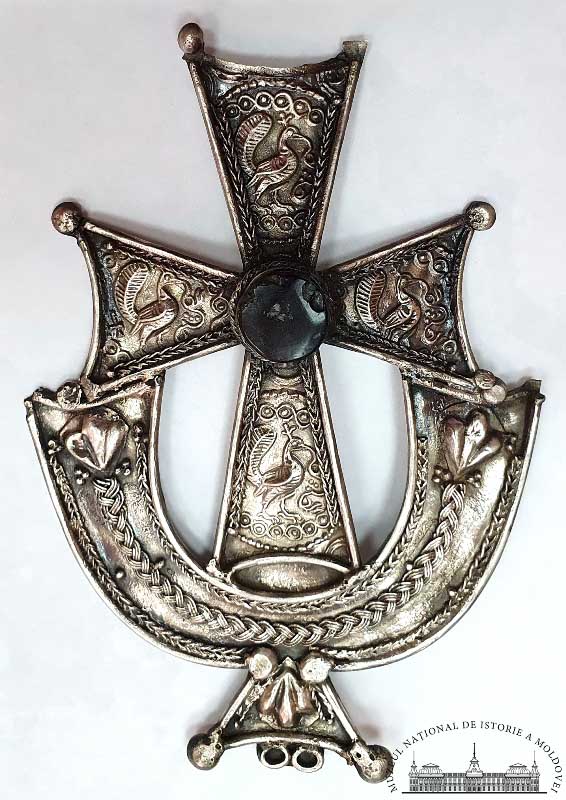 From the early days of Christianity, the cross meant not only an instrument of torture, but also a symbol of victory over death, a symbol of salvation. The object is made of silver, having the shape of a Byzantine cross with trapezoidal edges of the arms. The side arms and the one at the bottom seem to be turned inside a vessel (chalice (?)) with the trapezoidal "foot". The arms of the cross and of the "chalice" were ended with a decorative element in the shape of a sphere (drop). The cross has a decoration in relief, executed in the technique of filigree and granulation, consisting of drops, double and triple cords, circles with a drop in the center, and trefoils (?). In the center of the cross, at the intersection of the arms, there is a round mount with a cord-like edge, in which the pomegranate fruit is located...
Read More >>