| | | | |
| --- | --- | --- | --- |
| | National Museum of History of Moldova | | |


Click here for a Virtual Tour of the Museum


Research Projects

"Scientific and Public Promotion of the Museum Treasures in National/International Context" (2009-2010)
In 2009 the National Museum of Archaeology and History of Moldova has started the project "Scientific and Public Promotion of the Museum Treasures in National/International Context".

The museum specialists have performed:
investigation of documents in accordance with the directions of research; field research including archaeological excavations at the site Tutora and communication of the results through the organization of two international scientific conferences and two national scientific conferences, by publication of 60 scientific articles in special journals in the country and abroad, by publication of the monograph "Settlement with "Ashepits" near Odaia-Miciurin, Republic of Moldova (Archaeological and Interdisciplinary Investigations)", by publication of two numbers of the museum journal "Tyragetia";
establishment of features of development of Moldavian museology, identification of personalities who have contributed to the development of the museum system in the republic, definition of museum notions for the purpose of elaboration of the Moldavian Museum Encyclopaedia;
systematization of the collections and compiling of collection catalogues: Catalogue of Adornments, Catalogue of Old Documents, Catalogue of Moldavian Icons;
identification of all the existing numismatic treasures in the Republic of Moldova and elaboration of a work "Corpus de tresors de Moldavie" in the framework of the international project GDRE (EU);
promotion of exhibitions in the country and abroad through organization of thematic temporary exhibitions in the museum and through participation in two international exhibitions organized in Iasi and Barlad in the framework of international projects of EU: "Great European Civilizations: Cucuteni-Tripolye Culture" and "Late Antiquity in Prut Basin";
development and publication of a set of promotional materials: a leaflet of the exhibition "Echoes of Centuries", a leaflet of the Diorama of the Iasi-Chisinau Operation, a postcard set "Writing Tools".
See also:




#Exhibit of the Month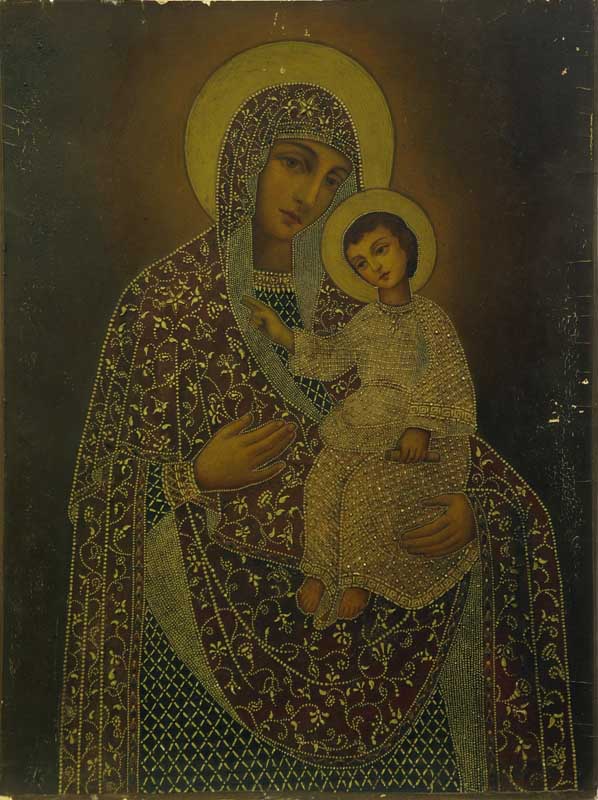 It is said that the icons, by the divine grace they have, choose their own places from where they can manifest their powers of blessing and consolation. It so happened that one icon of the Mother of God has remained on our lands from the end of the 18th century, when the battles of the Russo-Turkish war of 1787-1791 took place here. The circumstances of the appearance of this icon in Bessarabia are confirmed by several historical references, from which it follows that the Russian officer N.A. Albaduev, a participant in the military campaign, brought this icon here with him, and after his death his relatives – the colonel's wife or his mother – gave this icon to the monastery, where he suddenly died when he came there on Christmas to receive communion. The icon of the Mother of God was initially placed in the old wooden church, where the officer's grave was located, and then was placed in the new Church of the Assumption of the Blessed Virgin, built and consecrated in 1816..
Read More >>