| | | | |
| --- | --- | --- | --- |
| | National Museum of History of Moldova | | |



Collections
Archaeological Collection
The collection consists of 23693 objects (the core fund), which came from archaeological excavations, random finds, acquisitions, donations, and transfers and date back to the Palaeolithic, Neolithic, Bronze, and Iron Ages, Roman Era, pre-feudal period, and the Middle Ages. Among the specimens of the collection there are:

Carved an polished tools of flint and stone, as well as tools of bone, copper, bronze, and iron
Zoomorphic and anthropomorphic figurines
Painted ceramics of the Cucuteni type Weapons (axes, spear- and arrow-heads, sabres, etc
Vessels and household utensils
Adornments (combs, pendants, buckles, necklaces, rings, etc.)
Elements of harness.

The number of archaeological objects increased significantly in 2007 following the transfer of the collections of the former Museum of Archaeology of the Academy of Sciences of Moldova that was incorporated into the National Museum of History of Moldova.
-4-

-5-




#Exhibit of the Month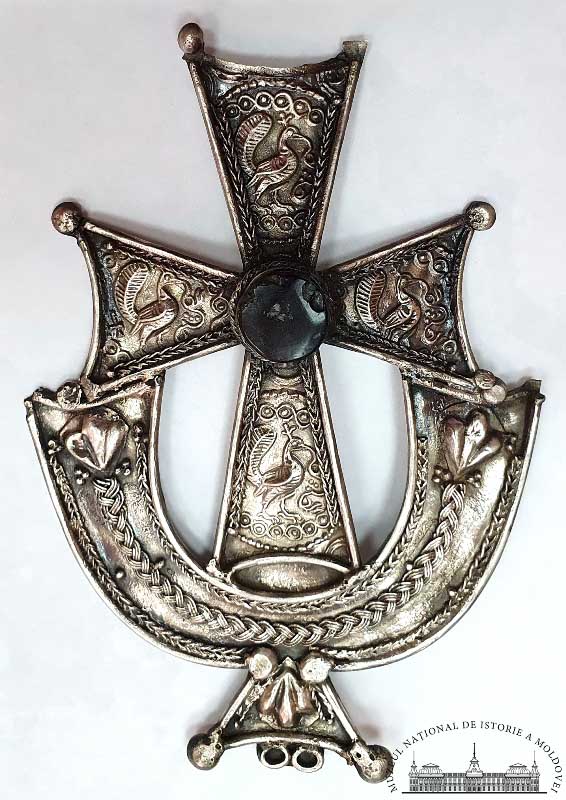 From the early days of Christianity, the cross meant not only an instrument of torture, but also a symbol of victory over death, a symbol of salvation. The object is made of silver, having the shape of a Byzantine cross with trapezoidal edges of the arms. The side arms and the one at the bottom seem to be turned inside a vessel (chalice (?)) with the trapezoidal "foot". The arms of the cross and of the "chalice" were ended with a decorative element in the shape of a sphere (drop). The cross has a decoration in relief, executed in the technique of filigree and granulation, consisting of drops, double and triple cords, circles with a drop in the center, and trefoils (?). In the center of the cross, at the intersection of the arms, there is a round mount with a cord-like edge, in which the pomegranate fruit is located...
Read More >>