| | | | |
| --- | --- | --- | --- |
| | National Museum of History of Moldova | | |


Click here for a Virtual Tour of the Museum


Collections
Archaeological Collection
The collection consists of 23693 objects (the core fund), which came from archaeological excavations, random finds, acquisitions, donations, and transfers and date back to the Palaeolithic, Neolithic, Bronze, and Iron Ages, Roman Era, pre-feudal period, and the Middle Ages. Among the specimens of the collection there are:

Carved an polished tools of flint and stone, as well as tools of bone, copper, bronze, and iron
Zoomorphic and anthropomorphic figurines
Painted ceramics of the Cucuteni type Weapons (axes, spear- and arrow-heads, sabres, etc
Vessels and household utensils
Adornments (combs, pendants, buckles, necklaces, rings, etc.)
Elements of harness.

The number of archaeological objects increased significantly in 2007 following the transfer of the collections of the former Museum of Archaeology of the Academy of Sciences of Moldova that was incorporated into the National Museum of History of Moldova.
-4-

-5-




#Exhibit of the Month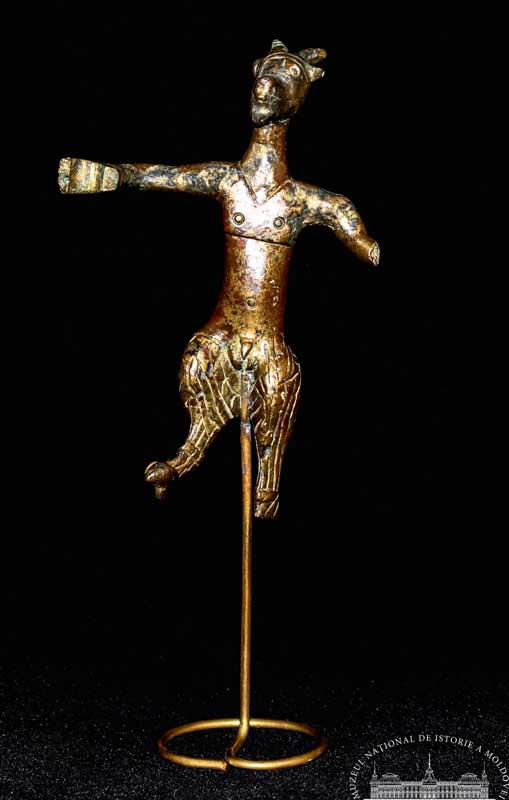 Among the Greek mythological figures, there is a satyr (Ancient Greek: Σάτυρος), also called Silenus, a male spirit of nature and forest, known to be the companion of the gods Pan and Dionysus. Satyrs were imagined as dancing in the fields, drinking wine with Dionysus and chasing maenads and nymphs. According to the descriptions in myths, they had human-like upper part of the body and the horse-like or goat-like legs, and also a long and bushy tail. Gradually, animalistic features in the image of a satyr recede, their lower limbs become human (legs, not hooves). The satyr Marsyas (Μάρσιας) plays a special role in Greek legends. Sometimes the god Pan is depicted in the guise of a satyr...
Read More >>