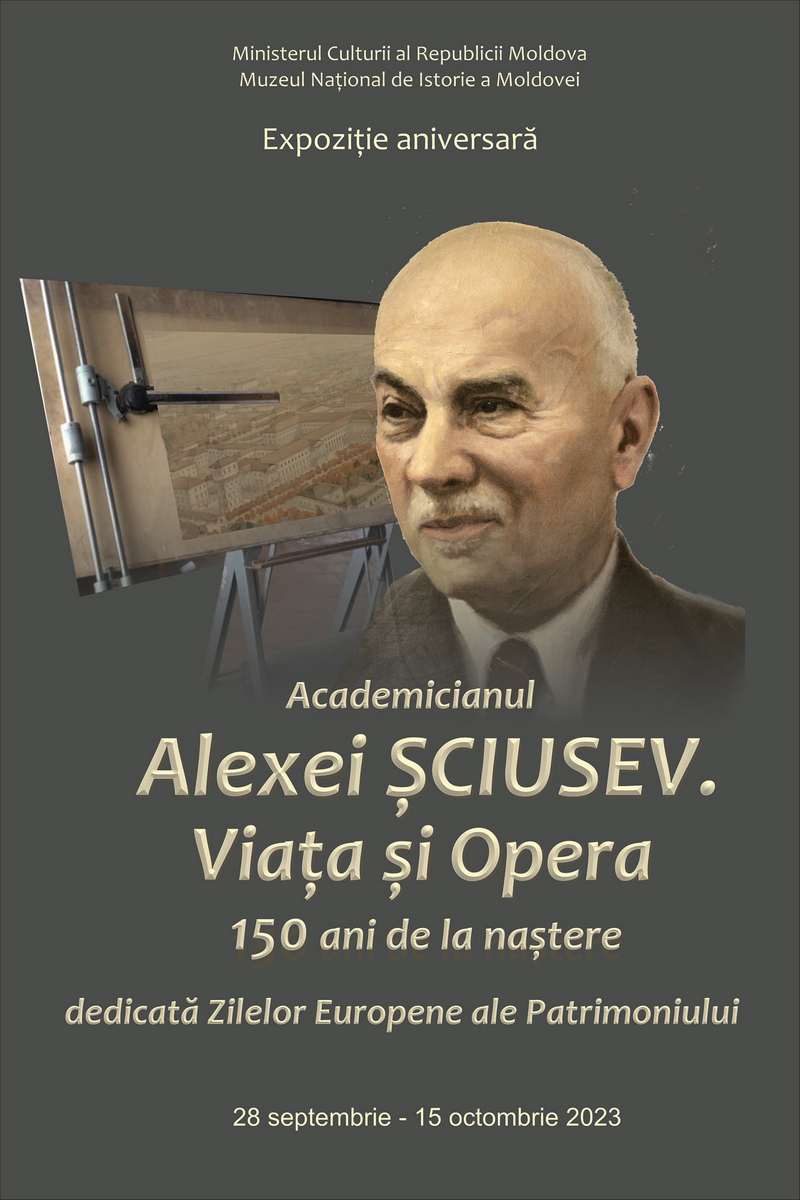 The exhibition is dedicated to the 150th anniversary of the birth of the famous architect Alexei Shchusev, corresponding member of the Academy of Sciences of the USSR.

The future architect and academician was born on September 26, 1873 in Chisinau. He graduated from Male Gymnasium no. 2 in Chisinau (1891) and the Imperial Academy of Fine Arts in Saint Petersburg (1897).
After the successful restoration of St. Basil Church in Ovruch, he was awarded the title of academician of architecture (1910).
He was a teacher at the Vkhutemas Art School (1918-1926), president of the Moscow Architectural Society (1921-1929), director of the Tretyakov Gallery (1926-1929). In 1946, he was appointed director of the Museum of Russian Architecture in Moscow, which today bears his name.
In 1947, in the house where he was born and raised, the Museum of Architecture and Construction Technologies of the City of Chisinau was opened, renamed after the death of the architect into the House Museum of Alexei Shchusev (1949).
The exhibition "Academician Alexei Shchusev. Life and Works" brings together about 150 museum showpieces from the holdings of the National Museum of History of Moldova: works of art, photographs, documents, books, objects of numismatics and philately, other relics intended to reconstruct unknown pages from the life and activity of the famous architect.
At the beginning of his career, Alexei Shchusev was inspired by religious themes. Among the many monuments designed by the architect, one can admire the Church of the Holy Trinity in the village of Cuhurestii de Sus of the Republic of Moldova.
Design projects for the Square of the Cathedral, the Chisinau Theater, the Government House, the quarter of the State University of Moldova, the Măzărache and Râșcani hills, the banks of the Bîc River presented to visitors for the first time are just some of the projects developed by academician Alexei Shchusev, which were to be brought to life within the framework of the Urban Plan for the Reconstruction and Rehabilitation of Post-War Chisinau. Unfortunately, they did not progress beyond the project stage.
The exhibition is conceived as a tribute to the famous architect and academician on the occasion of the 150th anniversary of his birth. It is addressed to specialists in the field, as well as to the general public interested in the life and work of Alexei Shchusev.