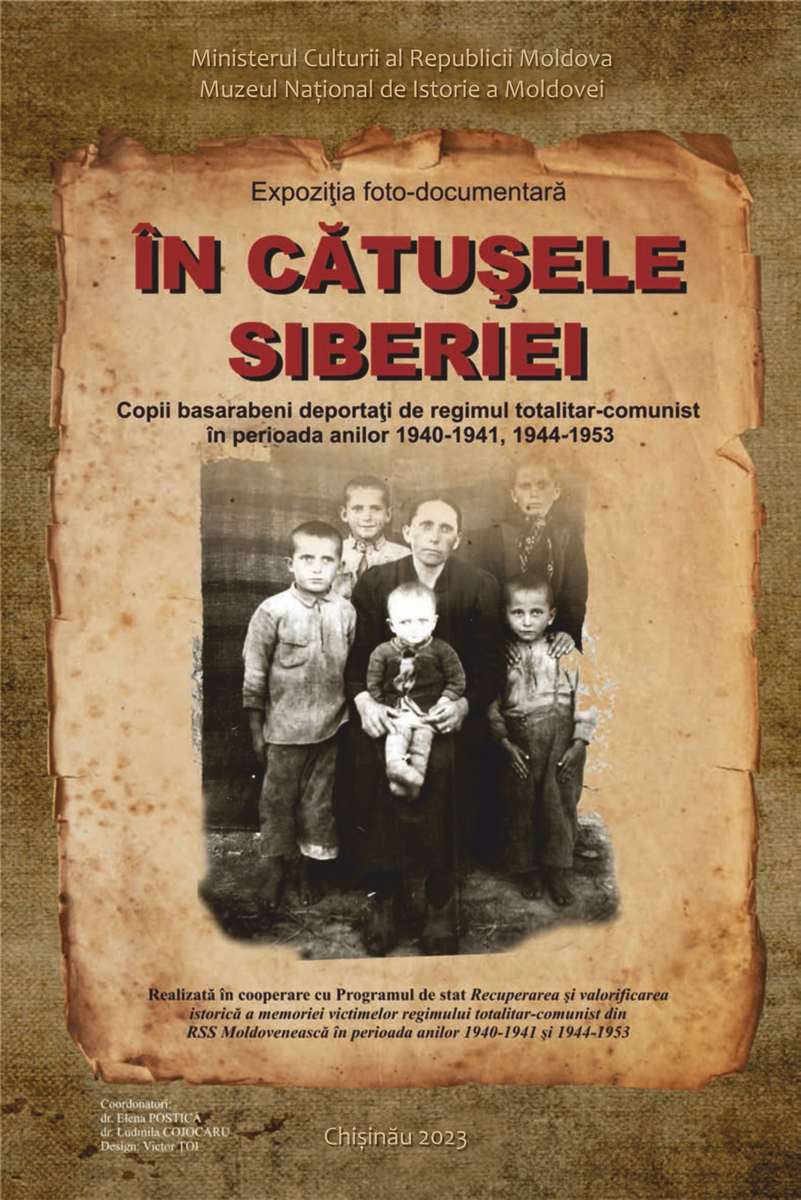 This year marks 84 years since the signing, on 23 August 1939, of the Ribbentrop-Molotov Pact and the secret additional protocol on the division of Europe into spheres of influence between Soviet Russia and Nazi Germany, which led to the outbreak of World War II, the destruction of sovereign states and the death of millions of victims in extermination camps, Gulags, deportations and illegal arrests.
In the context of commemorative actions dedicated to August 23 - the European Day of Remembrance for Victims of Stalinism and Nazism, the photo-documentary exhibition "In the shackles of Siberia. Bessarabian children deported by the totalitarian-communist regime during the years 1940-1941, 1944-1953" is presented at the headquarters of the Association of Former Deportees and Political Prisoners from the Republic of Moldova.
The exhibition states aspects of the lives of the most innocent victims of the Soviet Gulag - children and adolescents, descendants of the families of the "enemies of the Soviet people". The photo-documentary testimonies and documents brought to the attention of the visitors reproduce the emotional sensitivity, experiences and traumatic memories of a generation in relation to their own past from the Stalinist period. Despite Stalin's 1935 assertion that "the son is not responsible for the deeds of the father", the Soviet authorities resorted to convicting all family members and inoculating collective guilt. In June 1941, 3,470 families (22,648 people), including children from these families, were deported from the Moldavian SSR. In July 1949, as part of the Operation "South", 11,293 families (35,796 people) were deported, including 11,899 children. In 1951, for religious reasons, as part of the Operation "North", 723 families (2,724 people), including 799 children, were forced to leave the Moldavian SSR.
The exhibition brings together about 100 photographic images, accompanied by memoirs and archival documents that reflect the period in the Gulag of children exiled from the Moldavian SSR, during the three waves of mass deportations carried out by the Soviet authorities in 1941, 1949 and 1951. The photo-documentary images were selected from the NMHM patrimony and from the collections recently recovered in various localities of the Republic of Moldova, accompanied by maps of the Soviet Gulag, and documents of the Stalinist repression structures that reveal the way the deportation operations were carried out, the living conditions, schooling and work in special settlements in Siberia and Kazakhstan.
The event is organized by the Museum of Victims of Deportations and Political Repressions, NMHM and the Institute of History, MSU in partnership with the Association of Former Deportees and Political Prisoners from Moldova and the Public Association Center of Excellence "Pro Memoria" Institute.
The exhibition can be visited at the headquarters of the Association of Former Deportees and Political Prisoners from the Republic of Moldova (str. Mihail Kogălniceanu 52/A), during the period 18 August - 28 September 2023.