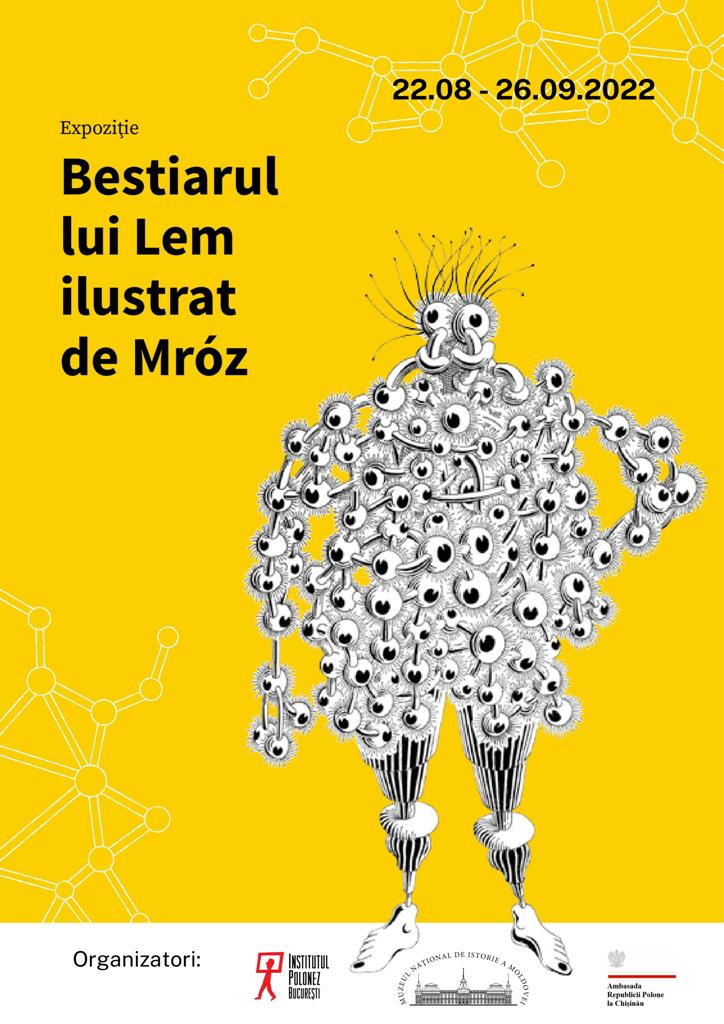 The exhibition "Lem's Bestiary illustrated by Mróz", created by Prof. Janusz Górski from the Academy of Fine Arts in Gdańsk, connects illustrations signed by Daniel Mróz with fragments of Stanisław Lem's prose, presenting them to the general public through images placed on the fence of the National History Museum of Moldova (Strada 31 August 1989 121A, Chisinau), between August 22, 2022 and September 26, 2022.
We continue to celebrate Stanisław Lem (1921 - 2006) - writer, philosopher, futurist, science fiction author and one of the most popular and acclaimed Polish authors in the world. The work of Stanisław Lem is a phenomenon on a global scale, it has enormous influence and culture-forming role. His interests and topics covered such important subjects as ethical issues related to the emergence of self-aware robots and artificial intelligence, and legal problems generated by the achievements of modern medicine. In his novels, which, by the way, enjoy great popularity, he was able to include a whole arsenal of issues arising from the clash of the humanities and medicine with engineering and futurology.
Daniel Mróz, an outstanding illustrator and designer, did not like science fiction, but captivated by Stanisław Lem's sense of humor, he created his best realizations for Stories of Robots and The Cyberiad volumes. This is how one of the best illustration and writing initiatives in the history of Polish literature was born. Daniel Mróz plays with images of aliens and robots preserved by cinema and science fiction literature, medieval images of demons and devils, characters of monsters on engravings from 19th-century encyclopedias, surreal fantasies, caricatured deformations, illustrations from Verne's novels, Poe's stories and the Bible, works of old and contemporary masters of painting - creating a world of creatures remarkably similar to the world that surrounds us.
The exhibition "Lem's Bestiary according to Mróz" combines these unique illustrations with fragments of Lem's prose and was created by prof. Janusz Górski, lecturer at the Academy of Fine Arts in Gdańsk.
We invite you to see the exhibition on the fence of the National Museum of the History of Moldova in Chisinau (Strada 31 August 1989), where it will remain until September 26, 2022.