#Exhibit of the Month
April, 2020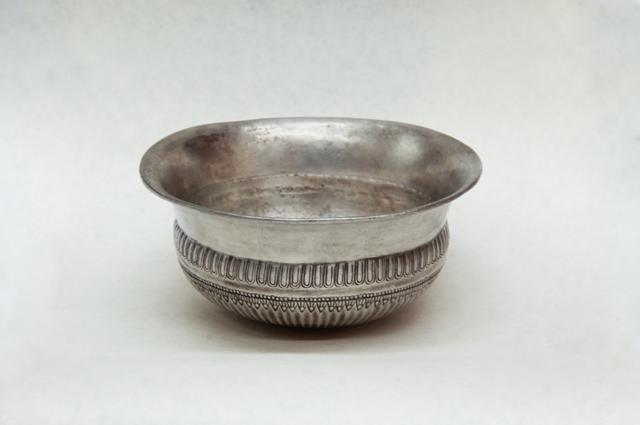 Today we open a new stage in the presentation of collections of the National Museum of History of Moldova by highlighting the #Exhibit of the Month. As soon as we open our doors, you will be able to admire museum pieces that are not known to the general public, but are so valuable that they deserve a special place. For now, we invite you to admire them here.
The #Exhibit of the Month series begins with a wonderful silver cup of the ribbed bowl type, decorated with three bands made by hammering. The first is in the form of palmettes, the second consists of geometric figures, and the third is in the form of ribs. The bottom is concave.
The bowl is considered a drinking vessel. Such pieces were made of different raw materials: clay, glass, non-ferrous metals, but also of noble metals (gold and silver). Produced in the Achaemenid (Persian) Empire, such cups were widely used in a large geographical area, from Greece to Tibet and Central Asia. Noble metal vessels, especially silver ones, which were more numerous, were used by local aristocrats for intended purpose (during feasts), but also as symbols of their wealth. The bowls could be stored in the royal treasury, they could be gifted to various people whom the leaders hoped to influence.
This type of vessels was also copied by jewelers from the local Thracian environment, as evidenced by the presence of similar bowls in various hoards, which belonged to the Thracian-Getae kings. The shape of this bowl demonstrates a special skill, and the manner of production undoubtedly denotes an oriental influence.

Dimensions: diameter - 12.3 cm, height - 5.5 cm, weight - 211 g, fineness - 950%.
The vessel can be dated to the period from the middle of the 6th century to the middle of the 4th century BC.