#Exhibit of the Month
April 2021
Cross fibula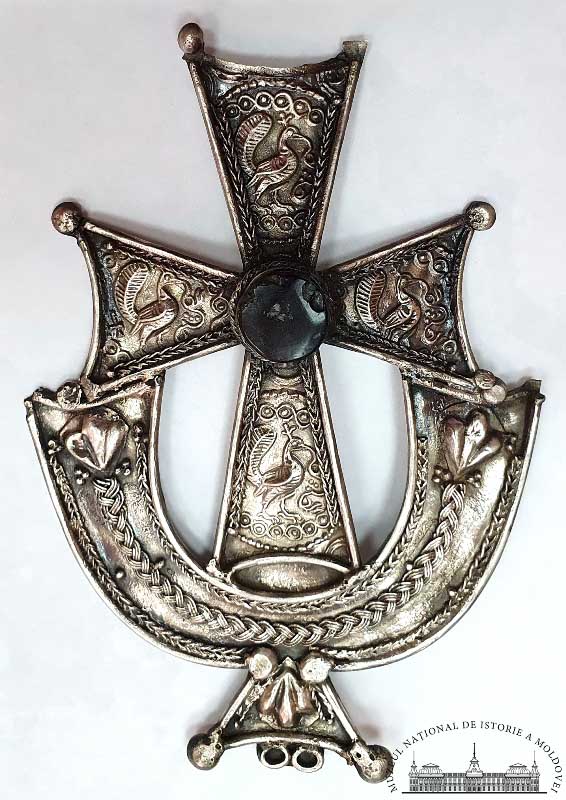 From the early days of Christianity, the cross meant not only an instrument of torture, but also a symbol of victory over death, a symbol of salvation. The object is made of silver, having the shape of a Byzantine cross with trapezoidal edges of the arms. The side arms and the one at the bottom seem to be turned inside a vessel (chalice (?)) with the trapezoidal "foot". The arms of the cross and of the "chalice" were ended with a decorative element in the shape of a sphere (drop). The cross has a decoration in relief, executed in the technique of filigree and granulation, consisting of drops, double and triple cords, circles with a drop in the center, and trefoils (?). In the center of the cross, at the intersection of the arms, there is a round mount with a cord-like edge, in which the pomegranate fruit is located. However, the main decorative element is the images of four peacocks turned to the right, with a snake in the beak, arranged on all the arms of the cross. The image of the peacocks is rendered in an artistic way, and their tails are stylized in the shape of a palmette.
The peacock, originated from India, due to its luxurious fan-shaped tail, was considered a symbol of the Sun. In ancient Greece, they were considered the sacred birds of the goddess Hera, and in ancient Rome they were considered the sacred birds of the goddess Juno. In Kievan Rus', the peacock (the Firebird) also symbolized the Sun. In the West, the peacock was considered a snake killer, and the iridescent colors of its tail were attributed to its ability to turn snake venom into solar substance. Since snakes in Iranian symbolism were considered enemies of the sun, it was believed that the peacock killed snakes, in order to create "eyes" from their saliva, iridescent with a bronze-green and gold-blue color on the feathers of its tail. Due to the bright splendor of the male peacock's tail, it has been compared with immortal gods and, therefore, with immortality. Peacocks are known as an emblem of greatness, royal authority, spiritual superiority, ideal creation.
In the early period of Christianity, the peacock was a symbol of love, resurrection, immortality, beauty, eternity of the soul, the all-seeing eye of the Church, and the peacock feather was the emblem of Saint Barbara. The image of peacocks with snakes in their beaks on the cross is not at all accidental; it symbolizes the victory of Christ over evil.
On the back side of the cross, traces of fixing are preserved, probably of a pin (missing), so the object served as a brooch (fibula), which was probably attached to the fabric. The piece is presumably dated back to the 9th-12th centuries.
The object has the following dimensions: height - 125 mm; width - 86 mm; weight - 47 g.