#Exhibit of the Month
March 2023
The anthropomorphic figurine from Cealîc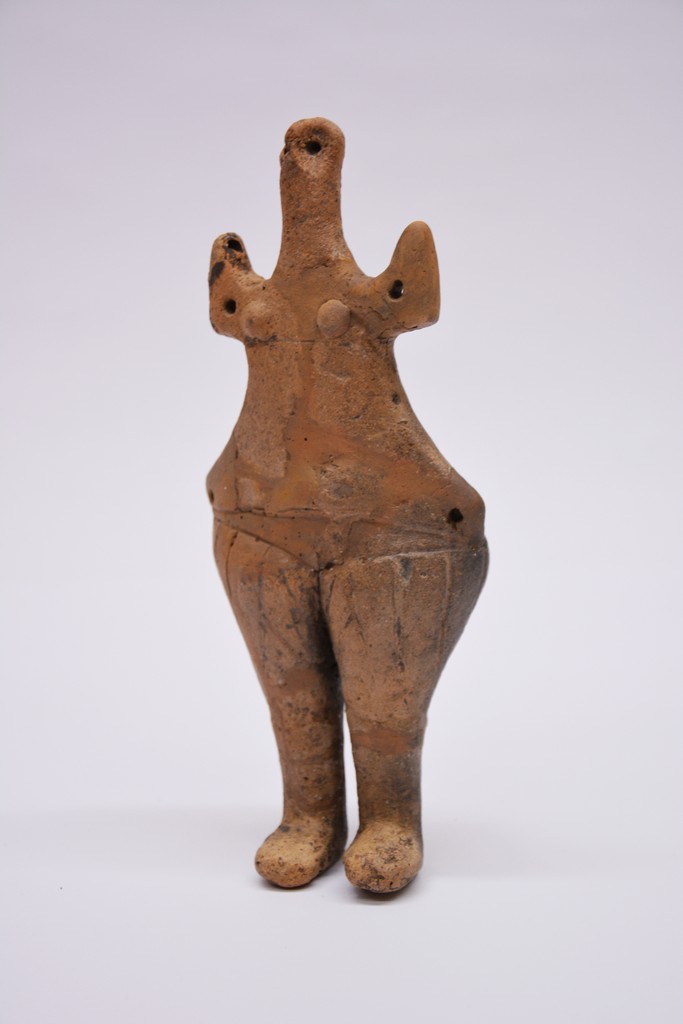 The anthropomorphic figurine belongs to the Eneolithic period - the middle of the 5th millennium BC. It was discovered in a fragmentary state, during the archaeological excavations, carried out by I. Manzura and B. Govedaritsa in 2012, in the settlement of Cealîc, Taraclia district. The fragments of the figurine were found among pieces of burnt clay paste, in the southern part of a dwelling, which most likely represented a special place for religious ceremonies. This hypothesis is also supported by the presence near the figurine of seven small cups, decorated with incised ornament, which were apparently used for ritual libations.
The figurine is made of fine clay paste, mixed with crushed ceramic, and its surface is covered with a layer of light brown engobe. It is made in a realistic manner, traditional for the Gumelnița culture, and shows a female figure in a vertical position, with folded and raised arms, in the so-called "Oranta" pose, which is widespread in the Orthodox iconographic tradition, when the image of the Mother of God is depicted. The figure's head placed on a tall cylindrical neck has a flattened shape, the nose is represented by a vertical belt, and the eyes - by two holes. The body is flattened, widening sharply at the bottom. On the surface of the body, the chest and navel are well highlighted. The buttocks and legs are well contoured and decorated in a voluminous manner. The surface of the buttocks is decorated with spiral-shaped incisions, and the thighs - with vertical and oblique incisions. A horizontal belt can be seen below the knees, which possibly represents the upper part of the footwear of the type of high boots. On the arms and in the lower part of the body there are holes, intended for hanging some accessories.
Anthropomorphic figurines belong to the category of cult objects and, according to specialists, are associated with various ritual ceremonies. In archaeological sites from the Neolithic and Eneolithic eras, they are usually found in contexts related to the mythical world of gods or otherworldly ancestors. Figurines are usually found near houses ovens or hearths, in places considered to be located on the border between worlds. In the funerary practice of those times, female figurines are usually associated with the burials of children under 10-12 years old, who, according to the visions of the ancients, still partially belong to the other world. It is believed that in the religious structures of prehistoric farmers, female anthropomorphic images were associated with the cult of fertility and rebirth. These possibly depicted the Great Mother Goddess or fertility deity. According to some researchers, anthropomorphic figurines in general could be associated with ancestor worship.
Figure dimensions: Height - 195 mm, Maximum width - 84 mm.
Cultural affiliation: Gumelnița A Culture, Bolgrad-Aldeni Variant,
Date: approx. 4600-4400 BC