#Exhibit of the Month
September 2022
Needle case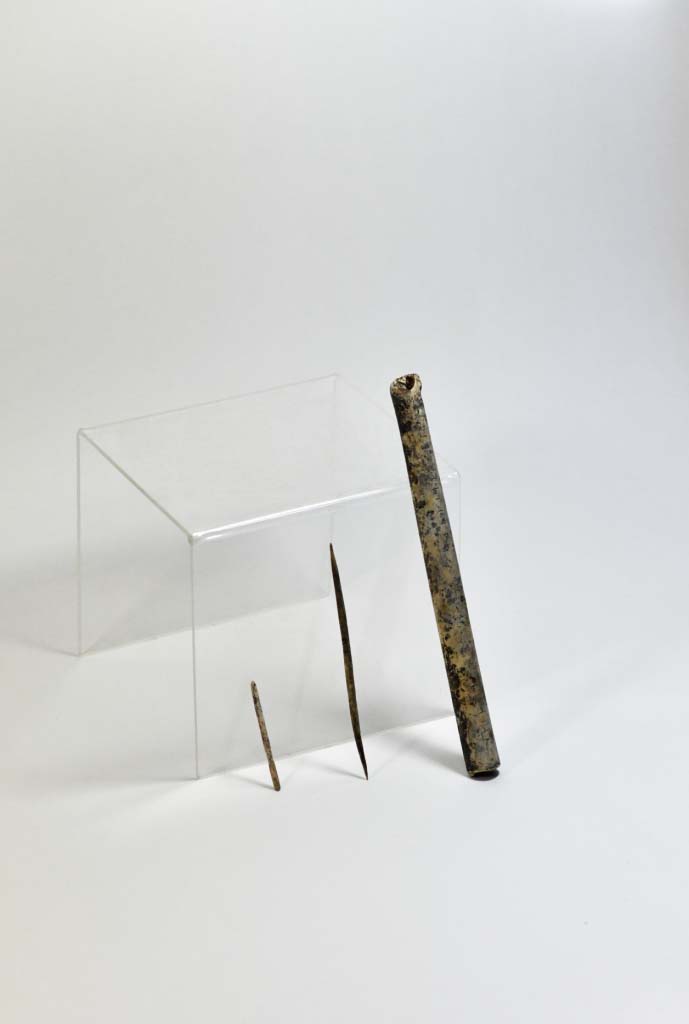 This is a case for needles, unusually large in size. It was used in the Stone Age as a container for storing and preserving small and fragile items. The case was discovered by the famous researcher Ilie Borziac in 1996 during archaeological excavations at a multi-layered Upper Paleolithic site in the village of Cosauți, Soroca district. The artifact was found at a depth of 9.7-9.85 m in a loess-like occupation layer, among the remains of a seasonal deer hunter camp (in the so-called occupation layer 5). The occupation layer was dated by radiocarbon method to 18140 ± 180. The object is 17.6 cm long and 1.5 cm in diameter. It was made of a thin-walled tubular bone, probably of a large bird (eagle, bustard or gull). The ends of the object were cut across. A round hole 5 mm in diameter with carefully polished edges was made at one of the ends.
The entire surface of the product is polished to a shine. It is ornamented with notches. The notches are applied rhythmically around the entire perimeter. They, without a doubt, indicate that the work was made by human hands. The length of the notches is 3-3.5 mm. They are located transversely, grouped in three rows. The number of notches in the rows is 8/8, 16/10, 14/7, with an average distance between notches of 4 mm.
The researchers who addressed the issue of the functionality of this rare archaeological piece, put forward several hypotheses. One of them is that the artifact probably had a multifunctional practical utility. According to one hypothesis, the presence of a hole at one end of the object indicates that it is a flute. This opinion was called into question due to the identification of only one obvious hole on the surface of the artifact. Most likely, the presence of the hole indicates that a thread was passed through it to hang the case with needles in order to protect and secure it. On the other hand, the relatively large size of this object also allows it to be used as a coupling. According to another version, this kind of vestiges could be used by hunters to remove skins from hunted animals, as a tube for pumping air under the skin of small animals in the process of skinning them. This not only greatly facilitated the removal of the skin, but also kept the subcutaneous fat intact.
Specimens of equally large sizes, similar to the one found at the ford on the Dniester, made of tubular bone with cut off epiphyses, were discovered at several Neolithic sites in Yakutia. Here they were used as needle cases. Some of them were found with needles inside, which confirmed their practical functionality.