| | | | |
| --- | --- | --- | --- |
| | National Museum of History of Moldova | | |

ISSN 1857-0240
E-ISSN 2537-6330

Vasile Diaconu

Social symbols in the Bronze Age. Antler and bone scepters

Tyragetia, serie nouă, vol. VIII [XXIII], nr. 1, Arheologie. Istorie Antică
The present study discusses the antler and bone scepters specifi c for the Romanian Bronze Age. This type of objects have been found since the Neolithic period, they are frequently encountered during the Bronze Age and rarely discovered in the first period of the Iron Age.

The majority of the pieces are made of antler and only a couple of them are made of bone. Some of the pieces, beautifully decorated have a central perforation in order to fi x it in a wooden handle. Concerning the archaeological context of the fi ndings, the majority of the objects were discovered inside the settlements and only one piece is part of the inventory of a tomb.

The antler and bone scepters have been discovered in different archaeological cultures since the Early Bronze Age, but the majority of the pieces are attributed to the Middle Bronze Age (the Monteoru, Wietenberg, Costișa, Otomani, Verbicioara cultures). For the Late Bronze Age we only know one item. The signification of such items is primarily related to the social symbolism, but they can also be interpreted as cult objects in the case of their utilization during religious rituals.

List of illustrations:

Fig. 1. Dissemination of the antler and bone scepters in România: 1 - Boarta; 2 - Bodeștii de Jos; 3 - Cicău; 4 - Lancrăm; 5 - Oradea; 6 - Racoș; 7 - Sărata Monteoru; 8 - Sibișeni; 9 - Ulmu; 10 - Verbicioara.
Fig. 2. Antler fragments utilized as support for the manufacture of the scepters.
Fig. 3. Tomb 71 from the necropolis no. 4 in Sărata Monteoru (after Bârzu 1989).
Fig. 4. Antler scepters: 1 - Boarta (after Popa, Ștefu 2009); 2 - Lancrăm (after Aldea 1973).
Fig. 5. Antler and bone scepters: 1 - Verbicioara (after Berciu, Morintz, Maximilian 1957); 2 - Sărata Monteoru (after Bârzu 1989); 3 - Ulmu (after Florescu 1991); 4 - Racoș (after Costea, Ștefănescu 2003); 5 - Cicău (after Winkler, Takács 1980); 6 - Oradea (after Fazecaș 2005); 7 - Bodeștii de Jos (after Munteanu 2010).
Fig. 6. Reconstitution of a scepter (drawing D. G. Spatariu).




#Exhibit of the Month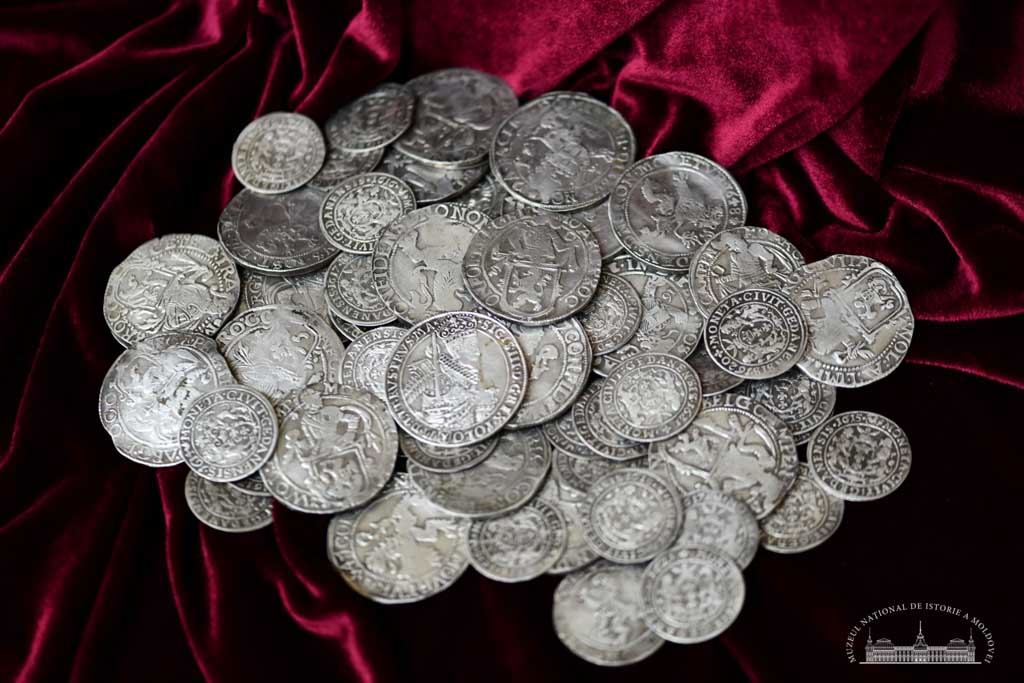 The hoard was found in 1957 during the agricultural works near the village. At first, the hoard was in the collection of the National Museum of Ethnography and Natural History and later was transferred to the National Museum of History (Accession: FB: 12 576 - 12650; N: 12 658 - 12 732). It consists of 75 silver coins from the thaler category issued by the Kingdom of Poland, the United Provinces and the Holy Roman Empire in 1612-1648...
Read More >>