| | | | |
| --- | --- | --- | --- |
| | National Museum of History of Moldova | | |


Click here for a Virtual Tour of the Museum


Research Projects

"Research, Collection, Preservation, and Promotion of the Cultural and Historical Heritage of the Country" (2006-2008)
In 2006 - 2008, in the framework of the project "Research, Collection, Preservation, and Promotion of the Cultural and Historical Heritage of the Country", the museum specialists, in accordance with individual research subjects, conducted archaeological research, undertook investigations of documents in public and museum archives, museum collections of the republic and abroad. Realization of the project objectives was of a considerable cultural and scientific benefit through ongoing development of the museum collections and diverse forms of publishing of the scientific research results: reports on the results of archaeological excavations, collection catalogues, collected articles, monographs, scientific articles published in various editions in the country and abroad.
The project brought more results, such as:
elaboration of ideological subject-matter for a permanent exhibition "History and Civilization";
analysis of social, ethno-demographic, economic, and politic processes in the communities of the 10th - 13th centuries in the east of the Eastern Carpathians;
determination of a typology of adornments and medieval clothes found in the territory of Moldova;
specification of a social, politic, and ecclesiastical impact upon the books published in Bessarabia in the modern time;
elucidation of the questions concerning the influence of commercial bourgeoisie on the development of trade in Bessarabia and the importance of Russian trade-custom laws in this matter;
elaboration of the criteria of development and organization of historical architectural complexes in the Republic of Moldova;
identification of concepts of the museum studies in the field of history in the historical context in which they appeared, were developed and introduced into practice during the 19th - 20th centuries in the country;
determination of the legislative framework and its role in the process of protecting of the archaeological heritage in the Moldavian SSR in the post-war period.




#Exhibit of the Month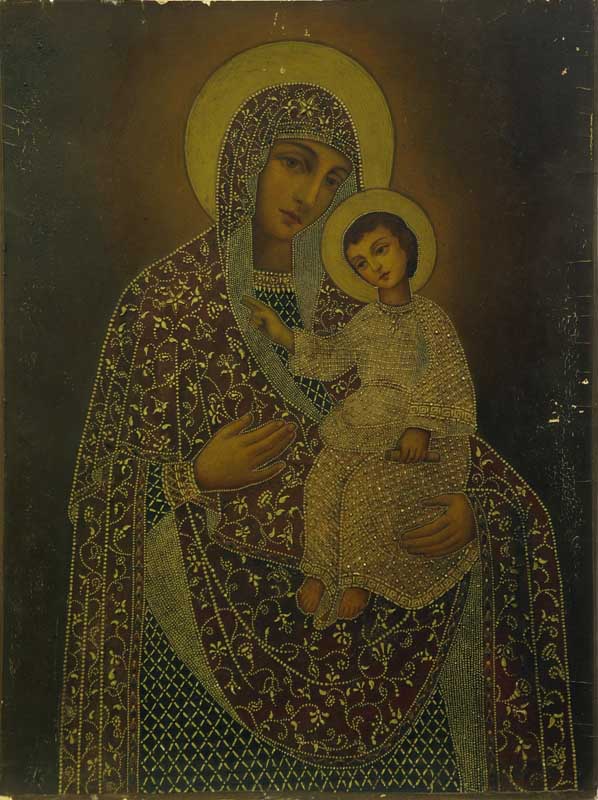 It is said that the icons, by the divine grace they have, choose their own places from where they can manifest their powers of blessing and consolation. It so happened that one icon of the Mother of God has remained on our lands from the end of the 18th century, when the battles of the Russo-Turkish war of 1787-1791 took place here. The circumstances of the appearance of this icon in Bessarabia are confirmed by several historical references, from which it follows that the Russian officer N.A. Albaduev, a participant in the military campaign, brought this icon here with him, and after his death his relatives – the colonel's wife or his mother – gave this icon to the monastery, where he suddenly died when he came there on Christmas to receive communion. The icon of the Mother of God was initially placed in the old wooden church, where the officer's grave was located, and then was placed in the new Church of the Assumption of the Blessed Virgin, built and consecrated in 1816..
Read More >>