| | | | |
| --- | --- | --- | --- |
| | National Museum of History of Moldova | | |

ISSN 1857-0240
E-ISSN 2537-6330

Liviu Papuc

20 old and rare books from the library of Paul Gore

Tyragetia, serie nouă, vol. VIII [XXIII], nr. 2, Istorie. Muzeologie
As is well known, most of the large library of Paul Gore, nearly 5,000 volumes, as evidenced by preserved inventory list, is currently kept in the "M. Eminescu" Central University Library in Iași. Based on dozens of specimens found in the storages and on the notes made by Paul Gore in the inventory-catalog, the paper presents their bibliographic description. It is made in the continuation of a communication that is to be printed in the Magazine of the Museum of the "Al.I. Cuza" University of Iași and in order to complete a full catalog of the library of the great scientist, the work on which was begun with great success by other researchers in the field.




#Exhibit of the Month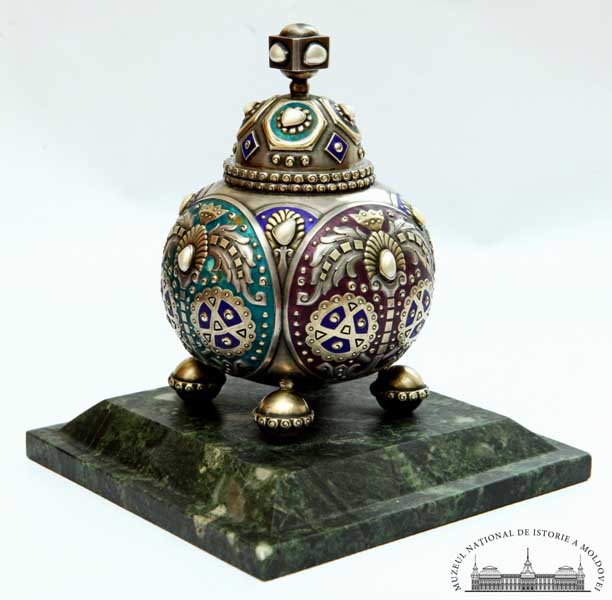 Peter Carl Fabergé (1846-1920), was a famous jeweler of French origin, who became the official supplier of jewelry for the Imperial House in Russia, and when we say Fabergé, we mean not just jewelry, but rather works of art. The famous Russian jewelry House of Fabergé received worldwide recognition for the elegance and uniqueness of its products. In the late 19th - early 20th century, the House of Fabergé was a world-class phenomenon known for its famous "Easter eggs" made of precious metals and stones. The first egg was crafted in 1885, when Tsar Alexander III decided to give his wife a special gift on the occasion of the 20th anniversary of their marriage...
Read More >>