| | | | |
| --- | --- | --- | --- |
| | National Museum of History of Moldova | | |


Virtual Tour
ISSN 1857-0240
E-ISSN 2537-6330

Виталий Козюба

Contentious issues in the historical topography of the Old Russian city of Berestye

Tyragetia, serie nouă, vol. IX [XXIV], nr. 1, Arheologie. Istorie Antică Chișinău, 2015
Abstract

The paper is devoted to the discussion of controversial issues in the study of the historical topography of Berestye (Brest). This city was one of the largest in western Rus' of the 11th -13th centuries. The problems of shape, sizes and area of the castle and courtyard buildings are still under discussion, despite of the large area of archaeological excavation. Some questions of the castle location are reviewed on the ground of such sources as archaeological and map materials.

List of illustrations: Fig. 1. Castle of Berestye (reconstructed by P. Lysenko) Fig. 2. Map of Berestye drawn in 1657. Fig. 3. Map of Berestye drawn in 1740. Fig. 4. Castle of Berestye on a map of 1657 (1). Fortifications at the site of the castle on a map of 1740 (2) and on a map of 1807 (3).




#Exhibit of the Month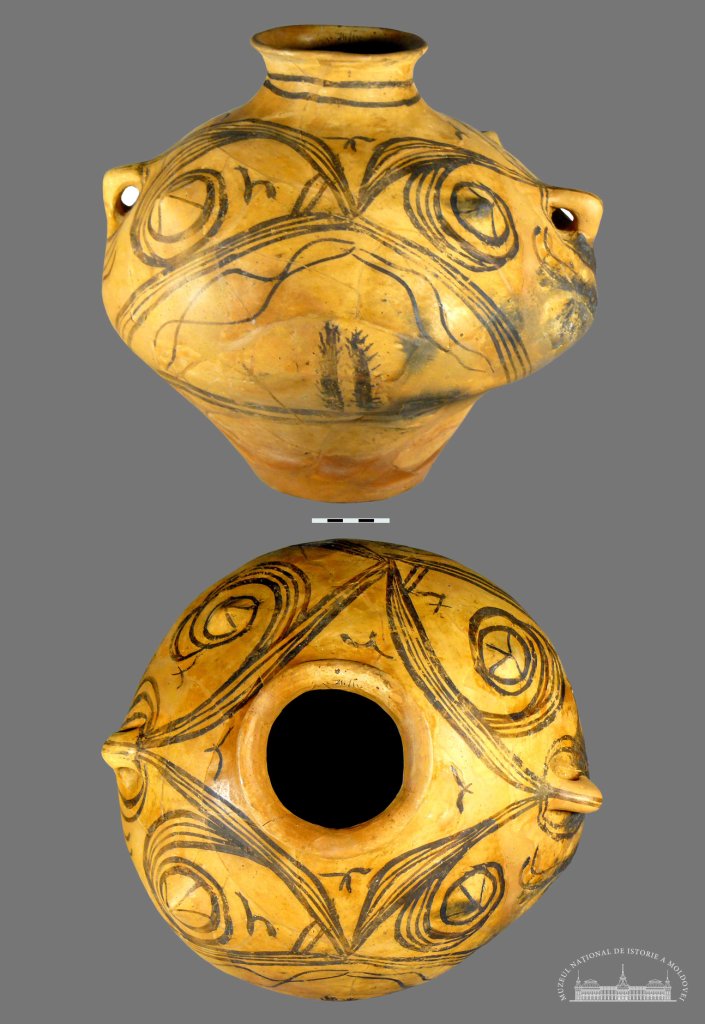 This unique amphora was found in 1984 during the excavations of the Şuri I settlement of the Cucuteni-Trypillia culture (5th-4th thousand BC), which existed in the Eneolithic era, in the mid-1st half of the 4th millennium BC, near the village of Şuri, Drochia District of the Republic of Moldova. In the classifications of Cucuteni-Trypillian painted pottery, it belongs to a separate type distinguished by archaeologists, known in the special literature under various names: facial urns, amphorae with an ornament of the "owl face" type, amphorae with facial ornament, facial amphorae. These names were given to the amphorae due to their peculiar ornament and their truncated-conical or rounded body that resembles the head of an owl (large circles on the sides of the handles are the eyes of a bird, and the handles are beaks), as well as due to attempts to hypothetically interpret the vessels as images of some two-faced or four-faced anthropomorphic, zoomorphic or ornithomorphic mythological creatures of the Cucuteni-Trypillian pantheon...
Read More >>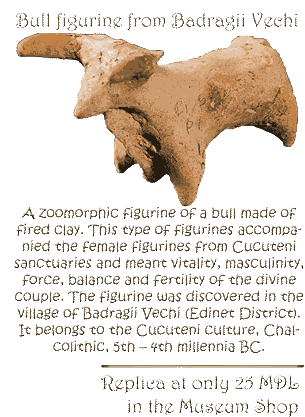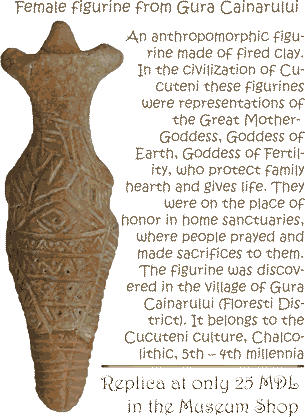 __________________________________________
©2006-2021
National Museum of History of Moldova
31 August 1989 St., 121 A, MD 2012, Chisinau, Republic of Moldova
Phones:

Secretariat:
+373 (22) 24-43-25
Department of Public Relations and Museum Education:
+373 (22) 24-04-26
Fax:
+373 (22) 24-43-69
E-mail:
office@nationalmuseum.md
Technical Support:
info@nationalmuseum.md

Web site administration and maintenance:
Andrei EMILCIUC