| | | | |
| --- | --- | --- | --- |
| | National Museum of History of Moldova | | |


Click here for a Virtual Tour of the Museum
ISSN 1857-0240
E-ISSN 2537-6330

Maxim Melinti

Influence of the Holy Mount Athos on the spiritual and cultural life of Moldova

Tyragetia, serie nouă, vol. I [XVI], nr. 2, Istorie. Muzeologie Chișinău, 2007
The Holy Mount Athos was and remains an important spiritual centre of the Orthodox world, a place where "islands of sedateness and calmness, prayer, feast and ascetism flourish", nicknamed as a "Mecca of Christians". In the Middle Ages the Mount Athos contributed much to the spiritual and cultural life of Moldova. In particular this influence is detectable in ecclesiastical architecture, iconography, frescos, etc. After short visits to the Mount Athos Moldavian monks came back to Moldova where they founded or reorganized monastic life according to the rules of the Mount Athos. The Mount Athos style had a strong influence on the educational activity of Moldavian monasteries and on the monks who lived there. Thus, following the tradition of the Holy Mount, libraries were founded in monastic communities, and their scriptoria produced copies of ancient manuscripts and Christian books. This allowed collecting and preserving valuable historical and cultural documents, monuments of literature and art. It is very important that the Moldavian monks have brought home from the Holy Mount the doctrine of Hesychasm. Following the example of their Mount Athos counterparts they established communities in forests and mountains, which became centres of devotion, ascetism, and Hesychasm.




#Exhibit of the Month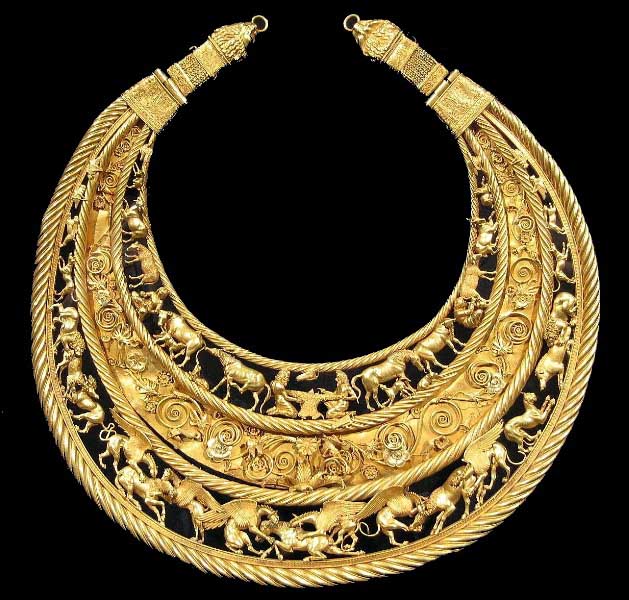 The pectoral from Tolstaya Mogila is considered the main archaeological treasure of Ukraine (it is depicted, for example, on the logo of the Institute of Archeology of the National Academy of Sciences of Ukraine). This unique artifact of 958 gold, weighing 1140 g, was discovered as a result of excavations of the Scythian burial mound of Tolstaya Mogila (Tovsta Mohyla) on June 21, 1971 near the modern city of Pokrov (then Ordzhonikidze) in the Dnepropetrovsk region. Following the excavations carried out by Boris Mozolevsky and Yevgeny Chernenko, it turned out that a mound with a height of 8.6 m and a diameter of 70 m was filled over the representatives of the Scythian elite around 350s-340s BC. The Tolstaya Mogila mound was the family tomb of the Scythian aristocracy, in which а male burial of а "king" and then, after a short period, of a "queen" with a child was performed. Then, some time after the funeral, the burial of the "king" was robbed, but the robbers, fortunately, did not notice jewelry (a sword in a scabbard, a whip) lying in the dromos at the entrance to the tomb, including the pectoral...
Read More >>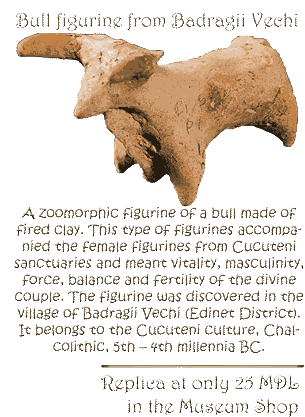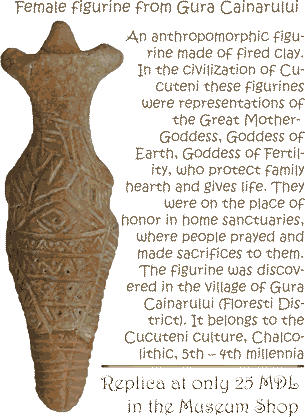 __________________________________________
©2006-2021
National Museum of History of Moldova
31 August 1989 St., 121 A, MD 2012, Chisinau, Republic of Moldova
Phones:

Secretariat:
+373 (22) 24-43-25
Department of Public Relations and Museum Education:
+373 (22) 24-04-26
Fax:
+373 (22) 24-43-69
E-mail:
office@nationalmuseum.md
Technical Support:
info@nationalmuseum.md

Web site administration and maintenance:
Andrei EMILCIUC