| | | | |
| --- | --- | --- | --- |
| | National Museum of History of Moldova | | |


Click here for a Virtual Tour of the Museum
ISSN 1857-0240
E-ISSN 2537-6330

Natalia Mateevici, Pavel Ostapenko, Tatiana Samojlova

Lot of amphora stamps found in the pit no. 16 from Tyras

Tyragetia, serie nouă, vol. VI [XXI], nr. 1, Arheologie. Istorie Antică
In the course of work on the fausse-braye of a medieval fortress in the city of Belgorod-Dnestrovsky some interest­ing results related ancient Tyras have been obtained.The pit no.16 is located 30 m north of the Kiliya gate; excava­tions were made ta the maximum level of 5 m from the modern surface. During the study there were discovered remains of buildings belonging ta different periods of the existence of ancient Tyras. In the upper layers there were found remains of a building of the Roman time. Lower there were discovered parts of premises, dating back to the Hellenistic period. The Hellenistic layer was saturated with pottery, which allowed dating the remains of buildings. Most of the pottery is fragments of Greek amphorae, among which there were found 15 stamps, which quantita­tive distribution by the production centers is the following: 1- Knidos, 1- Sinope, 12 - Rhodes, 2 - undetermined ones. Stamps of these centers, with similar dating, have been also found in other parts of the ancient Tyras, located outside the pit no.16, behind the walls of the medieval city.




#Exhibit of the Month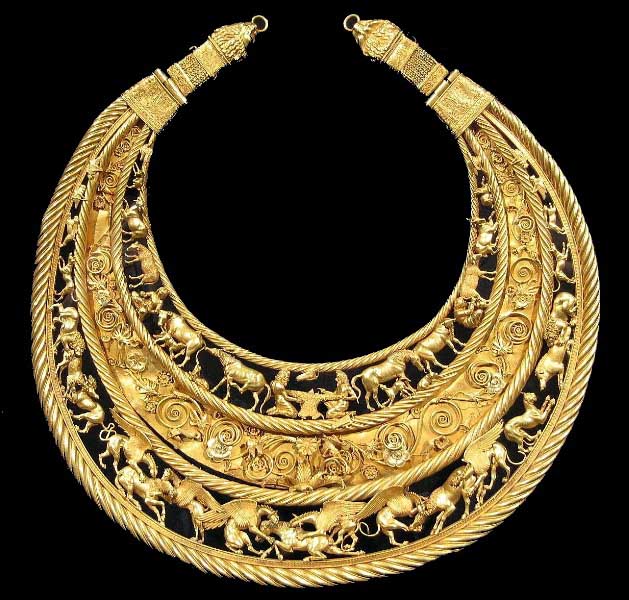 The pectoral from Tolstaya Mogila is considered the main archaeological treasure of Ukraine (it is depicted, for example, on the logo of the Institute of Archeology of the National Academy of Sciences of Ukraine). This unique artifact of 958 gold, weighing 1140 g, was discovered as a result of excavations of the Scythian burial mound of Tolstaya Mogila (Tovsta Mohyla) on June 21, 1971 near the modern city of Pokrov (then Ordzhonikidze) in the Dnepropetrovsk region. Following the excavations carried out by Boris Mozolevsky and Yevgeny Chernenko, it turned out that a mound with a height of 8.6 m and a diameter of 70 m was filled over the representatives of the Scythian elite around 350s-340s BC. The Tolstaya Mogila mound was the family tomb of the Scythian aristocracy, in which а male burial of а "king" and then, after a short period, of a "queen" with a child was performed. Then, some time after the funeral, the burial of the "king" was robbed, but the robbers, fortunately, did not notice jewelry (a sword in a scabbard, a whip) lying in the dromos at the entrance to the tomb, including the pectoral...
Read More >>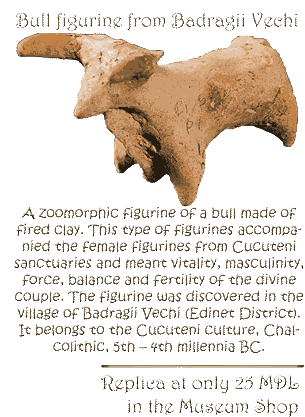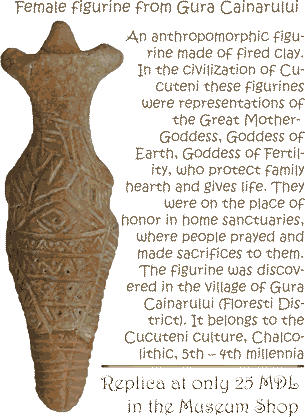 __________________________________________
©2006-2021
National Museum of History of Moldova
31 August 1989 St., 121 A, MD 2012, Chisinau, Republic of Moldova
Phones:

Secretariat:
+373 (22) 24-43-25
Department of Public Relations and Museum Education:
+373 (22) 24-04-26
Fax:
+373 (22) 24-43-69
E-mail:
office@nationalmuseum.md
Technical Support:
info@nationalmuseum.md

Web site administration and maintenance:
Andrei EMILCIUC