| | | | |
| --- | --- | --- | --- |
| | National Museum of History of Moldova | | |

ISSN 1857-0240
E-ISSN 2537-6330

Sergiu Tabuncic

The 1941 villages census - an important source for studying local history

Tyragetia, serie nouă, vol. VIII [XXIII], nr. 2, Istorie. Muzeologie
The 1941 census is an important source for studying the history of the settlements from the present-time districts of Soldanesti and Rezina in the Republic of Moldova. In 1941, those localities were part of Bessarabia's Orhei County. The materials of that census are stored at the National Archives of the Republic of Moldova, the fund No 2069, inventory 1, part 1, file 450-a. Villages Census 1941 – this is the title of the questionnaire used to collect data. The census was conducted under the auspices of the Central Institute of Statistics subordinate to the Council of Ministers of Romania. The census questionnaire contained 28 sections, each containing questions aimed to clarify the status of settlements in terms of administrative, social, economic, ethnographic, cultural, medical and religious aspects. Many questions pertained to the duration and continuity of the population's residing in villages listed in the census and villages' foundation years, to description of rural settlements, permanent and temporary dwellings. Also, the census results show some elements of relations between Romanians and Roma people. The 1941 census is the most significant and representative component of local history, substantially enriching the sources of this domain of research.




#Exhibit of the Month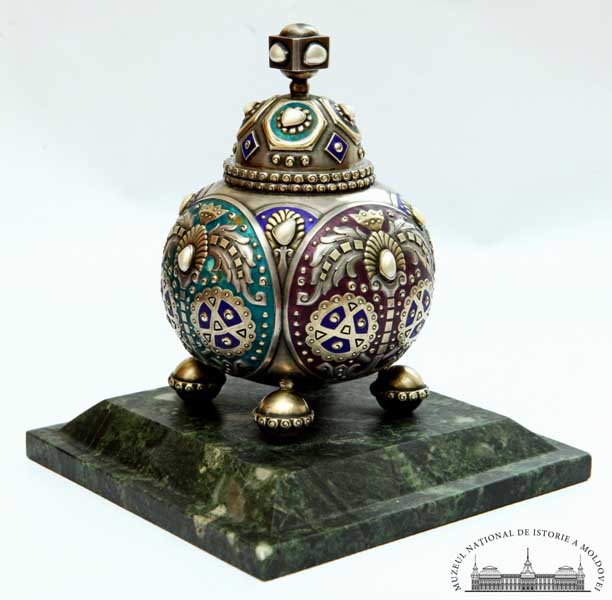 Peter Carl Fabergé (1846-1920), was a famous jeweler of French origin, who became the official supplier of jewelry for the Imperial House in Russia, and when we say Fabergé, we mean not just jewelry, but rather works of art. The famous Russian jewelry House of Fabergé received worldwide recognition for the elegance and uniqueness of its products. In the late 19th - early 20th century, the House of Fabergé was a world-class phenomenon known for its famous "Easter eggs" made of precious metals and stones. The first egg was crafted in 1885, when Tsar Alexander III decided to give his wife a special gift on the occasion of the 20th anniversary of their marriage...
Read More >>