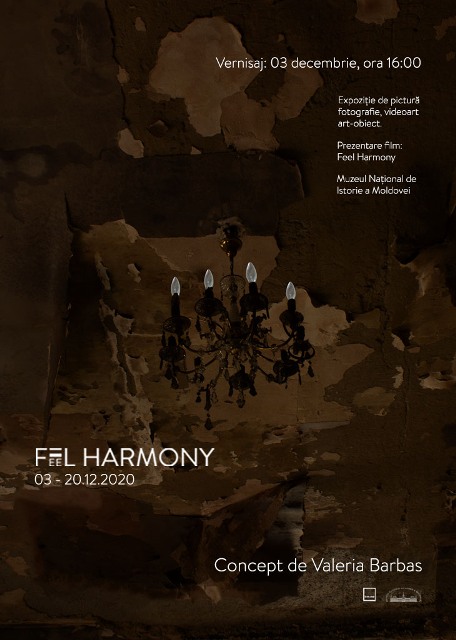 We invite art connoisseurs to experience the harmony of various artistic media at the conceptual exhibition of the artist Valeria Barbas "Feel Harmony". From October to November, in dangerous conditions, the artist captured the space of the S. Lunkevich National Philharmonic Hall after the fire by means of photo, video and audio filming. Within the framework of this suggestive exhibition, the artist presents to the attention of visitors not only a kind of documentary archive of photographs and the author's film, but also artistic conceptualization through various audiovisual media - painting, art object, video art installation, sound.
"What is harmony? How to achieve it? Maybe we should learn to feel, see and hear it in the simplest things? In the turmoil of 2020, which brought significant changes that we all felt, in a pandemic, it is becoming increasingly difficult to find harmony, inner balance. COVID 19 seriously affected the cultural sphere in the Republic of Moldova, but apart from the empty and sometimes closed exhibition and concert halls, another catastrophe struck the heart of Chisinau - the fire in the S. Lunkevich National Philharmonic Hall. Since childhood, I have often attended the Philharmonic, there was practically no year when I had not attended concerts of the Mărțișor festival, the Days of New Music, the Ethno-Jazz. My symphonic poem "Genesis" was first performed on the stage of the Philharmonic Hall, in the same place in 2008 my personal exhibition took place, which marked the beginning of painting exhibitions. This fall, I watched the Philharmonic space transforming from day to day. With regret, but also with a desire to save at least something, I participated in the selection of scores that survived the fire. From documenting to rethinking some of the items that became artifacts for me, I tried to breathe new life into what was practically ash yesterday. Harmony is born from the ashes. You just need to feel it" - Valeria Barbas, doctor of art history, artist.
The exhibition presents the results of documenting / archiving / conceptualizing the space of the S. Lunkevich National Philharmonic Hall , carried out by the artist V. Barbas after the fire for two months in conditions of risk: from photography and documentary films to rethinking space through other media such as painting / art object / video art installation / sound.
You are wellcome!