| | | | |
| --- | --- | --- | --- |
| | National Museum of History of Moldova | | |


Click here for a Virtual Tour of the Museum
ISSN 1857-0240
E-ISSN 2537-6330

Николай М. Фомичев

A grave of the Catacomb culture from the right bank of the Egorlyk River

Tyragetia, serie nouă, vol. VI [XXI], nr. 1, Arheologie. Istorie Antică
In this article, the author describes and analyses the burial rite and goods of the Catacomb grave 8, kurgan 1 excavated in the Baranchuk-1 kurgan group located on the right bank of the Egorlyk River. The burial goods accompanied the deceased included the clay model similar to the model found by N.I. Veselovsky in Uliap kurgan 1, grave 4 (fragments of another clay model of similar type came from the destroyed grave of the same kurgan), two different bronze pins, numerous bronze and bone beads, and other objects. The ritual and burial goods have been compared with materials found in other graves of the Baranchuk-1 and other kurgan groups. According to scholars studied the Catacomb culture, the Baranchuk grave can be dated to the last quarter of the 3rd millennium BC.

List of illustrations:
Fig. 1. Location of the village of Krasnaia Poliana on the map of the Don-Manych interfluve.
Fig. 2. The layout of the farmland with the Baranchuk-1 and the Pervomaisky kurgan groups.
Fig. 3. Baranchuk-1. Kurgan 1. General plan.
Fig. 4. Baranchuk-1. Kurgan 1: 1-7 - clay model from a destroyed grave.
Fig. 5. Baranchuk-1. Kurgan 1, grave 8.
Fig. 6. Baranchuk-1. Kurgan 1, grave 8. Cross-section.
Fig. 7. Baranchuk-1. Kurgan 1, grave 8: 1-16 - bronze objects; 17 - pendant made of dog's fang; 18-26 - bone objects.
Fig. 8. Baranchuk-1. Kurgan 1, grave 8: 1-19, 21-32 - bone ornaments; 20 - shell pendant.
Fig. 9. Baranchuk-1. Kurgan 1, grave 8. 1-43 - bone ornaments.
Fig. 10. Baranchuk-1. Kurgan 1, grave 8. Clay model.





#Exhibit of the Month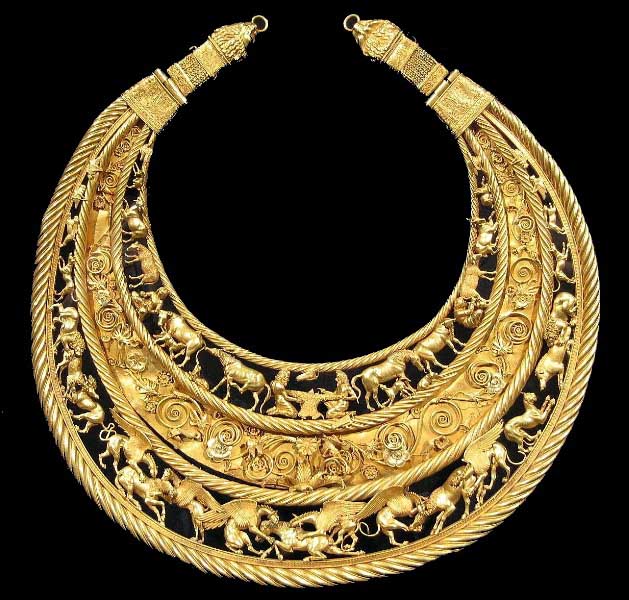 The pectoral from Tolstaya Mogila is considered the main archaeological treasure of Ukraine (it is depicted, for example, on the logo of the Institute of Archeology of the National Academy of Sciences of Ukraine). This unique artifact of 958 gold, weighing 1140 g, was discovered as a result of excavations of the Scythian burial mound of Tolstaya Mogila (Tovsta Mohyla) on June 21, 1971 near the modern city of Pokrov (then Ordzhonikidze) in the Dnepropetrovsk region. Following the excavations carried out by Boris Mozolevsky and Yevgeny Chernenko, it turned out that a mound with a height of 8.6 m and a diameter of 70 m was filled over the representatives of the Scythian elite around 350s-340s BC. The Tolstaya Mogila mound was the family tomb of the Scythian aristocracy, in which а male burial of а "king" and then, after a short period, of a "queen" with a child was performed. Then, some time after the funeral, the burial of the "king" was robbed, but the robbers, fortunately, did not notice jewelry (a sword in a scabbard, a whip) lying in the dromos at the entrance to the tomb, including the pectoral...
Read More >>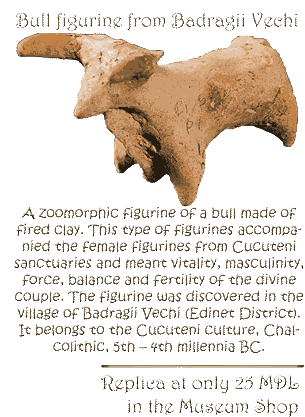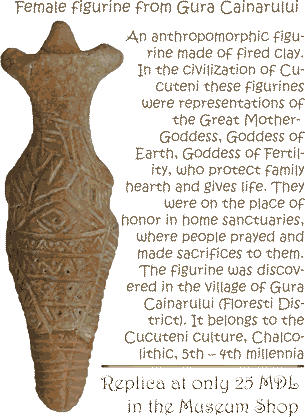 __________________________________________
©2006-2021
National Museum of History of Moldova
31 August 1989 St., 121 A, MD 2012, Chisinau, Republic of Moldova
Phones:

Secretariat:
+373 (22) 24-43-25
Department of Public Relations and Museum Education:
+373 (22) 24-04-26
Fax:
+373 (22) 24-43-69
E-mail:
office@nationalmuseum.md
Technical Support:
info@nationalmuseum.md

Web site administration and maintenance:
Andrei EMILCIUC