| | | | |
| --- | --- | --- | --- |
| | National Museum of History of Moldova | | |

ISSN 1857-0240
E-ISSN 2537-6330

Mihai Onilă

From the history of Săseni village of the Orhei County in 15th-18th centuries

Tyragetia, serie nouă, vol. VIII [XXIII], nr. 2, Istorie. Muzeologie
This paper presents a documentary research of the history of establishment of Săseni village in Orhei County, which was formed in the second stage of the population of Moldova, during 15th-18th centuries. According to the documents, the first owner of the village was mentioned in the charter of Stephen II of March 6, 1443 as "pan Ivan Boldur", who sold this place to "God-loving pan Mihul the scribe". In the 16th century the settlement came into the possession of State Treasurer Mire Călugărul, the progenitor of the family of Bulat and a ktitor of the Hîrjauca Monastery. This article also presents the place, the specifics of the village in the administrative apparatus of Ţara Moldovei, its demographics and socio-economic development.




#Exhibit of the Month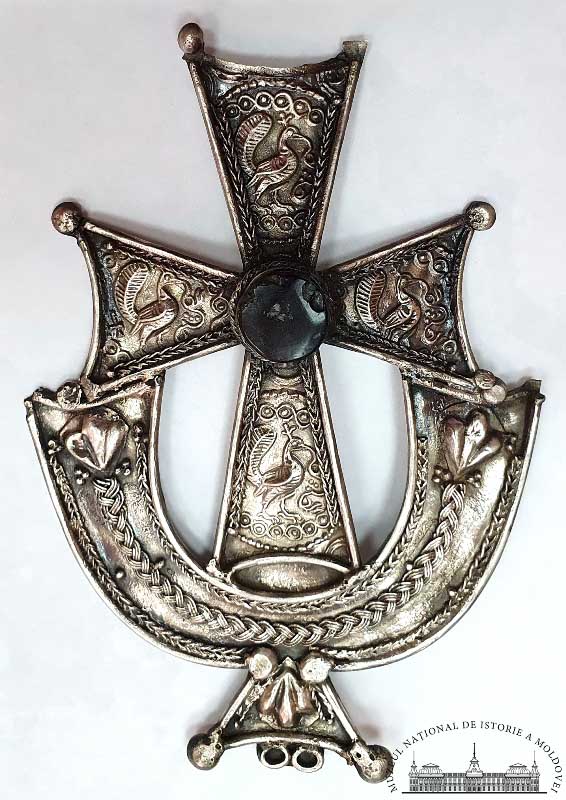 From the early days of Christianity, the cross meant not only an instrument of torture, but also a symbol of victory over death, a symbol of salvation. The object is made of silver, having the shape of a Byzantine cross with trapezoidal edges of the arms. The side arms and the one at the bottom seem to be turned inside a vessel (chalice (?)) with the trapezoidal "foot". The arms of the cross and of the "chalice" were ended with a decorative element in the shape of a sphere (drop). The cross has a decoration in relief, executed in the technique of filigree and granulation, consisting of drops, double and triple cords, circles with a drop in the center, and trefoils (?). In the center of the cross, at the intersection of the arms, there is a round mount with a cord-like edge, in which the pomegranate fruit is located...
Read More >>