| | | | |
| --- | --- | --- | --- |
| | National Museum of History of Moldova | | |


Virtual Tour
ISSN 1857-0240
E-ISSN 2537-6330

Elena Fialko, Yurii Boltryk

Textiles from Scythian burial complexes

Tyragetia, serie nouă, vol. VII [XXII], nr. 1, Arheologie. Istorie Antică
Текстиль из погребальных комплексов скифов
В степях Северного Причерноморья раскопано более 3 тысяч скифских курганов. В исследованных погребениях обнаружено большое количество артефактов, однако изделия из кожи и текстиля сохраняются в единичных случаях. О костюме скифов некоторое представление дают произведения греческих мастеров. Прежде всего, это произведения торевтики - парадные металлические чаши, украшения горитов, нашивные бляшки и др. На них видны различные детали костюма. Иногда они настолько детализированы, что можно предположить материал и крой одежды. Однако, как правило, на этих предметах изображен костюм мужчин-воинов или амазонок. Повседневный костюм скифских женщин оставался без внимания мастеров.

В этой связи чрезвычайно важен погребальный комплекс 4 в. до н.э., открытый в кургане Вишневая Могила (Запорожская обл., Украина). В грунтовом склепе не потревоженным сохранилось захоронение де- вочки-скифянки. Уникальная сохранность текстильных и кожаных остатков позволила реконструировать весь многокомпонентный костюм скифянки. Он состоял из шести родов одежды: нательной, набедренной, плечевой, настопной, головного убора и съемных украшений. Различные части одежды сделаны из разных материалов, это: белая полотняная ткань, оранжевая атласная ткань, красновато-коричневая шерсть, черное сукно, мех, красная кожа.

Это единственный в Северном Причерноморье палеокостюмологический комплекс, являющийся в настоящее время эталонным примером женского костюма ранних номадов этого региона.

Список иллюстраций:

Рис. 1. Костюм скифского мужчины-воина на произведениях торевтики.

Рис. 2. Изображения женщин на произведениях искусства: 1, 2 - амазонки; 3, 4 - божества.

Рис. 3. Фрагменты различных тканей из скифских могил: 1 - курган Близнец-2; 2, 3 - Рыжановский курган.

Рис. 4. Курган Толстая Могила: 1 - золотые аппликации костюма на полу камеры; 2 - реконструкция парадного костюма (по Л. Клочко).

Рис. 5. Склеп №620 из Усть-Альминского некрополя: 1 - план погребальной камеры (фрагмент); 2 - реконструкция костюмного ансамбля (по Т. Крупе).

Рис. 6. Курган Вишневая Могила: 1 - план погребальной камеры (фрагмент); 2 - реконструкция плетеного гробовища (по Я. Прилипко и Ю. Болтрику).

Рис. 7. Курган Вишневая Могила. Детали костюма скифской девочки: 1-2 - безрукавка; 3, 4 - юбка-обгортка; 5-7 - нательная рубаха (по Я. Прилипко).

Рис. 8. Курган Вишневая Могила. Выкройка и реконструкция кожаных башмачков (по Я. Прилипко).

Рис. 9. Реконструкция костюмного ансамбля девочки из Вишневой Могилы (по Я. Прилипко и Ю. Болтрику).

Рис. 10. Реконструкция вертикального ткацкого станка из раскопок Бельского городища (по А. Щербаню).





#Exhibit of the Month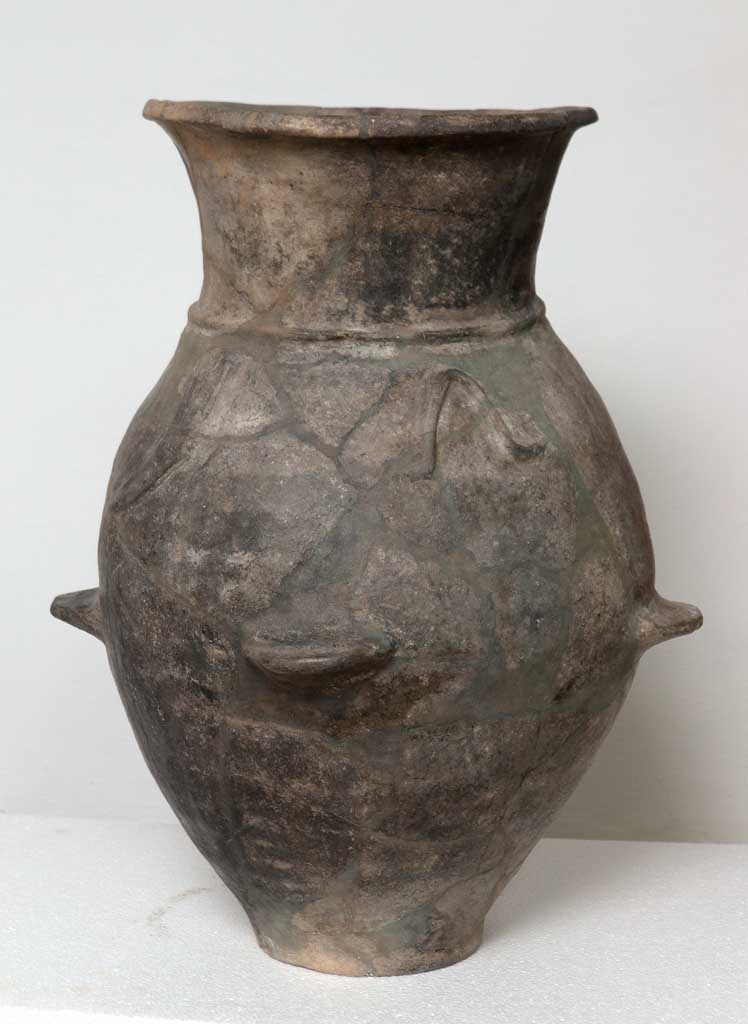 Pottery, especially fired clay vessels, is the most common archaeological material found at the sites of the Thracian-Getae-Dacian civilization. Specific to the Getae ceramics is the hand-shaping of vessels, without a potter's wheel, unknown, by the way, to our most distant ancestors in the 6th-3rd centuries BC.Getae potters used a porous clay body made of clay mixed with various ingredients like crushed shards and shells, crushed limestone, coarse sand, and so on to make their wares. When fired in special kiln, wares acquired different colors and shades: from black to gray or yellowish-red. The richest collection of Getae vessels on the territory of the Republic of Moldova comes from the Getae fortress of Butuceni, where for the first time in 1946 the Russian archaeologist G. Smirnov discovered the remains of the fortress with the remains of stone walls and earthen ramparts, which he called a Scythian fortress (sic!)...
Read More >>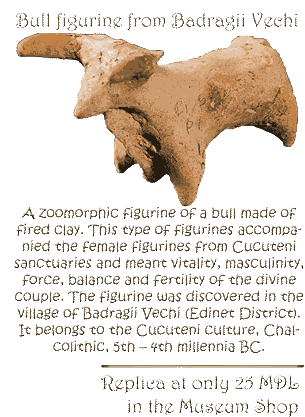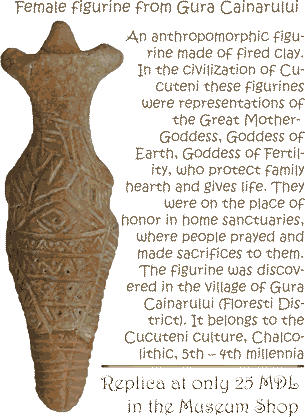 __________________________________________
©2006-2021
National Museum of History of Moldova
31 August 1989 St., 121 A, MD 2012, Chisinau, Republic of Moldova
Phones:

Secretariat:
+373 (22) 24-43-25
Department of Public Relations and Museum Education:
+373 (22) 24-04-26
Fax:
+373 (22) 24-43-69
E-mail:
office@nationalmuseum.md
Technical Support:
info@nationalmuseum.md

Web site administration and maintenance:
Andrei EMILCIUC