| | | | |
| --- | --- | --- | --- |
| | National Museum of History of Moldova | | |


Click here for a Virtual Tour of the Museum
ISSN 1857-0240
E-ISSN 2537-6330

Светлана Рябцева

The findings of belts in the complexes of XIII-XVI centuries in the Carpathian-Balkan region

Tyragetia, serie nouă, vol. VI [XXI], nr. 1, Arheologie. Istorie Antică
The article considers the findings of belts made in the traditions of European Gothic art in the complexes of XIII- XVI centuries in the Carpathian-Balkan region.The unique belt decorated with the image of St. George was found in the Republic of Moldova. The belts ornamented with vegetable and geometrical patterns dominate in the Romanian hoards. A few number of belts decorated with zoomorphic patterns were found in the Romanian treasures as well. The belts with images of animals (lizards, dragons, lions) were typical for the territory of Bulgaria. The examples with engraved vegetable ornament or anthropomorphic images were known also. In the Carpathian-Danube region the "Gothic belts" were the accessories of male dress mainly, in spite of Western Europe where these belts were typical both male and female.

List of illustrations:
Fig. 1. Belts fragments. Old Orhei (Republic of Moldova) (after Bacumenco 2006).
Fig. 2. 1-8 - Fragments of the belt set, Orbeasca (Romania) (after Dumitriu 2001); 9 - reconstruction of the belt, Kerepesi (Hungary) (after Kralovánszky 1955); 10 - buckle, Curtea de Argeș (Romania) (after Dumitriu 2001). The scales are different.
Fig. 3. Details of belt set. Schinetea (Romania) (after Alaiba 2002).
Fig. 4. Details of belts sets: 1, 2 - Belorechenskaya (Russia) (after Крамаровский 2001); 3-12 - Olteni (Romania) (after Dumitriu 2001). The scales are different.
Fig. 5. Details of belt sets. Dolišče (Bulgaria) (after Павлова 2007).
Fig. 6. Details of belt sets. 1-3 - Veliko Tarnovo (Bulgaria), 4-6 - Dolišče (Bulgaria) (after Павлова 2007). The scales are different.




#Exhibit of the Month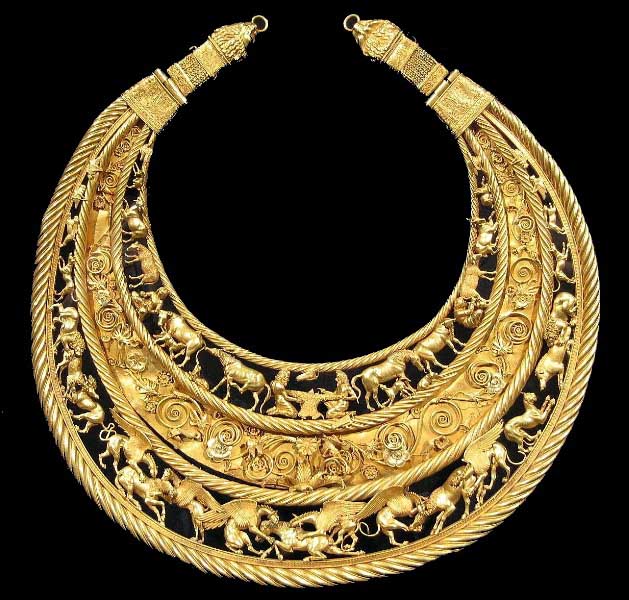 The pectoral from Tolstaya Mogila is considered the main archaeological treasure of Ukraine (it is depicted, for example, on the logo of the Institute of Archeology of the National Academy of Sciences of Ukraine). This unique artifact of 958 gold, weighing 1140 g, was discovered as a result of excavations of the Scythian burial mound of Tolstaya Mogila (Tovsta Mohyla) on June 21, 1971 near the modern city of Pokrov (then Ordzhonikidze) in the Dnepropetrovsk region. Following the excavations carried out by Boris Mozolevsky and Yevgeny Chernenko, it turned out that a mound with a height of 8.6 m and a diameter of 70 m was filled over the representatives of the Scythian elite around 350s-340s BC. The Tolstaya Mogila mound was the family tomb of the Scythian aristocracy, in which а male burial of а "king" and then, after a short period, of a "queen" with a child was performed. Then, some time after the funeral, the burial of the "king" was robbed, but the robbers, fortunately, did not notice jewelry (a sword in a scabbard, a whip) lying in the dromos at the entrance to the tomb, including the pectoral...
Read More >>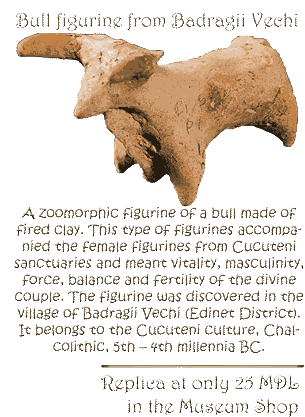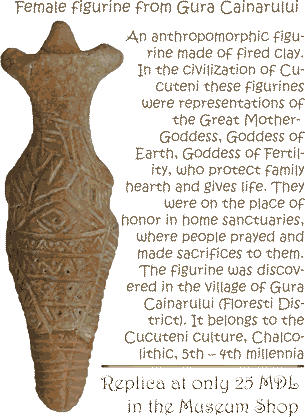 __________________________________________
©2006-2021
National Museum of History of Moldova
31 August 1989 St., 121 A, MD 2012, Chisinau, Republic of Moldova
Phones:

Secretariat:
+373 (22) 24-43-25
Department of Public Relations and Museum Education:
+373 (22) 24-04-26
Fax:
+373 (22) 24-43-69
E-mail:
office@nationalmuseum.md
Technical Support:
info@nationalmuseum.md

Web site administration and maintenance:
Andrei EMILCIUC