| | | | |
| --- | --- | --- | --- |
| | National Museum of History of Moldova | | |


Click here for a Virtual Tour of the Museum
ISSN 1857-0240
E-ISSN 2537-6330

Aydogdy Kurbanov

The Hephthalites: iconographical materials

Tyragetia, serie nouă, vol. VIII [XXIII], nr. 1, Arheologie. Istorie Antică
Эфталиты. Иконографические материалы

Статья посвящена иконографическим материалам, которые могут иметь отношение к эфталитам, жившим на территории Центральной Азии и соседних стран в IV-VI веках нашей эры. В V-VI веках эфталитам удалось создать великую империю. Следует отметить, что материалы эти очень скудны, и даже датировка часто приблизительна и неточна. Тем не менее, автор попытался интерпретировать имеющиеся данные из различных источников, относящихся к эфталитам, несмотря на то, что некоторые крупные вопросы попрежнему открыты для обсуждения и, вероятно, в ближайшее время останутся таковыми.

Список иллюстраций:

Рис. 1. Эфталиты и их соседи в середине VI века н.э. (по Miller 1959).
Рис. 2. Печати: 1 - печать Хингилы. Оттиск; 2 - печать и оттиск мужского бюста и бактрийской надписи; 3 - печать и оттиск мужского бюста и бактрийской надписи; 4 - печать и оттиск женского бюста и богомольца; 5 - печать и оттиск мужского бюста и бактрийской надписи; 6 - печать и оттиск мужского бюста и бактрийской надписи (адаптировано из Ставиский 1961; Lerner 1999; Callieri 2002).
Рис. 3. Балалык-тепе. Настенная роспись (адаптировано из Брыкина 1999).
Рис. 4. Самарканд (Афрасиаб). 1-4 - Настенные росписи (адаптировано из Брыкина 1999).
Рис. 5. 1 - Карта древних границ Чанъана с нанесением найденных согдийских могил; 2 - план могилы Ши Джуна (по Junkai 2005).
Рис. 6. Могила Ши Джуна. Изображение эфталитского правителя (?) на северной внешней стороне саркофага (по Grenet, Riboud 2003).
Рис. 7. Чилекская чаша. Детали. Узбекистан (адаптировано из Cultural 1985).
Рис. 8. Чаша из Свата (Британский музей). Детали (адаптировано из Göbl 1967).
Рис. 9. Терракоты: 1, 8 - Дальверзин-тепе; 2, 5-7 - Будрач; 3 - Долина Сурхандарьи; 4 - Гиссарская долина (по Il'yasov 2001).




#Exhibit of the Month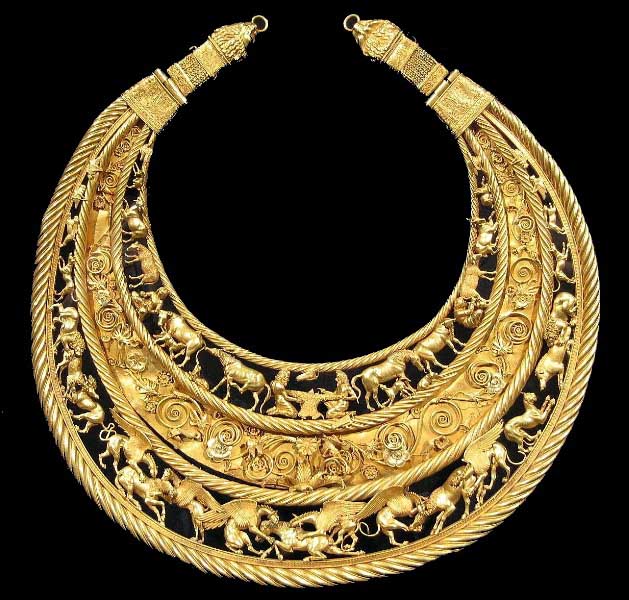 The pectoral from Tolstaya Mogila is considered the main archaeological treasure of Ukraine (it is depicted, for example, on the logo of the Institute of Archeology of the National Academy of Sciences of Ukraine). This unique artifact of 958 gold, weighing 1140 g, was discovered as a result of excavations of the Scythian burial mound of Tolstaya Mogila (Tovsta Mohyla) on June 21, 1971 near the modern city of Pokrov (then Ordzhonikidze) in the Dnepropetrovsk region. Following the excavations carried out by Boris Mozolevsky and Yevgeny Chernenko, it turned out that a mound with a height of 8.6 m and a diameter of 70 m was filled over the representatives of the Scythian elite around 350s-340s BC. The Tolstaya Mogila mound was the family tomb of the Scythian aristocracy, in which а male burial of а "king" and then, after a short period, of a "queen" with a child was performed. Then, some time after the funeral, the burial of the "king" was robbed, but the robbers, fortunately, did not notice jewelry (a sword in a scabbard, a whip) lying in the dromos at the entrance to the tomb, including the pectoral...
Read More >>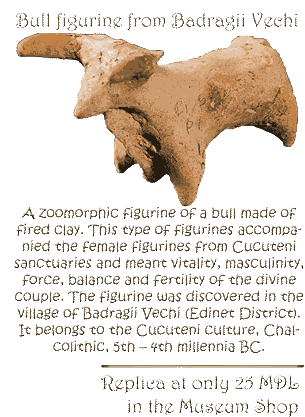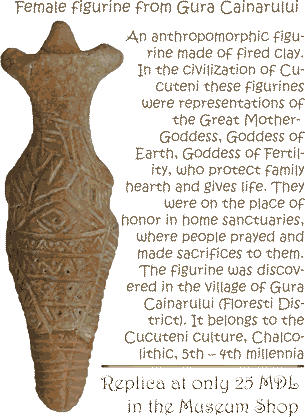 __________________________________________
©2006-2021
National Museum of History of Moldova
31 August 1989 St., 121 A, MD 2012, Chisinau, Republic of Moldova
Phones:

Secretariat:
+373 (22) 24-43-25
Department of Public Relations and Museum Education:
+373 (22) 24-04-26
Fax:
+373 (22) 24-43-69
E-mail:
office@nationalmuseum.md
Technical Support:
info@nationalmuseum.md

Web site administration and maintenance:
Andrei EMILCIUC