| | | | |
| --- | --- | --- | --- |
| | National Museum of History of Moldova | | |


Click here for a Virtual Tour of the Museum
ISSN 1857-0240
E-ISSN 2537-6330

Aydogdy Kurbanov

The Hephthalites: iconographical materials

Tyragetia, serie nouă, vol. VIII [XXIII], nr. 1, Arheologie. Istorie Antică
Эфталиты. Иконографические материалы

Статья посвящена иконографическим материалам, которые могут иметь отношение к эфталитам, жившим на территории Центральной Азии и соседних стран в IV-VI веках нашей эры. В V-VI веках эфталитам удалось создать великую империю. Следует отметить, что материалы эти очень скудны, и даже датировка часто приблизительна и неточна. Тем не менее, автор попытался интерпретировать имеющиеся данные из различных источников, относящихся к эфталитам, несмотря на то, что некоторые крупные вопросы попрежнему открыты для обсуждения и, вероятно, в ближайшее время останутся таковыми.

Список иллюстраций:

Рис. 1. Эфталиты и их соседи в середине VI века н.э. (по Miller 1959).
Рис. 2. Печати: 1 - печать Хингилы. Оттиск; 2 - печать и оттиск мужского бюста и бактрийской надписи; 3 - печать и оттиск мужского бюста и бактрийской надписи; 4 - печать и оттиск женского бюста и богомольца; 5 - печать и оттиск мужского бюста и бактрийской надписи; 6 - печать и оттиск мужского бюста и бактрийской надписи (адаптировано из Ставиский 1961; Lerner 1999; Callieri 2002).
Рис. 3. Балалык-тепе. Настенная роспись (адаптировано из Брыкина 1999).
Рис. 4. Самарканд (Афрасиаб). 1-4 - Настенные росписи (адаптировано из Брыкина 1999).
Рис. 5. 1 - Карта древних границ Чанъана с нанесением найденных согдийских могил; 2 - план могилы Ши Джуна (по Junkai 2005).
Рис. 6. Могила Ши Джуна. Изображение эфталитского правителя (?) на северной внешней стороне саркофага (по Grenet, Riboud 2003).
Рис. 7. Чилекская чаша. Детали. Узбекистан (адаптировано из Cultural 1985).
Рис. 8. Чаша из Свата (Британский музей). Детали (адаптировано из Göbl 1967).
Рис. 9. Терракоты: 1, 8 - Дальверзин-тепе; 2, 5-7 - Будрач; 3 - Долина Сурхандарьи; 4 - Гиссарская долина (по Il'yasov 2001).




#Exhibit of the Month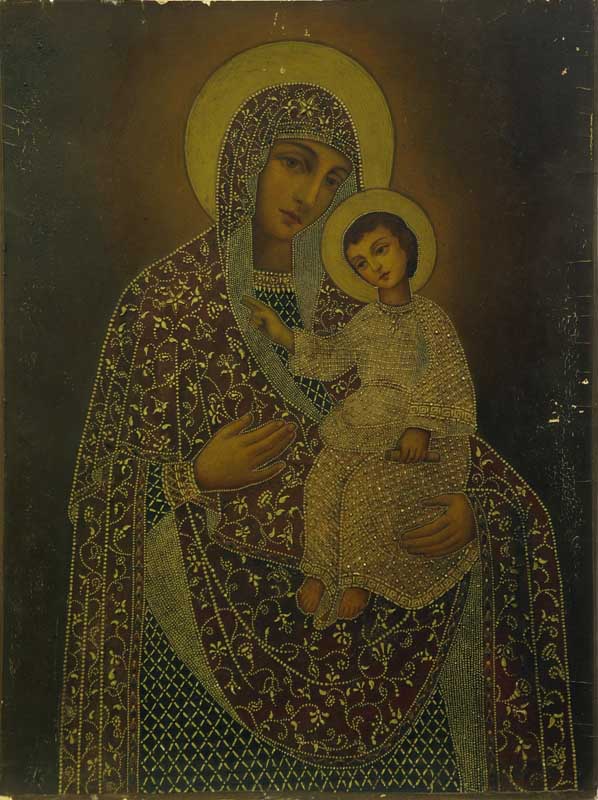 It is said that the icons, by the divine grace they have, choose their own places from where they can manifest their powers of blessing and consolation. It so happened that one icon of the Mother of God has remained on our lands from the end of the 18th century, when the battles of the Russo-Turkish war of 1787-1791 took place here. The circumstances of the appearance of this icon in Bessarabia are confirmed by several historical references, from which it follows that the Russian officer N.A. Albaduev, a participant in the military campaign, brought this icon here with him, and after his death his relatives – the colonel's wife or his mother – gave this icon to the monastery, where he suddenly died when he came there on Christmas to receive communion. The icon of the Mother of God was initially placed in the old wooden church, where the officer's grave was located, and then was placed in the new Church of the Assumption of the Blessed Virgin, built and consecrated in 1816..
Read More >>