| | | | |
| --- | --- | --- | --- |
| | National Museum of History of Moldova | | |


Virtual Tour
ISSN 1857-0240
E-ISSN 2537-6330

Николай Руссев, Михаил Фокеев, Игорь Манзура

Barrow of the Copper and Bronze Ages near the Village of Suvorovo, Odessa County

Tyragetia, serie nouă, vol. VII [XXII], nr. 1, Arheologie. Istorie Antică
The article considers materials from a barrow excavated in 1995-1997 in the vicinity of the village of Suvorovo in the tract of Kale (Izmail District, Odessa County). Five graves and some stone and earth structures were uncovered in the barrow. The most ancient grave 5 and perhaps also grave 4 are related to the local variant of the Cernavodă I culture which is dated to the Late Copper Age (the first half of the 4th mill. BC). A ditch with two passages, remains of a cromlech and separately deposited painted vessel of the Cucuteni culture have been connected with grave 5. Grave 3 with bone hook-shaped pendant, paste beads and flint arrow head occupies in stratigraphic sequence later position and according to its features can be attributed to the Early Bronze Age I period or Usatovo culture time (the second half of the 4th mill. BC). Two other graves 1 and 2 with clay vessels belong to the Pit-Grave culture of the 3rd mill. BC.

List of illustrations:

Fig. 1. Barrow no. 2 in the tract of Kale: 1 - general plan and central stratigraphic section of the barrow; 2 - plan of graves 1 and 2.

Fig. 2. Barrow no. 2 in the tract of Kale: 1 - vessel from grave 2; 2 - vessel from grave 1; 3 - plan of graves 3-5; 4-6 - grave goods from grave 3; 7 - scarified vessel from barrow.




#Exhibit of the Month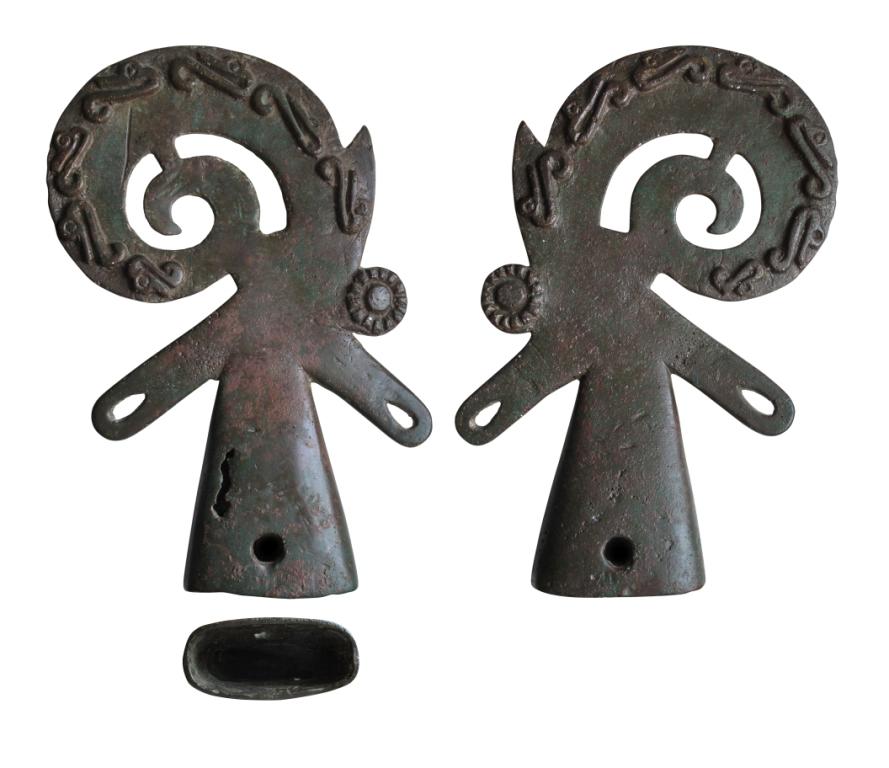 This unusual object of the Scythian period was found in 1953 by a village teacher A.I. Shiryaev at the top of a mound near the village of Răscăieţii Noi in the Ştefan Vodă District. A quarter of a century later, excavations in 1979 revealed that this outstanding mound (about 10 m high and more than 40 m in diameter) was erected in the Early Bronze Age, at the beginning of the 3rd millennium BC. Then, two thousand years later, there were buried Scythians, with which, apparently, other finds are associated, a cauldron and a finial, cast in bronze. The finial from Răscăieţii Noi is one of the items made in the Scythian animal style, a special manner of decoration that spread along with the culture of the early nomads of Eurasia from Central Europe to the Black Sea region and the Caucasus, from the Volga region to southern Siberia, from Central Asia to Mongolia and northern China...
Read More >>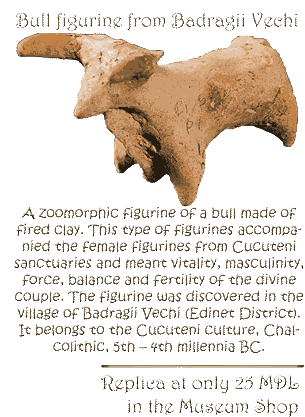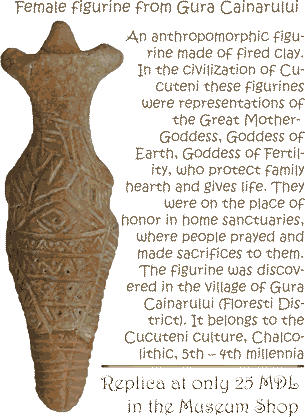 __________________________________________
©2006-2021
National Museum of History of Moldova
31 August 1989 St., 121 A, MD 2012, Chisinau, Republic of Moldova
Phones:

Secretariat:
+373 (22) 24-43-25
Department of Public Relations and Museum Education:
+373 (22) 24-04-26
Fax:
+373 (22) 24-43-69
E-mail:
office@nationalmuseum.md
Technical Support:
info@nationalmuseum.md

Web site administration and maintenance:
Andrei EMILCIUC