| | | | |
| --- | --- | --- | --- |
| | National Museum of History of Moldova | | |


Click here for a Virtual Tour of the Museum
ISSN 1857-0240
E-ISSN 2537-6330

Robin Brigand

Centuriations romaines dans la plaine de Venise

Tyragetia, serie nouă, vol. VI [XXI], nr. 1, Arheologie. Istorie Antică
Cette contribution porte sur la dynamique des centuriations d'origine romaine de la plaine centrale de Venise, limitée par la lagune et les Alpes d'une part, les fleuves Brenta et Piave de l'autre. Il s'agit d'évaluer la nature des interactions entre les morphologies agraires héritées de l'arpentage antique et les sociétés historiques, médiévales et modernes, qui intègrent, en le transformant, l'héritage antique.


Liste des figures:
Fig. 1. Organisation théorique d'une centuriation de 20 actus de module (710 m) et disposition des coordonnées de deux centuries. Deux modes de division interne sont proposés.
Fig. 2. a - Miniatures des manuscrits Arcerianus (en haut) et Palatinus (en bas). Elles représentent la ville de co- lonia Iulia édifiée dans une plaine délimitée par la mer et une chaîne montagneuse. Le territoire est divisé par une centuriation dont les deux axes majeurs se croisent au centre de la ville; b - Cippe gromatique de Grantorto (Cittadella). Il s'agit d'un parallélépipède de plus de 1,60 m de haut portant un decussis sur la tranche et le texte iuss(u) ter(minus) n(ovatus) / U(ltra) K(ardinem) VII; sur le flanc S(inistra) D(ecumanum) VIII. Il est daté du Ier s. ap. J.-C. et indique l'intersection du decumanus VIII à gauche du decumanus maximus et du kardo VII au-delà du kardo maximus.
Fig. 3. Vue aérienne verticale du Graticolato romano à l'ouest de Mirano.
Fig. 4. Carte géomorphologique et hydrographique de la plaine centrale de Venise. Légende: 1 - plaine alluviale ancienne du Brenta (tardiglaciaire); 2 - alluvions récentes (holocène); 3 - bourrelets alluviaux anciens et récents; 4 - dépressions d'inter-cône du Musone; 5 - plaine alluviale du Piave; 6 - limite septentrionale de la résurgence des eaux; 7 - courbe de niveau (eq. 5 m); 8 - hydrographie moderne et contemporaine; 9 - bourgs fortifiés (XIIe-XIIIe s.).
Fig. 5. Centuriations et circulation des eaux, de Bassano à Mirano.
Fig. 6. Morphologie de la centuriation entre Cittadella et Castelfranco Veneto. Les flèches externes indiquent le carroyage théorique de la centuriation.
Fig. 7. Morphologie de deux centuries de la centuriation au nord-est de Padoue. Les trois limites intercisivi sont représentés en pointillés.





#Exhibit of the Month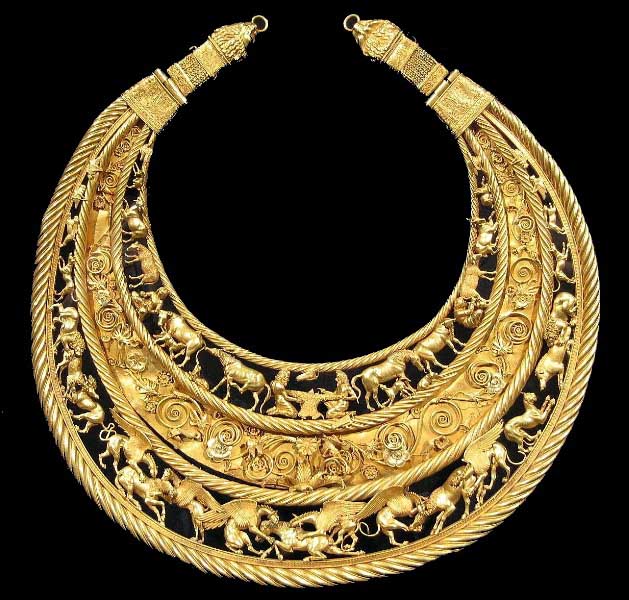 The pectoral from Tolstaya Mogila is considered the main archaeological treasure of Ukraine (it is depicted, for example, on the logo of the Institute of Archeology of the National Academy of Sciences of Ukraine). This unique artifact of 958 gold, weighing 1140 g, was discovered as a result of excavations of the Scythian burial mound of Tolstaya Mogila (Tovsta Mohyla) on June 21, 1971 near the modern city of Pokrov (then Ordzhonikidze) in the Dnepropetrovsk region. Following the excavations carried out by Boris Mozolevsky and Yevgeny Chernenko, it turned out that a mound with a height of 8.6 m and a diameter of 70 m was filled over the representatives of the Scythian elite around 350s-340s BC. The Tolstaya Mogila mound was the family tomb of the Scythian aristocracy, in which а male burial of а "king" and then, after a short period, of a "queen" with a child was performed. Then, some time after the funeral, the burial of the "king" was robbed, but the robbers, fortunately, did not notice jewelry (a sword in a scabbard, a whip) lying in the dromos at the entrance to the tomb, including the pectoral...
Read More >>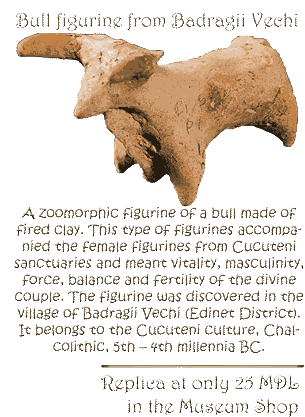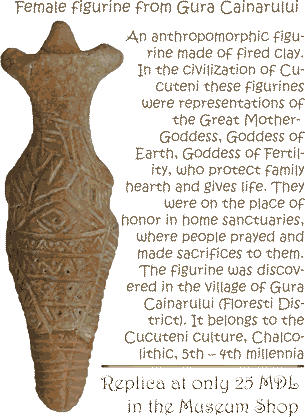 __________________________________________
©2006-2021
National Museum of History of Moldova
31 August 1989 St., 121 A, MD 2012, Chisinau, Republic of Moldova
Phones:

Secretariat:
+373 (22) 24-43-25
Department of Public Relations and Museum Education:
+373 (22) 24-04-26
Fax:
+373 (22) 24-43-69
E-mail:
office@nationalmuseum.md
Technical Support:
info@nationalmuseum.md

Web site administration and maintenance:
Andrei EMILCIUC