| | | | |
| --- | --- | --- | --- |
| | National Museum of History of Moldova | | |


Virtual Tour
ISSN 1857-0240
E-ISSN 2537-6330

Tatiana Chicaroș

L'évolution de l'enseignement de lycée en Bessarabie sous la domination tsariste (1833-1917)

Tyragetia, serie nouă, vol. II [XVII], nr. 2, Istorie. Muzeologie
L'étude des sources d'archives inédites et de celles publiées, ainsi que de la littérature monographique de spécialité nous permet de conclure que l'enseignement de lycée en Bessarabie est étroitement lié au développement du système d'enseignement de l'Empire Russe. L'histoire de l'enseignement de lycée commence avec l'ouverture des premiers pensionnats où seulement les enfants de la noblesse pouvaient faire leurs études. Mais dans ces institutions d'enseignement, les élèves obtenaient des connaissances générales, les professeurs se préoccupaient plutôt des problèmes d'éducation, l'accent étant mis sur la formation du comportement qu'une personne devaient suivre dans la société. Bien sûr, de telles institutions de type fermé ne pouvaient pas satisfaire les exigences croissantes de la société; en plus elles n'assuraient pas aux émoulus de perspectives d'avenir.

Une autre étape dans le développement de l'enseignement de lycée en Bessarabie a constitué l'ouverture des ly- cées et des écoles secondaires. Ceux-ci ont été fondés en vertu du «statut des lycées et des écoles secondaires» du 19 novembre 1864. Les lycées étaient ordinairement des institutions privées. Les premiers lycées et écoles secon- daires ont été fondés dans les villes des districts: le lycée d'Akkerman, écoles secondaires en Bender, Bolgrad, Ismail, etc. Depuis 1864 jusqu'à l'union de la Bessarabie avec la Roumanie ont été déjà créées 17 lycées pour filles et 12 lycées pour garçons. L'accent y n'était plus mis sur l'éducation et on donnait la possibilité aux émoulus d'obtenir la permission de travailler en tant qu'enseignants dans les écoles primaires et ministérielles ou de continuer leurs études aux universités.

L'enseignement de lycée en Bessarabie est apparu et s'est développé essentiellement grâce aux efforts de certaines personnes particulières et des institutions de zemstva, les lycées étant fondés dans la ville de Chisinau. Ensuite, grâce à l'activité de ces personnes, de la zemstva gouberniale et des zemstvas de district, des institutions d'enseignement secondaire sont apparues dans d'autres districts de la Bessarabie, notamment dans les villes des districts Akkermann, Bender, Balti, Hotin, etc.

L'analyse du matériel des faits, notamment celui inédit des archives, nous permet de conclure que pendant la seconde moitié du XIXe siècle – la début du XXe siècle se passe la constitution du système d'enseignement de lycée, la croissance du nombre et du contingent des élèves. Le développement de l'enseignement de lycée en Bessarabie dans le cadre de l'Empire Russe démontre explicitement les conséquences néfastes de la politique tsariste d'uniformisation, direction centralisée et bureaucratique du système d'enseignement aux périphéries nationales, fait qui constituait un obstacle au développement de la culture nationale de ces peuples. Ce procès s'est manifesté par la limitation et ensuite l'exclusion de la langue roumaine de tous les domaines officiels et fonctionnels, la suppression de l'école nationale, l'ignorance des traditions nationales dans le processus d'instruction qui ont mené à la décadence de la langue littéraire roumaine dans la région.




#Exhibit of the Month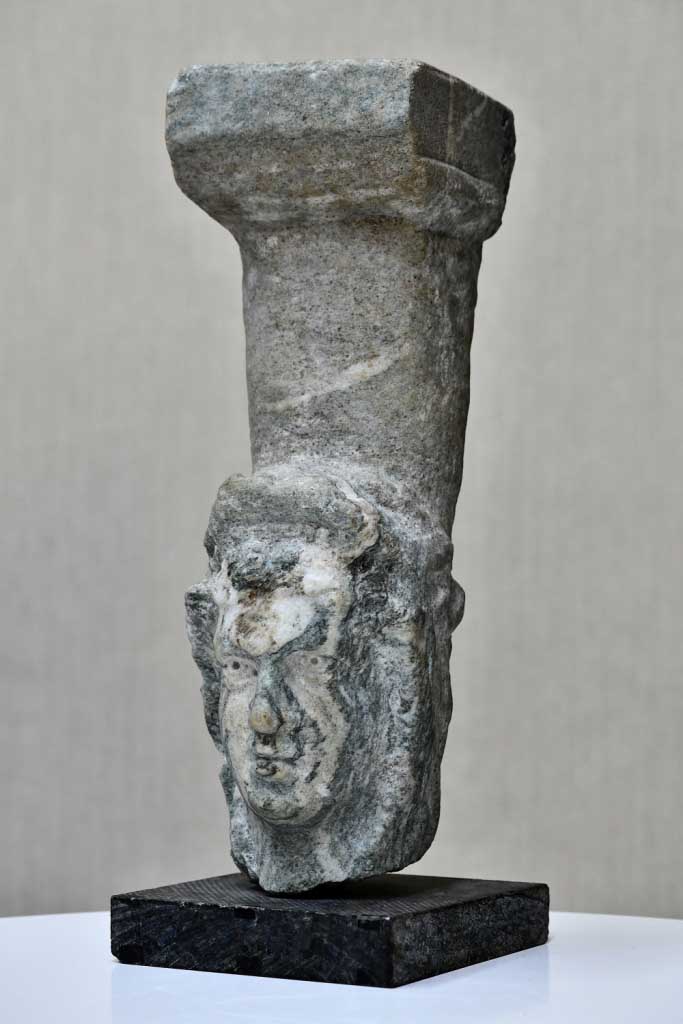 The item is the lower part of a leg of a festive table made of white and gray marble. In the upper part, it has a protrusion, similar to a Doric capital, on the horizontal platform of which a square recess is engraved, designed to fix the second part of the leg (upper). The lower part of the leg is made in an anthropomorphic style, and, in our opinion, there are two variants of identifying the depicted character...
Read More >>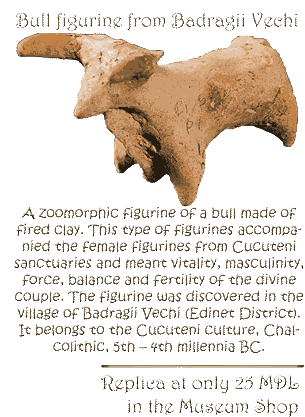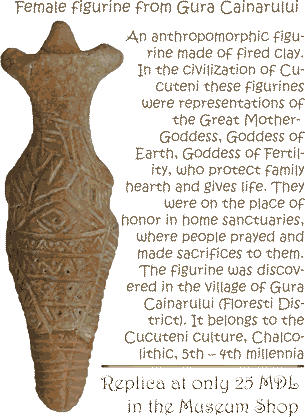 __________________________________________
©2006-2022
National Museum of History of Moldova
31 August 1989 St., 121 A, MD 2012, Chisinau, Republic of Moldova
Phones:

Secretariat:
+373 (22) 24-43-25
Department of Public Relations and Museum Education:
+373 (22) 24-04-26
Fax:
+373 (22) 24-43-69
E-mail:
office@nationalmuseum.md
Technical Support:
info@nationalmuseum.md

Web site administration and maintenance:
Andrei EMILCIUC