| | | | |
| --- | --- | --- | --- |
| | National Museum of History of Moldova | | |


Click here for a Virtual Tour of the Museum
ISSN 1857-0240
E-ISSN 2537-6330

Lucia Sava

Le milieu de vie des habitants de la ville Chișinău au début du XXème siècle

Tyragetia, serie nouă, vol. I [XVI], nr. 2, Istorie. Muzeologie Chișinău, 2007
Le milieu de vie des habitants de la ville Chisinau connait au début du XX-ème siècle une intensification du procès- sus de modernisation. Chisinau este devenu le centre le plus principal de la Bessarabie et l'une de plus grandes villes de l'Empire Russe.

Le rhytme de la vie connait une accéleration, surtout, au centre de la ville, où se situaient la plupart des places publiques, tant celles officielles (l'école, le tribunal, les bancs), comme et celles d'agrément (les théatres, les cinémas, les bistrots, les cafés, etc.). Les autorités publiques locales ont entrepris plusieurs mésures pour améliorer le milieu de vie des habitants de Chisinau (l'activité sanitaire dans la ville, les services de salubrité, l'illumination des rues et des maisons privées, la construction des lignes de communication téléphonique).

Ces aspects du milieu de vie des habitants de la ville Chisinau représentent l'objectif principal de notre étude. La conclusion qui s'impose est que, meme si le niveau de vie des habitants de Chisinau était plusieurs fois resté en comparaison avec les plus grandes villes de l'Europe, à l'époque étudiée celui-ci a connu de profondes modifications.




#Exhibit of the Month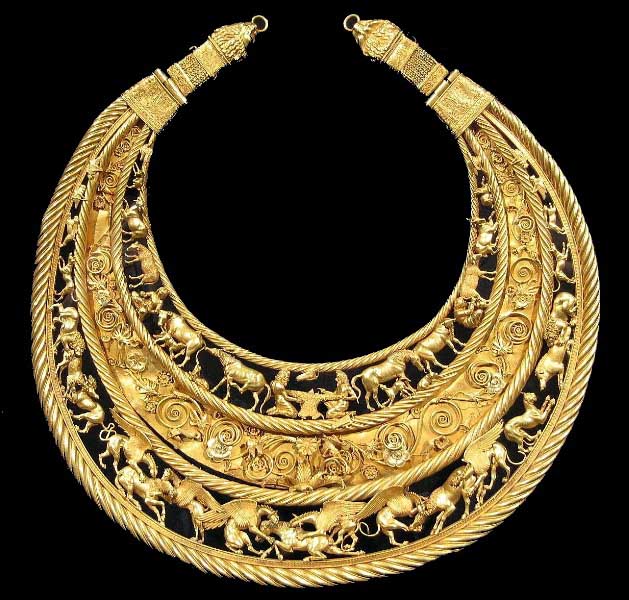 The pectoral from Tolstaya Mogila is considered the main archaeological treasure of Ukraine (it is depicted, for example, on the logo of the Institute of Archeology of the National Academy of Sciences of Ukraine). This unique artifact of 958 gold, weighing 1140 g, was discovered as a result of excavations of the Scythian burial mound of Tolstaya Mogila (Tovsta Mohyla) on June 21, 1971 near the modern city of Pokrov (then Ordzhonikidze) in the Dnepropetrovsk region. Following the excavations carried out by Boris Mozolevsky and Yevgeny Chernenko, it turned out that a mound with a height of 8.6 m and a diameter of 70 m was filled over the representatives of the Scythian elite around 350s-340s BC. The Tolstaya Mogila mound was the family tomb of the Scythian aristocracy, in which а male burial of а "king" and then, after a short period, of a "queen" with a child was performed. Then, some time after the funeral, the burial of the "king" was robbed, but the robbers, fortunately, did not notice jewelry (a sword in a scabbard, a whip) lying in the dromos at the entrance to the tomb, including the pectoral...
Read More >>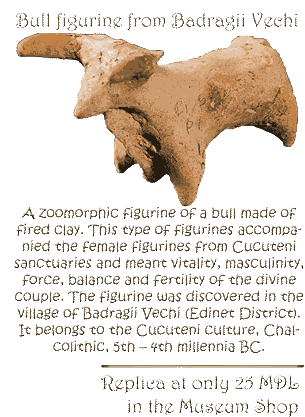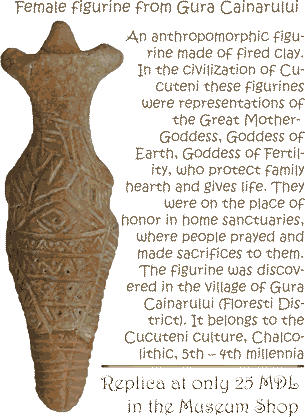 __________________________________________
©2006-2021
National Museum of History of Moldova
31 August 1989 St., 121 A, MD 2012, Chisinau, Republic of Moldova
Phones:

Secretariat:
+373 (22) 24-43-25
Department of Public Relations and Museum Education:
+373 (22) 24-04-26
Fax:
+373 (22) 24-43-69
E-mail:
office@nationalmuseum.md
Technical Support:
info@nationalmuseum.md

Web site administration and maintenance:
Andrei EMILCIUC